When I was researching Cabot Oil and Gas (NYSE:COG) I read on their investor presentation that they would be increasing their use of proppant. I decided to do research on companies that mine this substance. Since companies that are involved in fracking for oil and gas are doing well and they are increasing their demand for proppant, then companies that sell this product must be doing incredibly well. Proppant is a substance which is mainly made up of frac sand. This is what the company U.S. Silica (NYSE:SLCA) mines for. Proppant is uniformly round treated sand or ceramic manmade material that is extremely pressure resistant. This material keeps the fractures in the oil and gas rich rock from closing up, allowing for more oil and gas to fill into a drilling well. There are many types of this frac sand ranging from the highly resistant 100 mesh white sand to brown sand. White sand is used in deeper horizontal drilling wells, while brown sand is used in vertical wells and shallow horizontal wells. The 100 mesh white sand has the lowest costs, so it has the highest margins for U.S. Silica. This nifty chart that I found on a competitor's website shows which type of sand is required for each type of drilling activity.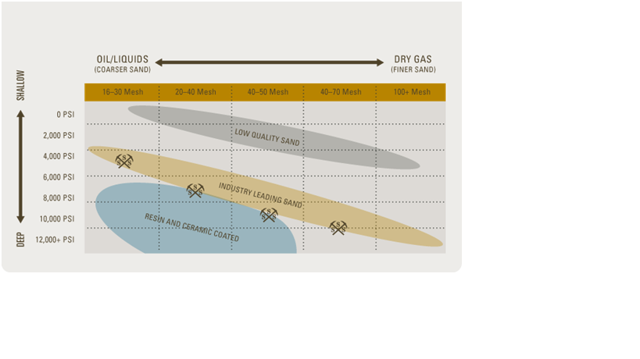 U.S. Silica just increased its mining for brown sand in its recent acquisition of Cadre. U.S. Silica doesn't simply mine the sand. For most buyers U.S. Silica has to deliver the sand to a certain place which requires trainloads, barges, or trucks. U.S. Silica also has a more stable, lower growth industrial and services end market for its products.
The company repeatedly stated on its 3rd quarter conference call that even with the double digit price increases that were implemented this year, the supply cannot keep up with the demand. The CEO, Bryan Shinn, stated that one oil and gas company was increasing its demand for proppant by 95% from last year. The supply and demand imbalance that currently exists in the frac sand market is why the firm's oil and gas business did so well in the third quarter. The oil and gas segment of the business represented 75% of revenues for the company. These revenues were $149.3 million. They were up from last year's $77.7 million. This is an astounding 92% increase. The amount of tons sold was 1.5 million compared to 988 thousand tons sold in Q2 of last year. 68% of the tons were sold by basin trainloads compared to 42% last year. A trainload is a shipment via trucks and trains combined. Contribution margin for this part of the business was $57.1 million compared to $35.5 million. The company renegotiated long-term contracts making the weighted average roll off date become the second quarter of 2018.
U.S. Silica has many competitive advantages. The company has been in the industry for over 100 years so it is good at logistics and has the first mover advantage of having low cost mines. This creates solid profitability and allows them to have good relationships with customers. Buyers know to trust U.S. Silica to deliver the frac sand close to the well heads. Having superior capacity is critical in this industry because of the huge demand for frac sand. Drillers are drilling more wells, longer laterals, closer stages, and using more frac sand to boost the amount of oil and gas that they can get from the shales and basins. U.S. Silica will improve the tonnage that it can produce when it ramps up the state of the art mine it has in Utica, Illinois. This will open up on September 1st. The company is also in talks to have a new mine in Fairchild, Wisconsin which could produce 3 million tons per year and have access to the Union Pacific rail line. Speaking of railcars, the company plans to increase its number of railcars from 4,250 cars to 5,100 by the end of the year.
This superior capacity and logistics have allowed the company to gain 2 points in market share in 2013. The company's goal is to gain at least one point in market share each year. This shows what a great position this firm is in. It is a dominant player that is increasing its prominence in an industry that has a supply and demand imbalance that is leading to higher prices from an increased demand. There are huge start up costs to starting a mine and most of the opportunities for low cost mines have already been realized. This sets up U.S. Silica to be in a very good situation. The company is not over exaggerating the needs of proppant by its customers. If you listen to any fracking company they will say that part of their strategy to increase oil and gas estimated ultimate recovery (EUR) of reserves is to increase the level of proppant. Frac sand makes up 90% of the material in proppant. Some companies backward integrate into mining their own local sand, but this doesn't pose a serious threat to the company's profitability because the mining of non local 100 mesh white sand requires a great logistics network, which U.S. Silica has. This is an example of how Cabot Oil and Gas is targeting the increased use of proppant to have better EURs.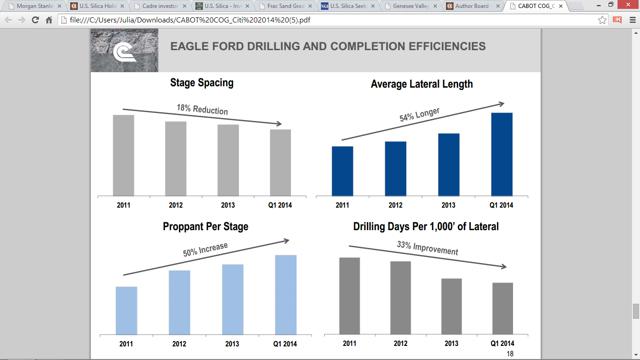 Frac sand represents 80% of the proppant market. 10% of the market is in resin coated sand, which U.S. Silica also produces. The rest of market share comes from ceramic coated sand.
U.S. Silica made an acquisition of Cadre which mines for brownstone. The local sand that Cadre mines for makes up 20%-25% of the sand used in the Permian Basin. The key strategic advantage that this company has is its close proximity (about 200 miles away) to the Permian Basin. The company has 40% of sales contracted and 60% of sales are sold on the spot market. Because of the demand and supply imbalance, this means that the company can get higher prices on the spot market. The companies that Cadre sells to are many of the same customers that U.S. Silica deals with, so this acquisition will strengthen its customer relationships. Although there will be no operational synergies, the logistics expertise that U.S. Silica has will help the company's long-term profitability. U.S. Silica paid $98 million for Cadre which was 4.7 times adjusted EBITDA. The accretion will start in the first quarter of 2015. It will have 11 to 13 cents of adjusted earnings per share accretion. The mine has 800,000 tons of capacity. The company stated that the industry was ripe for consolidation which will be advantageous to U.S. Silica. The company has a strong balance sheet which has $200 million in liquidity. The company stated that other potential acquisitions had similar costs, but didn't have the great location that Cadre had. This could mean that the company could look to acquire another firm if the location is right. The possibility of forming an MLP was discussed on the call but seemed unlikely in the medium term.
The other part of U.S. Silica's business which I have not yet discussed is the Industrial and Specialty Products (NYSE:ISP) business which this quarter made up $56.5 million out of the total company's $205.8 million in revenues. The industrial products segment makes whole grain silica, ground silica, and other industrial products such as aplite, calcined kaolin clay, and magnesium silicate. These products are used to make glass, building products, foundry, chemicals, fillers and extenders. The chart shows that these products are used to make things such as the glass used in smartphones.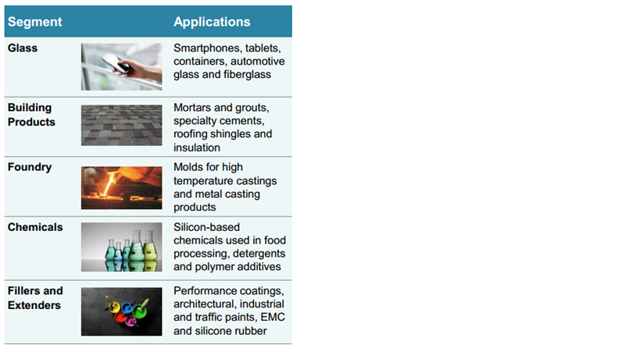 This part of the business used to constitute a majority of the company's revenues and profits before the oil and gas shale boom started in 2010. This business is more of a steady, slow growing business. This business segment complements the fast growing frac sand business segment because of this characteristic. The third quarter was good for the ISP segment. Revenues increased 7.6% from the same period last year. Tons sold increased from 1.06 million to 1.095 million. Contribution margin increased from $15.4 million to $17.6 million. As the frac sand business continues to grow faster than this segment, this percentage of revenues will decrease, but I thought it was worth discussing because it represented 50% of volumes in 2013. The main reason why I am interested in the stock is the frac sand segment. According to some analysts the proppant market may reach $10 billion by 2017.
The stock has had an enormous run this year. The stock is up 64.82% year to date. It is a perfect time to buy the stock now because of the recent pullback due to profit taking after the excellent earnings results that the company reported last week. The stock has corrected about 9% in the past few days.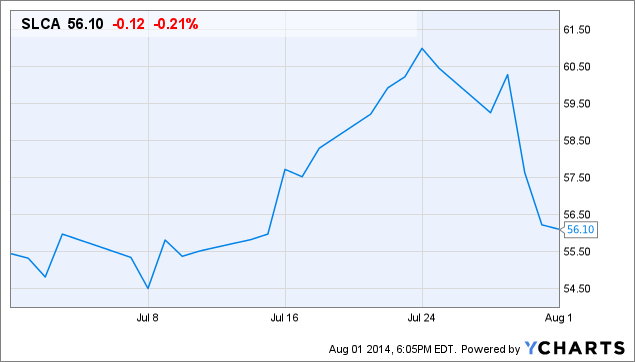 In June the stock also corrected 8% and this was a great buying opportunity as it went up 23% shortly afterwards.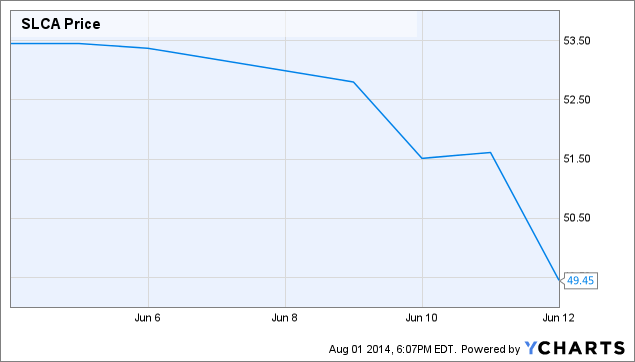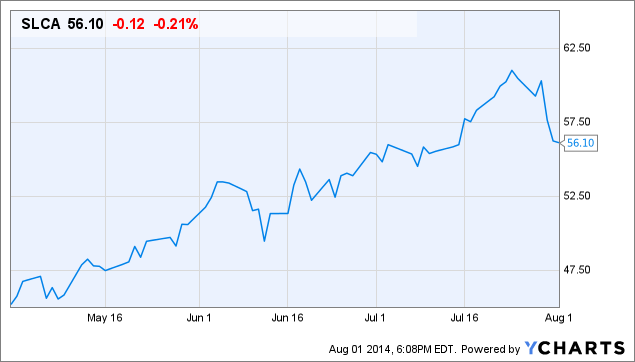 One risk to this thesis would be that the price of natural gas goes down to the point where it is less economically feasible to frac for gas. In this scenario the demand for proppant would decrease. Another risk would be if the government makes new regulations on fracking, which could slow down new drilling expansion. There is actually a risk to the upside for this company which I have not mentioned. The Middle East is in a very uncertain state currently. If the situation becomes even more violent, our reliance on domestic energy will increase. This would make demand for proppant increase. The final risk is that companies overproduce this commodity because demand is so high. This is unlikely because it is difficult, has high costs, and takes a long time to start a new mine.
Disclosure: The author is long SLCA, COG. The author wrote this article themselves, and it expresses their own opinions. The author is not receiving compensation for it (other than from Seeking Alpha). The author has no business relationship with any company whose stock is mentioned in this article.