Having recently raised some cash after selling some of my overextended positions, I've been looking for a place to reapply the capital. A company that I've had my eye on for some time is Monsanto (NYSE:MON), the agricultural chemicals giant. Despite its dominating position in GMO and other agribusiness sectors, Monsanto still has a long runway for growth, with generally favorable secular tailwinds. Challenges abound, including fluctuating commodities prices, declining US farm acreage, growing popular demand for "organic" (read: non-GMO) foodstuffs, and Monsanto's own PR problems.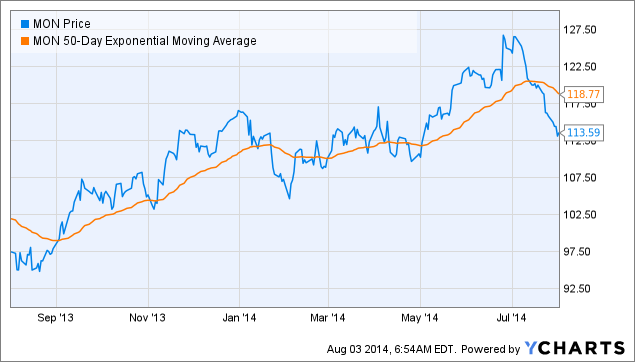 Moreover, the stock has been under pressure lately after the company's plans to acquire a rival fell apart and the company announced a debt-financed share buyback program. But with an inexorably growing world population, and limited agricultural space to produce food for it, efforts to increase farmland yield will have to continue, and in this area Monsanto is already an established leader. What follow are my overview of the agricultural chemicals industry, a look at Monsanto and its competitors, as well as an estimate of the stock's fair value.
INDUSTRY OVERVIEW:
Monsanto and its competitors in the agricultural chemical industry (itself a sub-segment of the larger chemicals sector) operate in a cyclical, consolidated, capital-intensive environment. Industry cyclicality is influenced by a variety of inputs, including commodities prices-particularly by oil and gas costs, as the industry is a profound consumer of energy), but also by output commodity values such as corn and soybean prices. This latter, of course, is itself dependent on profoundly unpredictable forces like global weather trends and crop production, making the industry even more volatile.
Moreover, the industry's main products-fertilizer, pesticides, and seeds-each come with unique risks. Fertilizer production is heavily affected by energy input costs; pesticide production, with its attendant regulations and lawsuits, is the stuff of Hollywood movie villains. (Case in point: the 2007 thriller Michael Clayton expertly demonized a fictional corporate goliath called UNorth that bore more than a passing resemblance to Monsanto.) And don't forget that specialized seed production faces increasing challenges from consumers who are convinced that genetically modified crops are the foodstuffs of monsters.
Above: Coincidence? I think not!
Whereas the political and regulatory headwinds facing the industry appear to be subsiding, popular sentiment remains a long-term challenge. Attempts to pass mandatory GMO labeling requirements have largely failed (it is estimated that nearly 70% of all foods processed in the US have some sort of GMO input). But the success of organic food purveyors like Whole Foods (NASDAQ:WFM) is telling; organics make up roughly 4-5% of total food sales in the US, having grown at about a 9-10% CAGR over the past decade. Companies like Monsanto, Syngenta, and even Dow will eventually need to pivot to address this growing market, or risk losing farmers to non-GMO technologies and methods.
Given these domestic headwinds, the agrichemical industry must look overseas for growth. Luckily, international opportunities abound. Over time, as third-world countries adopt the eating habits of their more developed neighbors, worldwide demand for protein will increase-particularly, the type of protein that comes on the hoof. This steadily increasing demand for more energy-intensive meat products will in turn drive demand for input grains (each pound of beef generally requires anywhere from 2-5 pounds of corn). This demand for soy and corn inputs, in turn, will place ever-higher demands on farm size and yield. Agricultural businesses specializing in the development of GMO crops and advanced pesticides and fertilizers will be key in advancing worldwide farm yield. [Note: I favor this view in my investment thesis for Valmont (NYSE:VMI).]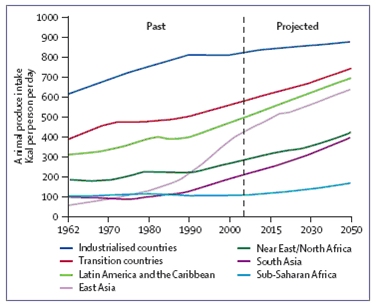 (source)
From a macro perspective, the agrichemical industry is expected to grow at least in line with the US economy and world economy at large. In addition, natural gas-which is the industry s largest energy input-is expected to remain steady or at least range-bound as US domestic production continues to ramp up in line with demand.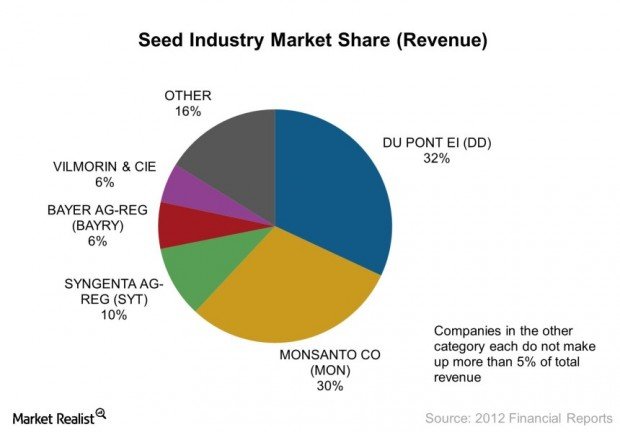 As mentioned, the agrichemical industry is highly consolidated. The high capital requirements discourage new entrants, and the current market leaders benefit from both large economies of scale and network effect. The seed market is a perfect example of this, with over 62% of the market share dominated by the top two players (of which Monsanto is one) but, as the following graphic makes clear, cross-licensing arrangements between the largest industry players enhance each company's economic moat, ensure pricing power, and draw the collective ire of protesters.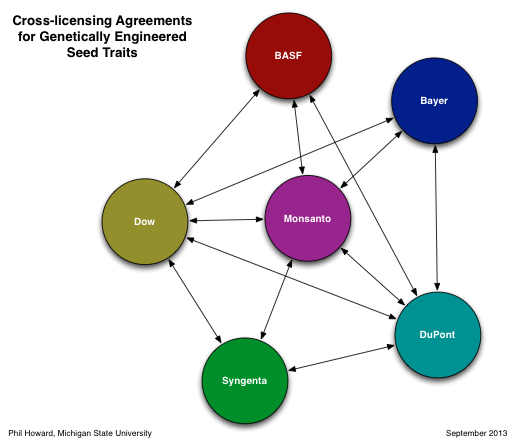 (Source):
Share of global pesticide industry is only slightly less consolidated: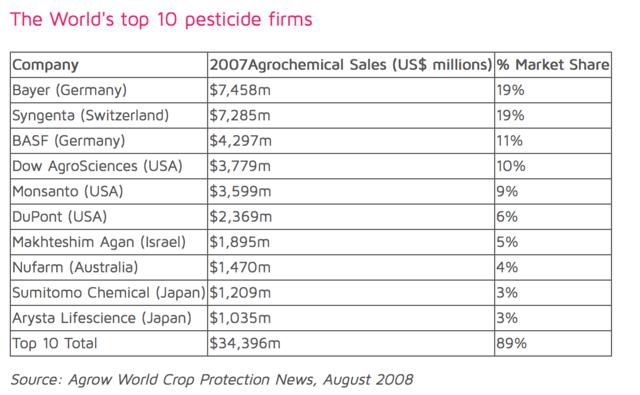 (Source)
As market share has remained (and is expected to remain over the next few years) relatively static, the main driver of excess economic gains for the industry will be demand for crops, and in turn, demand for agricultural inputs and chemicals. Over the next few years, the USDA projects a significant decrease in overall crop acreage as farm yields increase…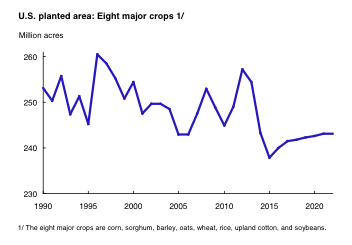 … While crop prices are expected to remain at a plateau lower than their recent peak for at least several years.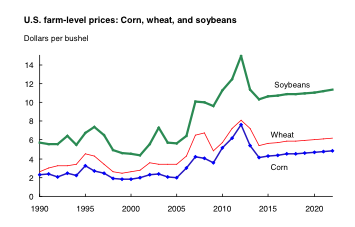 All in all, despite global secular trends favoring increased farm yield (and, in turn, higher uptake of agrichemical products) in developing countries, crop planting in the US is projected to decline, which could negatively affect volumes moving forward. Agrichemical companies like Monsanto must not only execute well in international expansion for volume growth but also develop new products for use in domestic markets to drive margin expansion.
COMPANY OVERVIEW AND OUTLOOK:
Monsanto is a diversified, global leader in the agrichemical industry. The company owns dominant market positions in the global seeds and herbicide markets with products intended to improve farm yield and food quality. The company operates in two main reporting segments: Seeds and Genomics, and Agricultural Productivity.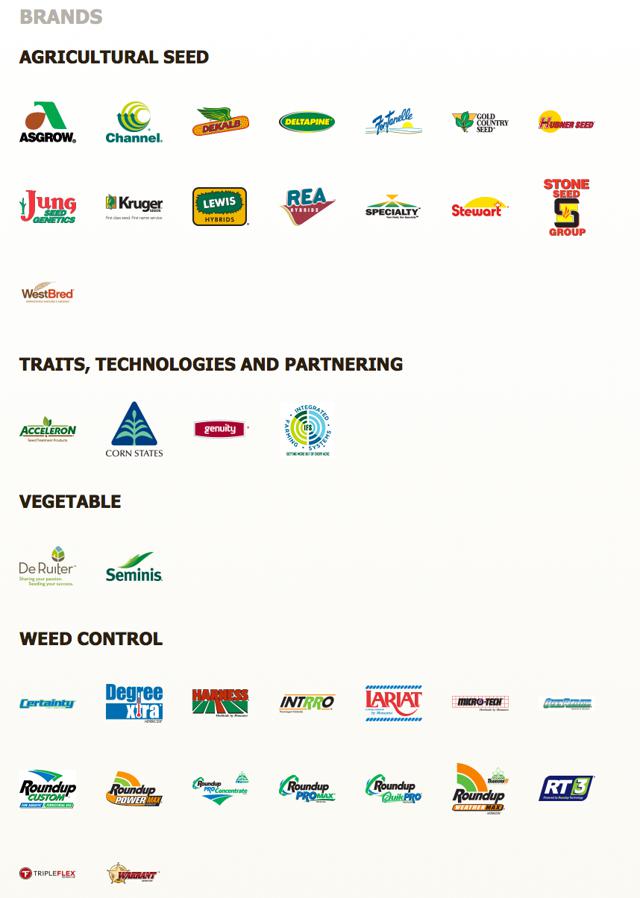 Seeds and Genomics: This segment produces proprietary seed brands, including DEKALB, Asgrow, and Seminis, with plants specifically designed to help farmers control insects and weeds. Having largely crafted the industry itself, Monsanto also licenses genetic material and biotech traits to other seed companies for their seed brands, which helps to further build market and mind share; 10% of sales from current seed brands are promptly plowed back into R&D for next-generation products. Biotech traits, which enable certain crops to protect themselves from a variety of parasites and pests, include flagship products like Intacta RR2 Pro for soybeans and VT Double Pro for corn. Not only do these products compete against other agrichemical companies' rival biotech traits, but against certain farming practices as well, such as the older but time-tested method of simply spraying herbicides or pesticides.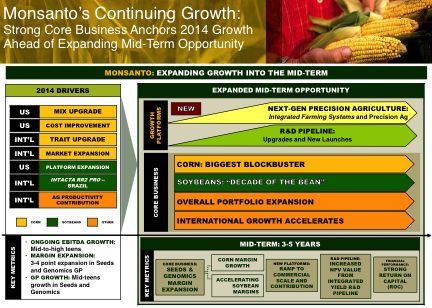 SOURCE: Monsanto
In the most recent fiscal year, Seeds and Genomics produced $10.34B in total sales and $6.083B in total profit, about 69.6% and 79.5% of company total sales and profit, respectively. Of these, the bulk of sales and profits were derived from Corn and Soybean germplasm and traits, with corn and soybeans comprising 44.4% and 11.1% of total net sales respectively. Gross margins remained healthy at 69% and 57.4%, respectively.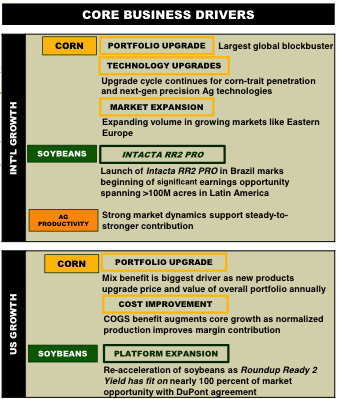 For the Corn subsegment, management is targeting a 7-point margin expansion and about an incremental $1B added to net sales through 2018 (implying a 2.86% net sales growth CAGR), mostly through the application of germplasm upgrades and international expansion into Eastern Europe and Asia. Domestically, the company hopes to expand margins through portfolio upgrades and favorable seed mixes, in addition to cost reductions as operations for new products are normalized into core operations. This would imply a 14.6% yearly improvement in gross profit. Using a more conservative figure (assuming only 50% of the targets are reached), then projected gross profit growth is a more modest 7.89% improvement per year.
For soybeans, management has set even more aggressive targets, calling for an incremental $1B improvement in net sales and 14-16 point margin improvement by 2018 as Intacta RR2 PRO is more fully adopted in target markets like Brazil, and as a recent agreement with DuPont should permit near 100% market penetration of Roundup Ready to Yield in the US. This suggests targets of 32% yearly net sales CAGR over 5 years and gross profit growth of 39% yearly. If the company only hits 50% of its targets, sales and profit growth of 20.2% and 23.3% might be expected. Overall, given the dominance of these platforms to overall growth, and depending on management's execution, yearly revenue and margin growth of 10-17% and 83-170 BPS, respectively, might be expected over the next 5 years for the Seeds and Genomics segment, representing a considerable improvement over the past few years.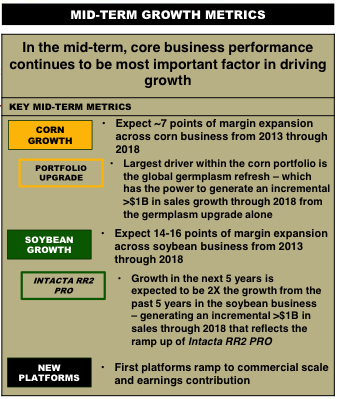 Agricultural Productivity:
This segment focuses on Roundup brand and residential lawn-and-garden herbicide products. Major products include nonselective weed control agents like Roundup as well as the Harness line for corn and cotton. Though the company expects continued pressure on US sales and margins for this segment, it expects nearly offsetting growth in international markets as expanded farm capacity drives sales volume. Products in this segment are more commoditized and subject to margin pressures from generic manufacturers, and in recent years, the company has seen continued margin pressure (largely from increased revenue costs) despite efforts to emphasize its more costly, branded products.
Despite the generic and commoditized nature of this segment, Monsanto sees a way to both enhance its economic moat and improve its relationship with its end-users through precision agriculture. The company's recent acquisition of The Climate Corporation should provide the company a way to pivot towards providing services-based products in addition to its branded seed and glyphosate products.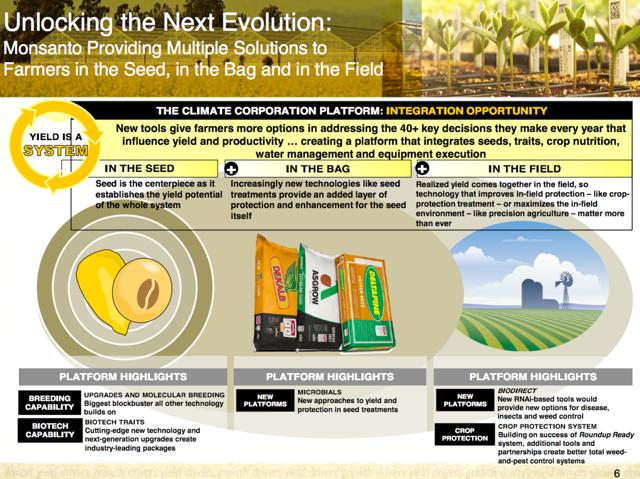 The hope seems to be that Monsanto will be able to leverage its peerless knowledge base into a seamless system that will encourage customer "stickiness"-maintaining a customer through the entire process from seed to crop. In theory, the new platform will guide farmers, from buying the seed (with traits designed by or licensed to Monsanto), protecting it (with technologies designed by Monsanto), to on-the-field technologies, including hyper-local data analysis (for things like water analysis and pest control). As the Seeds and Genomics segment faces secular trends towards increased commoditization, the precision agriculture platform theoretically could provide Monsanto with an effective means of driving sales in older, more mature product lines.
All in all, the company sees Corn and Soybeans seeds as its primary growth drivers, with the eventual roll-out of the Climate Corporation's precision agriculture platform becoming a significant, if complementary, contributor to earnings.
Recent Performance:
During the most recent earnings call, Monsanto raised its full-year outlook, guiding towards full-year EPS of $5.10 to $5.20 and FCF of $700-800M, representing a 14.8% EPS CAGR since 2011. Long-term, the company has reiterated a strategy to at least double EPS over a 5-year period. The company plans on using leverage to accelerate this process, with a target net-debt to EBITDA ratio of 1.5 by the end of 2015; given its current net cash position of about $1.89B, total debt of $3.2B, and trailing EBITDA of $4.59B, a net debt position of about $6.89B and incremental leverage of up to $5.58B is theoretically possible for the purpose of repurchasing shares, capital investments (which, as the graphic below demonstrates, increase on a cyclical basis), and dividends.
METRICS:
Monsanto sports some outstanding metrics. ROIC has outclassed the competition significantly: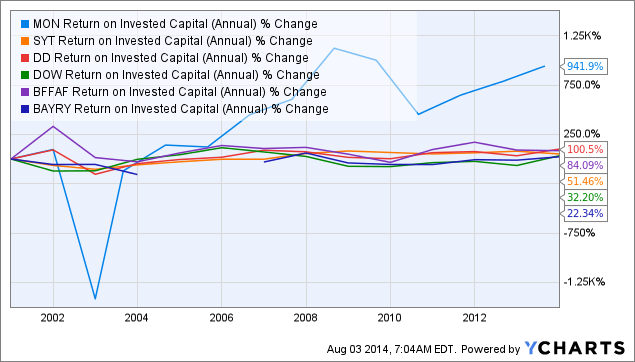 MON Return on Invested Capital (Annual) data by YCharts
As has its Return on Assets: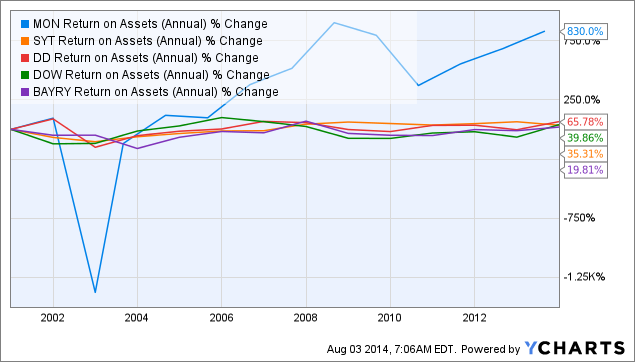 MON Return on Assets (Annual) data by YCharts
However, the company's dominant positioning and consistent profitability allow it to trade at a considerable premium to some of its rivals: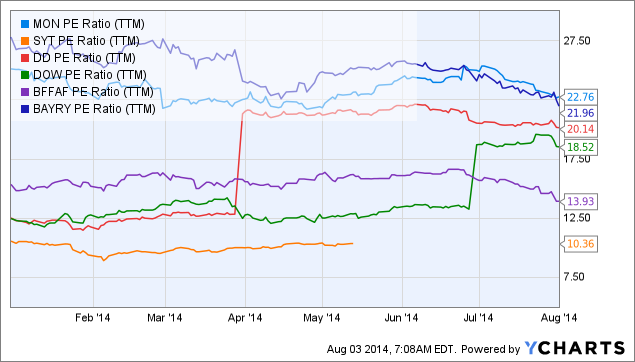 MON PE Ratio (NYSE:TTM) data by YCharts
Despite trading at a premium, however, Monsanto has offered long-term investors outstanding total returns over the past decade and shows no sign of slowing down.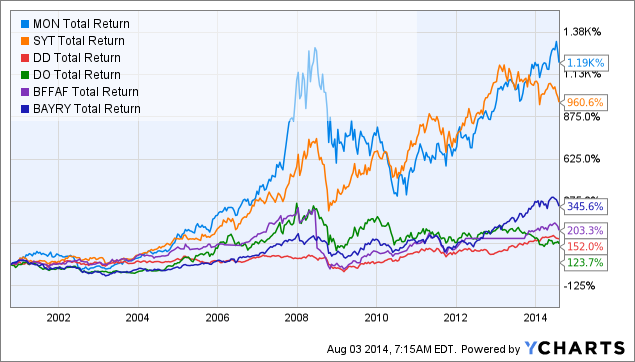 MON Total Return Price data by YCharts
RISKS:
Monsanto faces risks common to both more conventional agrichemical businesses as well as those common to biotechnology firms. Besides the usual risks associated with protecting intellectual property, the firm and industry as a whole is subject to extensive regulation, and as mentioned above, public sentiment (at least in the US) is set against the company and its products. Legal proceedings against the company are frequent, not only from angry consumers but from rival firms as well. Frequent periods of accelerated capital expenditures and R&D spend are required in order to maintain its robust product pipeline, and there is no guarantee that these future products will see success. In the meantime, its existing products will face patent expirations, and generic manufacturers could end up competing with the company, eroding margins. Finally, besides the vagaries of the Justice Department, the fickle consumer, and competitors (branded and generic alike), Monsanto must contend with nature: super-bugs and super-weeds may develop resistance to Monsanto strains and technologies, rendering its products useless.
VALUATION:
My fair value estimate for Monsanto is $135 per share. I use a 10-year forecast based off of historical trends and management's recently outlined revenue and margin plans, though I incorporate a 50% weighting of a bear case scenario (with the company only achieving 50% of its stated goals). These are fed into a Monte Carlo discounted cash flow model, supported by an analysis of trading multiples. I forecast overall revenue growth to approach 17% by 2019 with operating margins approaching 30% in 5 years. I assume an average tax rate of 27%, and a weighted average cost of capital of 8%.
I assume that the company will come close but not quite reach its revenue targets for Seeds and Genomics sales and margin growth, as Intacta launches in Brazil and as increased corn germplasm uptake is seen in developing markets to supply growing demand for meat. I predict that international growth will largely cancel out margin compression in more developed markets for herbicides, and that additional growth and margin protection will be seen as precision ag products from the Climate Corporation are rolled out over the next 5-10 years. CAPEX for next year is forecast to come in at $1.22B, and depreciation expenses at $714M, inline with management forecasts. This fair value estimate assumes a forward PE of 22.3 and predicts a forward EV/EBITDA multiple of 13.6 for 2015. A reverse DCF analysis suggests that the market is only pricing in about 13-14% annual growth, which, though relatively in line with historical trends, understates both Monsanto's growth potential in international markets as well as its durable competitive advantages and efforts to strengthen its economic moat. I believe that the market has over-reacted to the company's share repurchase plan (specifically, its plan to use leverage and change its capital structure), and ignores both management's clearly stated roadmap and strong secular tailwinds. I think shares are materially undervalued, and I recently started a small position.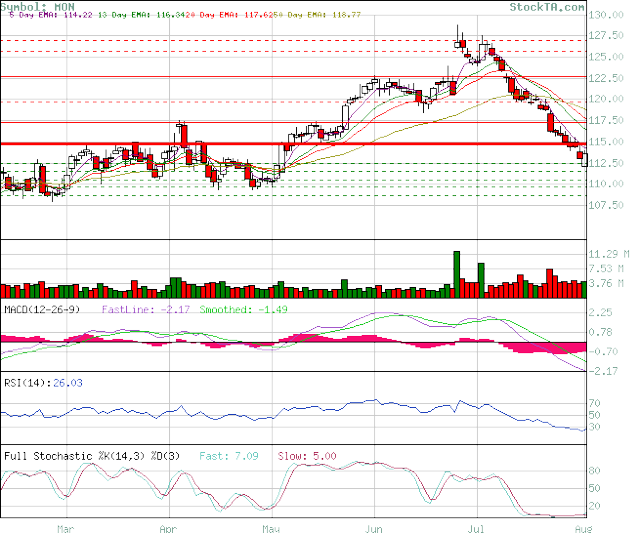 In the short term, looking at the technicals, shares are caught in a sharp downtrend, though approaching a level of support in the $108-$112 range. The MACD is still strongly bearish, and the moving averages all confirm a strong downtrend is in place. However, the RSI is approaching sharply oversold territory, so I might look to see whether or not the long-term support of $108 is broken before adding additional shares.
CONCLUSION:
Monsanto offers a compelling growth story in addition to sound fundamental metrics, in the setting of strong secular tailwinds for long-term growth. It trades at a material discount to a conservative fair value estimate of $135. With more of the world eating more and more food, additional demand for Monsanto's seeds and farming technologies seems almost inevitable. Though having recently started a position, I would consider accumulating additional shares should weakness continue to take the stock down to the $105-108 range.
Disclosure: The author is long MON, VMI. The author wrote this article themselves, and it expresses their own opinions. The author is not receiving compensation for it (other than from Seeking Alpha). The author has no business relationship with any company whose stock is mentioned in this article.