The last time I wrote about MetLife, Inc. (NYSE:MET) I stated, "Due to the bullish technicals, secure dividend, and earnings beat I'm going to be pulling the trigger on a very small batch of this particular name right now." Since the article was published, the stock has increased 4.51% (but got as high as a 14.72% gain) versus the 5.82% gain the S&P 500 (NYSEARCA:SPY) posted. MetLife provides insurance, annuities and employee benefit programs in 50 countries through its subsidiaries and affiliates.
On July 23, 2014, the company reported second-quarter earnings of $1.39 per share, which missed the consensus of analysts' estimates by $0.02. In the past year, the company's stock is up 6.54% excluding dividends (up 8.92% including dividends), and is losing to the S&P 500, which has gained 13.8% in the same time frame. Since initiating my position back on November 19, 2013, I'm up 1.01% inclusive of reinvested dividends and dollar cost averaging. With all this in mind, I'd like to take a moment to evaluate the stock to see if right now is a good time to purchase more for the financial sector of my dividend portfolio.
Fundamentals
The company currently trades at a trailing 12-month P/E ratio of 16.39, which is fairly priced, but I mainly like to purchase a stock based on where the company is going in the future, as opposed to what it has done in the past. On that note, the 1-year forward-looking P/E ratio of 8.48 is currently inexpensively priced for the future in terms of the right here, right now. Next year's estimated earnings are $6.15 per share, and I'd consider the stock inexpensive until about $92. The 1-year PEG ratio (1.93), which measures the ratio of the price you're currently paying for the trailing 12-month earnings on the stock while dividing it by the earnings growth of the company for a specified amount of time (I like looking at a 1-year horizon), tells me that the company is fairly priced, based on a 1-year EPS growth rate of 8.48%. Below is a comparison table of the fundamental metrics for the company for when I wrote all articles pertaining to the company.
| | | | | | | | |
| --- | --- | --- | --- | --- | --- | --- | --- |
| Article Date | Price ($) | TTM P/E | Fwd P/E | EPS Next Yr. ($) | My Target Price ($) | PEG | EPS Next Yr. (%) |
| 19Nov13 | 52.01 | 23.75 | 9.04 | 5.75 | 86 | 9.95 | 2.38 |
| 12Feb14 | 49.88 | 22.80 | 8.77 | 5.70 | 86 | 9.46 | 2.41 |
| 02Aug14 | 52.13 | 16.39 | 8.48 | 6.15 | 92 | 1.93 | 8.48 |
Financials
On a financial basis, the things I look for are the dividend payouts, return on assets, equity and investment. The company pays a dividend of 2.69% with a payout ratio of 44% of trailing 12-month earnings, while sporting return on assets, equity and investment values of 0.4%, 5.8% and 4.1%, respectively, which are all respectable values. Because I believe the market may get a bit choppy here and would like a safety play, I believe the 2.69% yield of this company is good enough for me to take shelter in for the time being. Below is a comparison table of the financial metrics for when I wrote all articles pertaining to the company.
| | | | | | |
| --- | --- | --- | --- | --- | --- |
| Article Date | Yield (%) | Payout TTM (%) | ROA (%) | ROE (%) | ROI (%) |
| 19Nov13 | 2.11 | 50 | 0.3 | 3.9 | 1.1 |
| 12Feb14 | 2.20 | 50 | 0.3 | 3.9 | 1.1 |
| 02Aug14 | 2.69 | 44 | 0.4 | 5.8 | 4.1 |
Technicals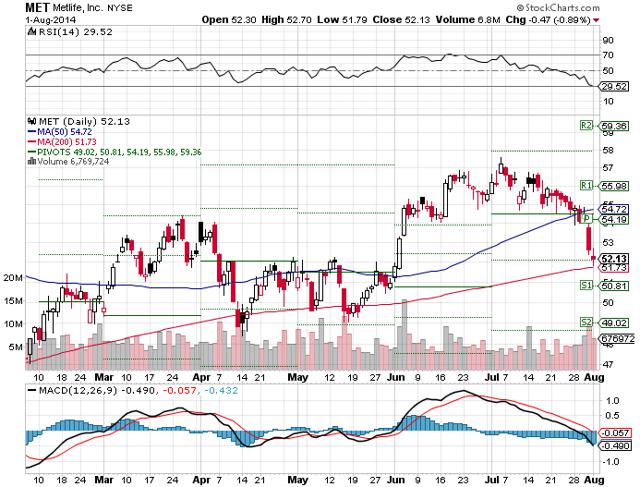 Looking first at the relative strength index chart [RSI] at the top, I see the stock in oversold territory, with a current value of 29.52. I will look at the moving average convergence-divergence [MACD] chart next. I see that the black line is below the red line, with the divergence bars decreasing in height. As for the stock price itself ($52.13), I'm looking at $54.19 to act as resistance and the 200-day simple moving average (currently $51.73) to act as support, for a risk/reward ratio which plays out to be -0.77% to 3.95%.
The Return Of Capital To Shareholders
Back in April of this year, the company increased its dividend by a whopping 27.3%, from $0.28 per share to $0.35 per share. As I've shown in the Financials table above, the dividend yield has increase by 50 basis points, while the payout ratio has decreased. The company is definitely making enough earnings per share to cover the dividend, and can definitely raise it in the future. However, Washington D.C. may just be the roadblock or at least speed bump for the company returning capital to shareholders in the future.
MetLife is the largest life insurer in the United States, and is awaiting a decision by D.C. to determine if it is a threat to the financial system. If deemed as a risk to the system, MetLife can find itself under the thumb of the Federal Reserve with tighter capital return standards. CEO Steven Kandarian says he remains cautious on capital returns due to the uncertainty. The company did announce its first buyback last month since 2008 to be able to at least offset the dilution attributed to the purchase of American Life Insurance. Only after the rules by D.C. are spelled out will the leader of the company begin to mull additional capital returns.
Conclusion
If being cautious with capital returns means the company will increase the dividend a little less than 27.3% next time around and only issue buybacks to cover dilution, then I'll take it! To me, the company is already a high-yielding dividend stock and is already the sixth-highest dividend payer among all companies operating in the life insurance industry. Fundamentally, I believe the stock to be inexpensive on next year's earnings estimates, but fairly valued on short-term earnings growth expectations, while next year's earnings estimates keep increasing. Financially, the dividend is pretty good, and the financial efficiency ratios have increased since six months ago. On a technical basis, I believe the stock is oversold and seems to have a risk/reward ratio which is favorable to me right now. I'm glad that I did this review today, because I believe this is a good entry point for me in the stock to catch some more of that dividend, with the ex-date looming.
Because I swapped out Cincinnati Financial Corporation (NASDAQ:CINF) for MetLife in my dividend portfolio, it is only fair that I provide an update from the swap-out date. From November 19, 2013, MetLife is down 0.10%, while Cincinnati Financial is down 9.77% and the S&P 500 is up 7.46%. Keep in mind, I'm up 1.01% on my position because I pick my spots. My change out is performing well against the trade itself, but not against the overall market.

Disclaimer: This article is meant to serve as a journal for myself as to the rationale of why I bought/sold this stock when I look back on it in the future. These are only my personal opinions and you should do your own homework. Only you are responsible for what you trade and happy investing!
Disclosure: The author is long MET, SPY. The author wrote this article themselves, and it expresses their own opinions. The author is not receiving compensation for it (other than from Seeking Alpha). The author has no business relationship with any company whose stock is mentioned in this article.