Dubai
This coming Thursday not only marks the US Thanksgiving holiday, but also the 1 year anniversary of the EU Sovereign Debt/Banking Crisis. In case you've forgotten, as markets were closing for both the American and other holidays, Dubai's sovereign wealth fund announced a 6 month moratorium on its bond payments.
At the time, the EURUSD was flirting with all time highs of 1.500, and was widely considered the logical replacement for the unwanted, struggling, debt-burdened USD.
Dubai World reminded markets that there was a lot of questionable sovereign debt, particularly among the Euro-Zone's weakest economies, Portugal, Ireland, Italy, Greece, and Spain, which quickly became collectively known as the PIIGS. Other more eastern EU countries were also problematic.
Markets quickly remembered the numerous structural flaws of the EZ and the EUR, most fatally a shared currency without corresponding budgetary controls to ensure individual members did not overspend and devalue their shared currency.
The weekly EURUSD chart below (click to enlarge) shows what happened, with that fateful Thanksgiving week marked by the vertical white line.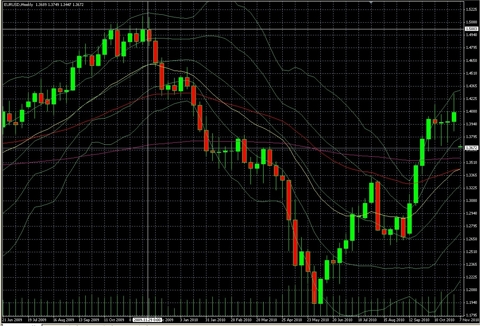 EURUSD WEEKLY CHART COURTESY AVAFX/MT4 01nov20 h
Greece
It quickly became clear that Greece was in the most immediate danger of default, needing to make some major bond sales in May 2010.
The EUR entered a prolonged decline vs. the USD and all other major currencies, as EU leaders first denied the problem and then delayed a decisive resolution by offering aid that was viewed as too little too late.
Uncertainty about which banks would be destabilized by a Greek default caused a seizure in EU interbank lending and credit, and markets began plunging worldwide as they feared another risk of contagion similar to that brought on by the Lehman Brothers collapse in early 2009.
Stabilization & Recovery May 2010 –November 2010
Then in May 2010 its 'shock and awe' €750 bln EU/IMF rescue plan for Greece and any other PIIGS in needs succeeded somewhat in calming markets and stopped the EUR's plunge. Neither the underlying economic problems of the PIIGS, nor the structural problems of the EZ were in any way resolved, but now no nation was at immediate default risk.
Meanwhile, that recovery was greatly aided by a weakening in US economic data and the USD this past spring. The USD dove this past fall as expectations increased for new US stimulus spending (QE 2) that was seen as likely to devalue the USD.
Act II: Ireland
Then 2 weeks ago on Monday Nov. 8th, news broke that Ireland, the former poster child for austerity as the means to recovery, was facing default in 2011 due to bank bailouts made earlier that had essentially left it insolvent, and that those banks themselves would default on their bonds without further billions that the Ireland could not spare.
PIIGS bond yields had been rising already as bond markets understood what was happening.
Although Ireland itself has wisely planned to be fully funded well into 2011, the news drove up borrowing costs for the rest of Europe, and yields on bonds of Greece, Ireland, Portugal and others hit old and new highs making Ireland's problem Europe's problem. Nor was the problem confined to the weakest nations. Certain French bonds now offer higher yields than those of Chile.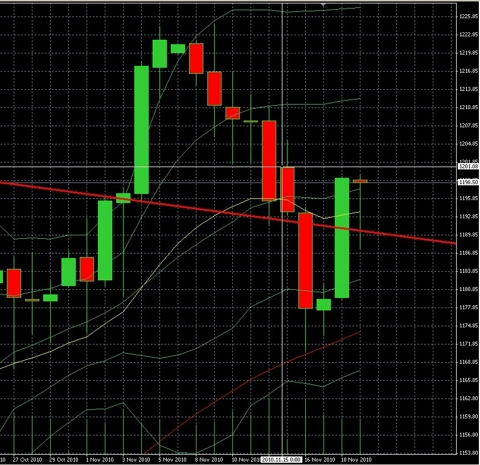 S&P 500 DAILY CHART WEEK OF NOV. 15-19 TO RIGHT OF WHITE VERTICLE LINE 01NOV20
PRIOR WEEK
Of the two primary market sentiment drivers this week:
The EU Crisis Act II: Ireland

China Inflation And Its Implied Further Reduction off Money Supply And Growth
The EU Crisis was clearly the more potent market driver and is likely to remain so for as long as the issues below remain unresolved.
EU Sovereign Debt/Banking Crisis Act II: Ireland And Threat Of Contagion
Stabilizing Ireland and its insolvent banking sector was THE prime market driver for the past 2 weeks. The story broke Monday November 8th-9th. As shown in the chart below, the S&P 500 ( an accurate representative of other risk assets) dropped steadily Nov. 8th - 12th.
The crisis weighed heavily on markets early this past week as well, and rising hope for quick resolution, when news broke Wednesday that EU and IMF officials were coming to Dublin Thursday, sent risk asset markets recovering.
Even though the other big bearish issue, China, remained unresolved, no one cared, Irish bank insolvency was clearly the greater global threat.
Somewhat exacerbating the EU situation:
Eurostat reported, and Greece confirmed, new upward revisions on Greek's debt/GDP, again due to Greek misrepresentation of its situation
Austria withheld its next aid payments to Greece until it receives 'clarification' of the true nature of Greece's situation.
Portugal's FM noted that Portugal might have to leave the EU
Note that all this came after the Greek Deputy PM commented that Greece might not be able to avoid 'restructure' (partial default) on its bonds
Why?
EU In Review: The Real EU Crisis In Summary
From the start, the primary concern about sovereign debt is that because big EU banks hold those bonds, EU banking, and thus the EU economy, could crash if even one of the PIIGS nations defaulted, because the rest of them would likely be unable to continue selling bonds and thus would eventually default as well.
That meant a loss of trust in the big EU banks that would prevent THEM from borrowing, and thus their eventual demise or bailout, a massive drop in credit availability to businesses, economic crisis, etc.
The mere progress towards resolution of the Irish banking crisis was the prime reason markets rose Wednesday and Thursday, even though the feared Chinese monetary tightening and slowing growth (see below), loomed with new Chinese policies as yet unknown.
The latest reports suggest that a main point of conflict with Ireland has been resolved and that Ireland will be allowed to retain its especially low corporate tax rate and still receive aid.
Political Considerations Add Uncertainty
The deal is not yet done, however. Ireland faces an important by-elections November 25th which could cause Ireland to yet harden its position in hopes of gaining favor with voters. Portugal is due to pass its 2011 budget the next day, though a Parliamentary deal has supposedly assured passage.
China Inflation Raises Fear Of Decreased China Money Supply, Growth, That Drags Global Growth
Asia markets opened the week lower on news of 62% y/y increase in food prices in China, prompting speculation of yet more cuts to Chinese money supply and growth. A 0.25% increase in Korean interest rates to 2.5% confirmed the Asian inflation story.
Thursday Good News From US Boosts Markets: New General Motors IPO & US Manufacturing Data
Markets stabilized Wednesday on hopes for a solution for Ireland as EU and IMF officials were due to arrive the following day in Dublin. Meanwhile in the US GM had very successful IPO (initial public offering) as it officially came out of bankruptcy, and the Philly Fed reported good manufacturing results. Both news items helped short term oversold markets bounce.
COMING WEEK
EU Crisis: Ireland, Portugal, and ECB Stimulus Exit?
The EU crisis remains the likely key market mover for next week. In particular markets will be looking to see not only if Ireland is stabilized, but also if the EU can calm markets about Portugal, which is widely believed to be next in line for attack by traders seeking to bid up the costs of Portuguese yields. Markets are expecting an €80 – 100 bln aid package.
This past week ECB President Trichet insisted that the ECB would not wait to halt its purchases of PIIGS bonds. However if normal debt markets remain too expensive for these nations and their banks, the ECB will likely be forced to extend its spending, which would weigh on the EUR and EU optimism.
Further News On China Tightening
China has already raised reserve requirements for banks this week. Another rate hike could be next.
WILDCARDS
The usual wildcard sources of volatility bear watching:
The EU sovereign debt/banking crisis

Rising risks of a China slowdown, which would weigh on both surrounding Asian economies, commodity prices, and the commodity currencies (AUD, NZD,CAD).
Updates on US QE 2 Plans
US Real Estate and Banking Crisis

Part I: Teaser Rates, Alt-A Resetting
Part II: Foreclosure Fraud
NOTEWORTHY BUT NOT MARKET MOVING
Report from Michigan Governor coming solvency issues for Michigan towns and cities. See here for details. State and local solvency is another as yet 'under-the-radar' problem due to burst forth in the US, Japan, China and EU in the coming years.
Portugal FM says it may need to leave EU
Greece votes to keep pro-austerity socialist party in control, boosting confidence in
NOTE KEY LONG-TERM TECHNICAL RESISTANCE AND SUPPORT
Note the weekly chart below (click to enlarge) for the bellwether S&P 500, our favorite single picture of risk appetite. Resistance and support levels noted below should also suggest other risk assets will not rise beyond the levels reached if /when the S&P 500 hits resistance noted below, nor should the fall below levels reached when the index hits support levels noted below.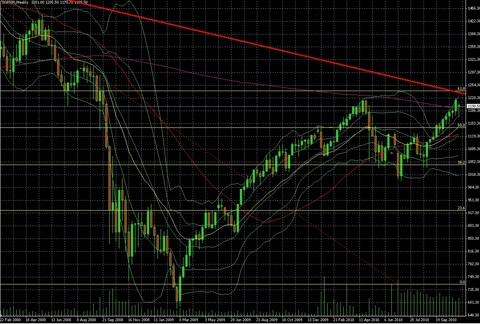 S&P 500 WEEKLY CHART 02nov21
Key Points: In addition to bearish fundamentals of EU, China, US banking/housing uncertainties, note:
Resistance
Huge resistance around the 1240 zone comprised of:
Price level resistance of 1220 that has held both times it was tested this year

The 61.8% Fibonacci Retracement drawn from the July 2007 high
The down trend line from the July 2007 (thick straight red line descending)
The 200 week Simple Moving Average (purple)
Support
Major support around 1120 comprised of both the 50 week SMA (red) and established 1120 price level

Major support around 1050 comprised of both the 38.2% Fibonacci Retracement drawn from the July 2007 high
DISCLOSURE & DISCLAIMER: NO POSITIONS, THE ABOVE IS FOR INFORMATIONAL PURPOSES ONLY AND NOT TO BE CONSTRUED AS SPECIFIC TRADING ADVICE. RESPONSIBILITY FOR TRADE DECISIONS IS SOLELY WITH THE READER