This week Hess Corporation (NYSE:HES) announced its plan to form a master limited partnership ("MLP"). The company's goal is to unleash shareholder value by monetizing midstream assets -- primarily in the Bakken. The IPO is expected in Q1 of 2015. As with Phillips 66's (NYSE:PSX) formation of Phillips 66 Partners (NYSE:PSXP), Hess will retain operational control of the MLP. If similar moves by PSX and Marathon (NYSE:MRO) are any indication, formation of the MLP will be a positive catalyst for HES and presents an opportunity for investors.
Initially, HES will contribute some of the assets shown in a slide taken from a Howard Weil presentation given in March: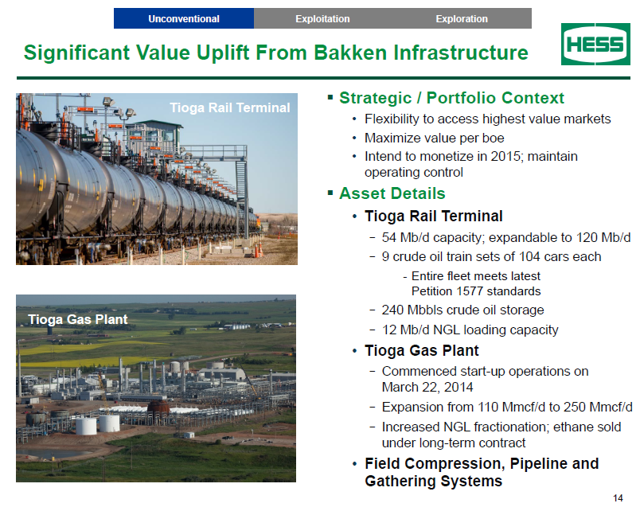 HES announced the MLP's initial assets will include the following assets from its Tioga, North Dakota infrastructure complex:
The natural gas processing plant.
The rail loading terminal along with the associated rail cars.
The crude oil truck and pipeline terminal.
In addition, HES will include its propane storage cavern and related rail, truck loading and storage terminal located in Mentor, Minnesota.
More information about the details of the MLP will be available in Q4 when HES expects to file the MLP's registration statement and Form-S1 with the SEC. Also, on November 10th HES will hold an Investor Day in Houston, TX to provide an overview of its growth strategy and key assets.
The Tioga Gas Plant
HES recently performed a large-scale expansion, refurbishment and optimization project at the Tioga Gas Plant. The project was completed in May and the company announced the expansion doubled the plant's operational capacity. At the time of the announcement, the plant was processing about 120 Mmcf/day. The company expects third-party gas combined with its own gas production will soon raise the plant's production to at least 250 Mmcf/day with the potential to increase beyond 300 Mmcf/day. Prior to the expansion, the plant processed about 100 Mmcf/day.
The plant's increased processing capacity significantly reduces the amount of natural gas Hess flares in the Bakken - from about 25% before the plant was shut down for expansion to about 15-20% today. In the Seeking Alpha Q2 conference call transcript, HES CEO John Hess said:
The plant will be a major enabler for us to reduce flaring to less than 10% by 2017.
Mr. Hess also broke down the gas/NGLs split at the Tioga plant:
Plant gross inlet capacity has increased to 250 million cubic feet per day, and natural gas liquids processing capacity has more than doubled to approximately 50,000 gross barrels of oil equivalent per day. Current plant gross inlet volumes are approximately 180 million cubic feet per day, and we are processing approximately 35,000 gross barrels of oil equivalent per day of natural gas liquids.
From these numbers it is easy to see that the plant has been built to handle about 38% more natural gas and about 43% more NGLs than currently processed during Q2. Given current natural gas, propane, and ethane pricing, estimates are the Tioga gas plant could throw off in the neighborhood of $275 milion-$325 million in EBITDA -- even more if the plant's capacity is expanded to 250-300 Mmcf/day.
And that's the real prize here -- the likely further expansion in Bakken gas processing given the large flaring taking place in North Dakota (estimated at 10 bcf in the month of April alone).
HES' ability to capture more of its Bakken natural gas production is a strong catalyst moving forward. So too is the Tioga plant's ability to increase processing of NGLs and thus production volumes of ethane and propane. These strong fundamentals provide highly visible and relatively low-risk growth prospects for the new MLP.
MLPs: A Proven Path To Increased Shareholder Returns
The following chart shows HES in comparison with ConocoPhillips (NYSE:COP), PSX, PSXP and Marathon's MLP (NYSE:MPLX) over the past five years. While there are some similarities between HES' and COP's strategic plan, there are also some big differences between the companies. However, in general the chart shows how integrated oil companies can unleash significant shareholder value by selling non-core assets and forming MLPs to unleash the value of midstream assets. If only Exxon Mobil (NYSE:XOM) and Chevron (NYSE:CVX) would take a cue from companies like ConocoPhillips and HES, they too could have such impressive share price appreciation charts.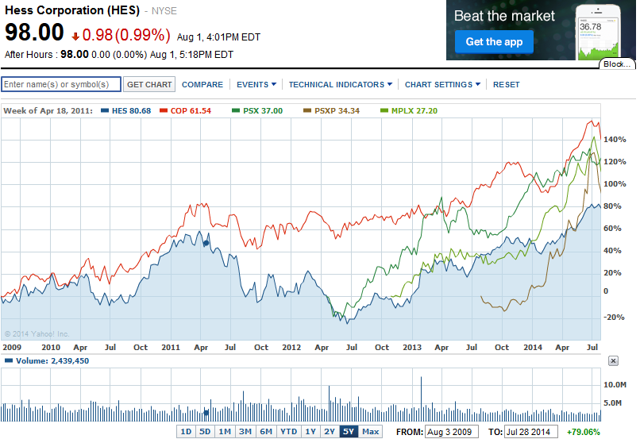 The Bakken
HES currently has 640,000 net acres in the Bakken. It has a 17 rig drilling program and 2014 net production is expected to average 80,000-90,000 boe/day. Greg Hill, President and CEO of E&P for HES, had this to say at the gas plant re-opening ceremony:
As a leading operator in one of the best shale plays in the world, the Bakken will be the single biggest contributor to our production growth over the next five years. We expect that by 2018, we'll be producing 150,000 barrels of oil equivalent per day from the Bakken."
In its Q2 EPS report HES announced oil and gas production in the Bakken increased 25% yoy to 80,000 boe/day while drilling costs declined 12% during the quarter. HES brought in 53 gross operated wells onto production during the quarter, bringing the YTD total to 83 wells. Hess said the company plans to bring another 140-150 wells online over the course of the second half of this year.
Hess reported continued progress on its 13 and 17 well per DSU down-spacing pilots programs, which are meeting expectations. By the end of this year HES expects to have sufficient data to provide updated guidance for well spacing, production, forward drilling locations and estimated recoverable resources. I would expect one outcome of these pilot programs would be a significant boost in proved reserves.
Q2 Earnings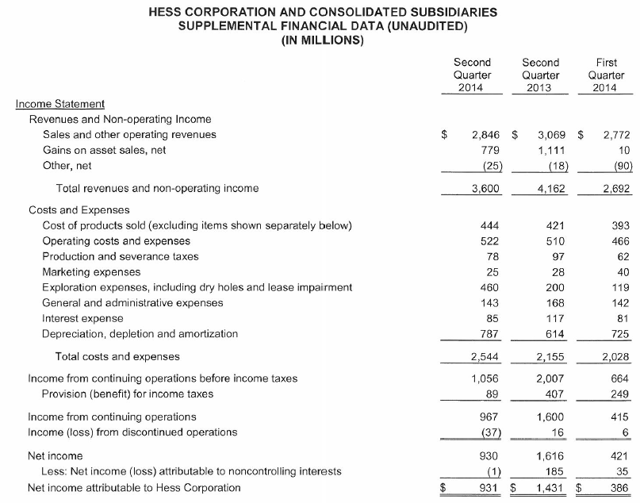 HES reported net income of $1.38/share for Q2, beating the Thomson Reuters consensus estimate of $1.18 by $0.20. That compares to $1.51/share for Q2 2013. The company's quarterly revenue was down 7.3% yoy. Of course the year-over-year decrease in EPS and revenue is due to the company's ongoing campaign to increase shareholder value as a result of pressure from Elliot Associates and Elliot International. Elliot's estimates of HES' inherent value can be seen in this January 2013 assessment filed with the SEC.
MLP Asset Valuation Estimate
On page 7 of the Elliot presentation, the Tioga gas plant and Bakken railroad terminal were estimated to be worth $2 billion-$2.5 billion, or $5.72-$7.44/share. However, that estimate was given in January of 2013 -- before the doubling of the Tioga plant capacity and before the stock buybacks initiated since that period. The number of HES shares outstanding have fallen from 340.9 million when Elliot released its presentation in January of 2013 to 314.1 million today -- a 7.9% reduction in the share count. As a result these assets, plus the additional initial assets included with the MLP, could easily be worth $20-25/share today.
HES' value creation plan is reminiscent of ConocoPhillips' highly successful multi-year strategy to divest non-core acreage, shed downstream assets, form an MLP, and transition to a leading independent E&P company:
Long-Term Potential
In addition to its asset divestment and MLP plans, HES has a three-point, long-term production growth strategy:
Unconventional
Exploitation
Exploration
The unconventional thrust is led, of course, by the Bakken. However, the company also has a leading position in the emerging Utica wet-gas window (42,000 net acres). In exploitation, the company is focused on down-spacing in the Bakken and two near-term growth prospects: Tubular Bells (57% working interest and operator) in the Gulf of Mexico (first oil Q314) and North Malay Basin (early production Q414).
Chevron is the other partner with HES on Tubular Bells. John Hess gave an update on the very important Tubular Bells project during the Q2 conference call:
We expect Tubular Bells to achieve first production in September and to deliver net production of approximately 25,000 barrels of oil equivalent per day following the ramp-up period.
This is a powerful catalyst going forward.
In exploration, the company is reducing risk through partnering and is focused on 4 core regions:
Deepwater Gulf of Mexico
Offshore West Africa
Kurdistan
Malaysia
Current full-year 2014 production guidance is for 305,000-315,000 boe/day. As a result of its strategy, HES predicts it will grow production to over 400,000 boe/day by 2017 with a long-term goal of raising production by a 5%-8% CAGR.
Unleashing Shareholder Value
The most powerful catalyst for HES is simply the fact that its executive management team has committed itself, just like COP's management team, to increasing shareholder returns by unleashing asset values. In Q2, the company completed asset sales totaling $1.6 billion and announced the sale of its retail business for $2.9 billion to Marathon Petroleum Corp. (NYSE:MPC).
As a result, HES increased its share repurchase program from $4 billion to $6.5 billion. In September of 2013, HES increased its quarterly dividend 150% to $0.25/share. During Q2, the company returned $845 million to shareholders through share repurchases and dividends.
Summary & Conclusion
HES has three powerful near-term catalysts:
Growing production and reduced drilling costs in its leading Bakken position.
Tubular Bells potential to add 25,000 bbls/day of net production in the Gulf of Mexico starting in September.
Formation of an MLP with assets worth an estimate $20/share and excellent growth prospects due to the Tioga plant's idyllic Bakken location and the ability to increase natural gas and NGL processing capacity.
The day after HES' announcement to form the MLP, Credit Suisse analyst Ed Westlake raised its 12-month price target to $120/share. Westlake follows Hess closely and also raised his full-year EPS guidance going forward to $5.60/share (+14%) as a result of the Q2 beat. I concur. The value of the MLP assets alone are worth in the neighborhood of about $20/share (on a sale basis). HES is a STRONG BUY with a relatively low-risk 12-month total return potential of 20%. The biggest risks to this forecast would be production delays at Tubular Bells and/or market conditions that would prevent a successful MLP IPO in Q1 of 2015. Otherwise, the future looks very bright for HES and management's shareholder-friendly goal of unleashing value.
As more information is released about the newly-formed MLP later this year, investors should take a close look at it. If the very successful MLPs formed by Phillips 66 and Marathon (PSXP and MPLX, respectively) are any indication, HES could spawn a winner.
| | |
| --- | --- |
| Market Cap: | 30.78B |
| P/E ("ttm"): | 7.91 |
| EPS ("ttm"): | 12.39 |
| Div & Yield: | 1.00 (1.00%) |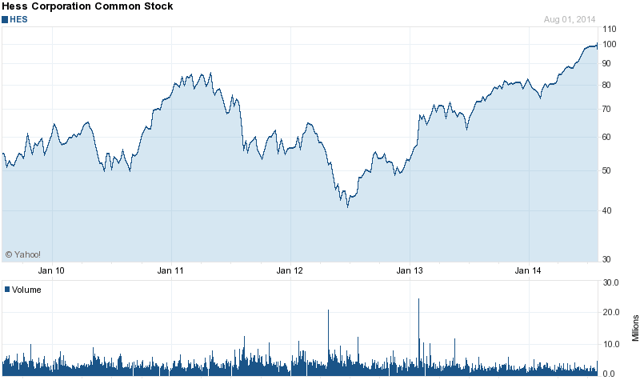 Disclosure: The author is long COP, CVX, PSX, XOM. The author wrote this article themselves, and it expresses their own opinions. The author is not receiving compensation for it (other than from Seeking Alpha). The author has no business relationship with any company whose stock is mentioned in this article.
Additional disclosure: I am an engineer, not a CFA. The information and data presented in this article were obtained from company documents and/or sources believed to be reliable, but have not been independently verified. Therefore, the author cannot guarantee their accuracy. Please do your own research and contact a qualified investment advisor. I am not responsible for investment decisions you make. Thanks for reading and good luck!