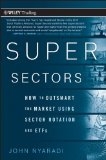 John Nyaradi's Super Sectors: How to Outsmart the Market Using Sector Rotation and ETFs challenges the conventional wisdom of buy-and-hold while making a compelling case for active investment management. Nyaradi is publisher of Wall Street Selector: Professional ETF Trading, an online newsletter.
The first few chapters may feel a bit redundant, but novices and passive investors stand to gain from his repetitive style with coverage of topics including bear markets, shortcomings of buy-and-hold, other "Wall Street fairy tales," and a chapter on exchange traded funds. About 100 pages are dedicated to Nyaradi's trading strategy, the part I found most valuable, involving sector rotation with ETFs, and using technical analysis (or combining its use with fundamental analysis). Remaining chapters/sections of interest include one on trading psychology, his 5 super sectors, and a Q&A with the experts. Below I discuss some of these items beginning with the controversial buy-and-hold vs. active management.
I was somewhat surprised by how many times the author quoted Warren Buffett, despite Buffett being perhaps the epitome of buy-and-hold. I pointed this out to Nyaradi and asked him about it, in addition to a few other questions; I will append his answers as a comment when I receive his reply. Anyway, while drafting the review for Super Sectors, I happened upon a copy of Prof. Prem Jain's Buffett Beyond Value (2010). Let's look at the case of The Washington Post Company (WPO), which is not mentioned in Super Sectors but is useful to illustrate Nyaradi's point.
Buffett reportedly bought 1.9 million WPO shares in 1973 when the company had a market capitalization of $100M compared to an estimated intrinsic value of $400M-$500M — its market cap today is $3.26B. Google Finance seems to have the oldest data among the free mainstream sites, and as of 1978, WPO traded at a split-adjusted $15-$23/share. It closed Friday at $386/sh and has traded between $296 and $548 over the past year, and was as high as the $900s in 2004/05. Interestingly, one of Jain's lessons from Berkshire's history is "selling in euphoria," referencing the year 2000 downturn, up to and during which Buffett did NOT sell shares (but later recognized he should have), in this case of Coca-Cola (NYSE:KO), which traded as high as $87 in 1998, fell to the $30s in 2003, and trades at $64 now, its highest since 1999. WPO appears in the next chapter, "Buying Christmas Cards in January." I opted to use WPO for illustrative purposes given Buffett's easily identifiable gains since the 1970s and WPO's trading action over the past few years. See a three-year chart of WPO below.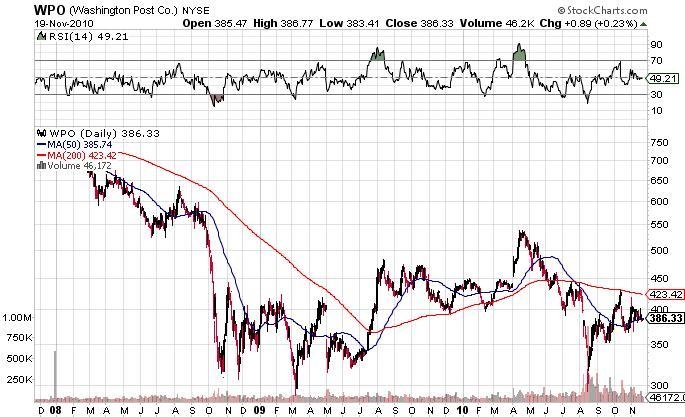 We have an interesting situation. Ceteris paribus, you try to buy as low as possible as Buffett and Nyaradi do, but the former looks to hold on for a long time; he's even jokingly said he aims to hold forever when referring to an investment like Coca-Cola, while Nyaradi in Super Sectors makes a case for managing your position, using stop losses and selling (and even shorting) on major reversals. Many possibilities not to mention the present stock price and what may be a buy signal on the horizon.
A buy-and-hold position in WPO is clearly feeling some pain, although it is helped a little by WPO's current $9/sh (annualized) dividend. So those seeking income may find some solace, but anyone who bought shares between around 2001 to pre-crash 2008 and continues to hold will have to hope that the dividend is sustainable and that shares have bottomed. In Buffett's case, it's highly likely that all the dividends he's received have exceeded his original cost basis. Nyaradi's approach would have compelled a WPO shareholder to sell and eventually re-enter, and so on.
Easier said than done of course, but following the 50 and 200-day moving averages (Nyaradi introduces this method as a possible simple trading strategy) in the above chart, one would have largely been able to avoid the precipitous decline, join part of the rally, and exit prior to the last sell-off, albeit missing the latest rally thus far. Clearly, Nyaradi and skeptics of buy-and-hold have a strong case. What's important to recognize is gains like Buffett has achieved may take a substantial amount of time to realize and involve significant volatility, something Buffett doesn't mind (good ol' Mr. Market). With Nyaradi's approach, which I'll briefly introduce below, you would certainly be in and out of a position, and the question would be how disciplined you are (to take profits, let winners ride, and cut losses) and how long you stick with a stock to possibly realize truly outsized gains. In any event, he does a fine job explaining the importance of having a disciplined approach to buying, position management, and selling; focusing on risk management over forecasting only the potential upside.
Nyaradi advocates the simple over the complex, and he says "it's better to be a specialist than a generalist and that it's better to be a one-trick pony, as long as it's a good trick." That explains his preference to trade ETFs, but he reiterates throughout that his approach works with individual stocks, mutual funds, and even options. While he offers some buy-and-hold-like and other simple trading strategies, his real focus is on his 5 signals (including point and figure charts, moving average convergence divergence, known as MACD, and relative strength) for trading and properly scoring trading ideas and positions by way of a matrix, which allows for easy comparison. His 5 signals are not necessarily much more complicated than the simple strategies he briefly introduces, but they are certainly more comprehensive and timely. Nyaradi explains these signals using actively-traded ETFs and their stock charts from StockCharts.com.
In closing, I'd like to recommend Super Sectors to anyone who has not been impressed with their results from a buy-and-hold approach to investing. In fact, all types of investors should find Super Sectors thought provoking. It's harder for me to say whether traders will like Super Sectors, but those newer to trading and ones not achieving desirable results may wish to review his strategies and his sections on risk management and psychology. I cannot say that I found his 5 super sectors for the future very useful since these are essentially mainstream themes already. However, his Q&A with the experts section is quite good considering it includes 18 individuals and provides a select overview of their trading strategies and thoughts on the economy and markets, including some overlap with the 5 super sectors. I use more of a fundamental value approach when investing, but have always liked to use some technical analysis, such as the 50 and 200-day moving averages. After reading Super Sectors, I will be paying more attention to technical developments. There may be more trading costs (and tax paperwork for a non-retirement account), but a disciplined investor will be better off all around.