The following is a list of stocks that have seen significant institutional selling over the past three months. In addition, all of these stocks have recently been upgraded by Wall Street analysts, suggesting that some analysts think the pessimism might be misplaced.

To compile the list we started with a universe of 50 stocks that were upgraded by financial analysts over the past few weeks. We then collected data on institutional flows, and narrowed down the list to focus on the 10 stocks that have seen the largest decreases in institutional ownership over the past three months.

Analyst rating changes sourced from RTT News, short float data sourced from Finviz.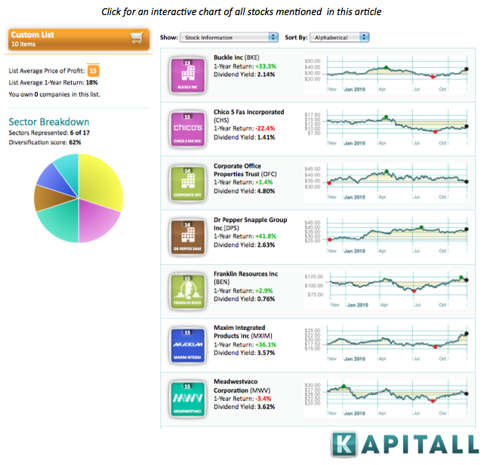 The list has been sorted by the change in institutional ownership over the past three months.

1. Buckle Inc. (NYSE:BKE): Apparel Stores Industry. Market cap of $1.75B. KeyBanc Capital Markets upgraded the stock from Hold to Buy on 11/02. Institutional investors currently own 27,588,852 shares vs. 29,488,630 shares held 3 months ago (-6.44% change). Short float at 27.71%, which implies a short ratio of 13.3 days. The stock has gained 35.59% over the last year.

2. Sappi Limited (SPP): Paper & Paper Products Industry. Market cap of $2.84B. Credit Suisse upgraded the stock from Underperform to Neutral on 11/09. Institutional investors currently own 7,148,046 shares vs. 7,623,043 shares held 3 months ago (-6.23% change). Short float at 0.08%, which implies a short ratio of 11.92 days. The stock has gained 29.93% over the last year.

3. Corporate Office Properties Trust (NYSE:OFC): REIT Industry. Market cap of $2.04B. FBR Capital Markets upgraded the stock from Underperform to Market Perform on 11/03. Institutional investors currently own 61,655,452 shares vs. 65,571,280 shares held 3 months ago (-5.97% change). Short float at 7.45%, which implies a short ratio of 5.34 days. The stock has gained 6.04% over the last year.

4. Chico's FAS Inc. (NYSE:CHS): Apparel Stores Industry. Market cap of $2.03B. KeyBanc Capital Markets upgraded the stock from Hold to Buy on 10/15. Institutional investors currently own 153,220,361 shares vs. 162,526,855 shares held 3 months ago (-5.73% change). Short float at 5.96%, which implies a short ratio of 2.43 days. The stock has lost -21.54% over the last year.

5. Dr Pepper Snapple Group, Inc. (NYSE:DPS): Beverages Industry. Market cap of $8.62B. Deutsche Bank upgraded the stock from Hold to Buy on 09/24. Institutional investors currently own 212,612,308 shares vs. 222,879,351 shares held 3 months ago (-4.61% change). Short float at 2.31%, which implies a short ratio of 2.28 days. The stock has gained 45.07% over the last year.

6. MeadWestvaco Corporation (MWV): Packaging & Containers Industry. Market cap of $4.27B. Credit Suisse upgraded the stock from Neutral to Outperform on 09/24. Institutional investors currently own 139,062,879 shares vs. 145,359,804 shares held 3 months ago (-4.33% change). Short float at 0.99%, which implies a short ratio of 1.32 days. The stock has lost -0.28% over the last year.

7. Franklin Resources Inc. (NYSE:BEN): Asset Management Industry. Market cap of $26.03B. FBR Capital Markets upgraded the stock from Market Perform to Outperform on 09/28. Institutional investors currently own 112,945,401 shares vs. 116,343,352 shares held 3 months ago (-2.92% change). Short float at 1.78%, which implies a short ratio of 2.5 days. The stock has gained 3.8% over the last year.

8. Maxim Integrated Products Inc. (NASDAQ:MXIM): Semiconductor Industry. Market cap of $6.98B. Credit Suisse upgraded the stock from Neutral to Outperform on 10/07. Institutional investors currently own 280,729,627 shares vs. 288,386,646 shares held 3 months ago (-2.66% change). Short float at 7.69%, which implies a short ratio of 6.32 days. The stock has gained 38.83% over the last year.

9. Taubman Centers Inc. (NYSE:TCO): REIT. Market cap of $2.57B. Credit Suisse upgraded the stock from Neutral to Outperform on 11/17. Institutional investors currently own 57,451,627 shares vs. 58,799,998 shares held 3 months ago (-2.29% change). Short float at 7.72%, which implies a short ratio of 6.29 days. The stock has gained 45.4% over the last year.

10. Robbins & Myers Inc. (NYSE:RBN): Diversified Machinery Industry. Market cap of $989.46M. KeyBanc Capital Markets upgraded the stock from Hold to Buy on 10/08. Institutional investors currently own 24,840,589 shares vs. 25,414,042 shares held 3 months ago (-2.26% change). Short float at 15.6%, which implies a short ratio of 11.87 days. The stock has gained 23.03% over the last year.

Disclosure: No positions