The following is a list of highly profitable small-cap stocks, based on the 5-year average gross and net profit margins.

To compile this list, we started with a universe of stocks with market caps between $300M and $2.0B. We then narrowed down the list to 10 stocks that have been more profitable than their competitors over the past 5 years.

Profitability data sourced from Reuters, short float and performance data sourced from Finviz.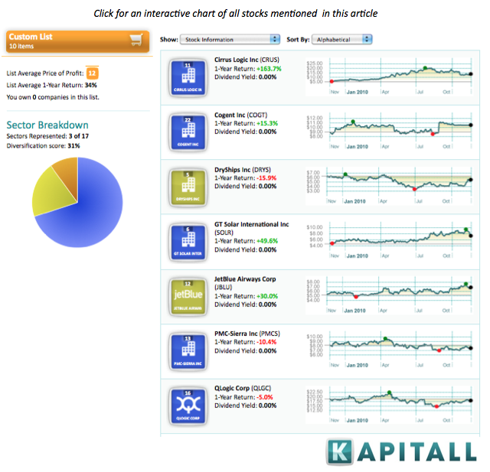 The list has been sorted by an average rank of the 5-year average gross and net profit margins.

1. Cogent Inc. (COGT-OLD): Business Software & Services Industry. Market cap of $932.82M. 5-year average gross margin at 62.08% vs. industry average at 25.07%. 5-year average net profit margin at 32.33% vs. industry average at 2.8%. Short float at 4.28%, which implies a short ratio of 1.13 days. The stock has gained 15.26% over the last year.

2. STEC, Inc. (NASDAQ:STEC): Data Storage Devices Industry. Market cap of $781.82M. 5-year average gross margin at 35.58% vs. industry average at 13.85%. 5-year average net profit margin at 9.59% vs. industry average at 4.14%. Short float at 18.64%, which implies a short ratio of 3.33 days. The stock has gained 19.07% over the last year.

3. DryShips, Inc. (NASDAQ:DRYS): Shipping Industry. Market cap of $1.62B. 5-year average gross margin at 77.56% vs. industry average at 32.98%. 5-year average net profit margin at 9.47% vs. industry average at 7.02%. Short float at 4.34%, which implies a short ratio of 0.9 days. The stock has lost -15.93% over the last year.

4. JetBlue Airways Corporation (NASDAQ:JBLU): Regional Airlines Industry. Market cap of $1.99B. 5-year average gross margin at 22.97% vs. industry average at 20.54%. 5-year average net profit margin at -0.27% vs. industry average at -0.48%. Short float at 18.78%, which implies a short ratio of 8.41 days. The stock has gained 30.13% over the last year.

5. GT Solar International, Inc. (SOLR): Semiconductor Industry. Market cap of $1.09B. 5-year average gross margin at 39.57% vs. industry average at 30.06%. 5-year average net profit margin at 11.92% vs. industry average at -14.41%. Short float at 8.47%, which implies a short ratio of 3.53 days. The stock has gained 49.59% over the last year.

6. TriQuint Semiconductor, Inc. (TQNT): Semiconductor Industry. Market cap of $1.74B. 5-year average gross margin at 31.42% vs. industry average at 23.03%. 5-year average net profit margin at 1.77% vs. industry average at -0.85%. Short float at 7.62%, which implies a short ratio of 2.9 days. The stock has gained 107.79% over the last year.

7. PMC-Sierra Inc. (NASDAQ:PMCS): Semiconductor Industry. Market cap of $1.73B. 5-year average gross margin at 66.5% vs. industry average at 23.03%. 5-year average net profit margin at 2.1% vs. industry average at -0.85%. Short float at 1.7%, which implies a short ratio of 1.16 days. The stock has lost -10.42% over the last year.

8. Yingli Green Energy Holding Co. Ltd. (NYSE:YGE): Semiconductor Industry. Market cap of $1.65B. 5-year average gross margin at 24.36% vs. industry average at 23.03%. 5-year average net profit margin at 6.72% vs. industry average at -0.85%. Short float at 34.86%, which implies a short ratio of 2.32 days. The stock has lost -18.92% over the last year.

9. Cirrus Logic Inc. (NASDAQ:CRUS): Semiconductor Industry. Market cap of $955.38M. 5-year average gross margin at 55.94% vs. industry average at 23.03%. 5-year average net profit margin at 12.2% vs. industry average at -0.85%. Short float at 16.17%, which implies a short ratio of 1.72 days. The stock has gained 163.74% over the last year.

10. QLogic Corp. (NASDAQ:QLGC): Semiconductor Industry. Market cap of $1.9B. 5-year average gross margin at 66.86% vs. industry average at 23.03%. 5-year average net profit margin at 17.03% vs. industry average at -0.85%. Short float at 6.69%, which implies a short ratio of 2.84 days. The stock has lost -4.97% over the last year.

Disclosure: No positions