The following is a list of companies hitting new highs. All of these stocks have seen institutional outflows over the last three months.

To compile the list, we started with a universe of about 120 stocks reaching 52-week highs. We then collected data on institutional flows, and narrowed down the list to focus on the top 15 stocks that have seen the largest decreases in institutional ownership over the past three months.

The smart money seems to think these rallies are running out of steam. What do you think? Full details below.

Institutional data sourced from Reuters, short float data sourced from Finviz.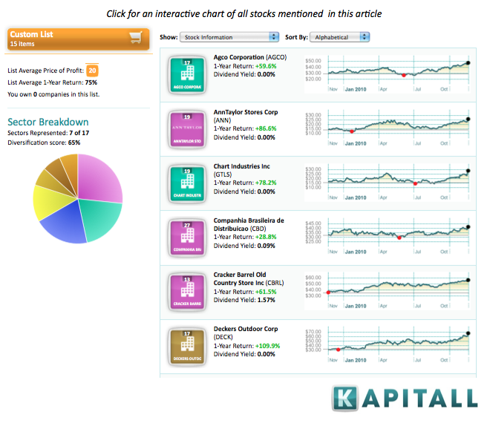 The list has been sorted by the change in institutional ownership.

1. Travelzoo Inc. (NASDAQ:TZOO): Internet Information Providers Industry. Market cap of $621.6M. Institutional investors currently own 3,664,270 shares vs. 4,015,085 shares held 3 months ago (-8.74% change). Short float at 24.95%, which implies a short ratio of 5.81 days. The stock has gained 154.96% over the last year.

2. Companhia Brasileira de Distribuicao (NYSE:CBD): Grocery Stores Industry. Market cap of $10.34B. Institutional investors currently own 34,861,446 shares vs. 37,434,014 shares held 3 months ago (-6.87% change). Short float at 1.21%, which implies a short ratio of 1.49 days. The stock has gained 30.15% over the last year.

3. OneBeacon Insurance Group, Ltd. (NYSE:OB): Surety & Title Insurance Industry. Market cap of $1.4B. Institutional investors currently own 19,597,312 shares vs. 20,594,568 shares held 3 months ago (-4.84% change). Short float at 2.05%, which implies a short ratio of 5.23 days. The stock has gained 35.13% over the last year.

4. Del Monte Foods Co. (DLM): Processed & Packaged Goods Industry. Market cap of $3.39B. Institutional investors currently own 176,136,578 shares vs. 183,900,646 shares held 3 months ago (-4.22% change). Short float at 3.25%, which implies a short ratio of 2.43 days. The stock has gained 65.19% over the last year.

5. AnnTaylor Stores Corp. (NYSE:ANN): Apparel Stores Industry. Market cap of $1.52B. Institutional investors currently own 61,315,244 shares vs. 63,598,112 shares held 3 months ago (-3.59% change). Short float at 15.68%, which implies a short ratio of 4.41 days. The stock has gained 86.6% over the last year.

6. Montpelier Re Holdings Ltd. (NYSE:MRH): Property & Casualty Insurance Industry. Market cap of $1.33B. Institutional investors currently own 64,122,283 shares vs. 66,474,136 shares held 3 months ago (-3.54% change). Short float at 5.64%, which implies a short ratio of 6.14 days. The stock has gained 18.89% over the last year.

7. AGCO Corporation (NYSE:AGCO): Farm & Construction Machinery Industry. Market cap of $4.39B. Institutional investors currently own 91,872,193 shares vs. 95,170,181 shares held 3 months ago (-3.47% change). Short float at 5.32%, which implies a short ratio of 2.87 days. The stock has gained 59.6% over the last year.

8. Pioneer Natural Resources Co. (NYSE:PXD): Independent Oil & Gas Industry. Market cap of $9.29B. Institutional investors currently own 107,194,982 shares vs. 110,977,574 shares held 3 months ago (-3.41% change). Short float at 6.65%, which implies a short ratio of 5.79 days. The stock has gained 94.08% over the last year.

9. Cracker Barrel Old Country Store, Inc. (NASDAQ:CBRL): Restaurants Industry. Market cap of $1.28B. Institutional investors currently own 18,267,569 shares vs. 18,869,438 shares held 3 months ago (-3.19% change). Short float at 7.41%, which implies a short ratio of 6.25 days. The stock has gained 64.39% over the last year.

10. Deckers Outdoor Corp. (NASDAQ:DECK): Textile Industry. Market cap of $2.57B. Institutional investors currently own 38,177,060 shares vs. 39,402,690 shares held 3 months ago (-3.11% change). Short float at 8.34%, which implies a short ratio of 2.76 days. The stock has gained 109.9% over the last year.

11. Panera Bread Co. (NASDAQ:PNRA): Specialty Eateries Industry. Market cap of $2.94B. Institutional investors currently own 27,497,090 shares vs. 28,334,944 shares held 3 months ago (-2.96% change). Short float at 8.69%, which implies a short ratio of 6.13 days. The stock has gained 52.42% over the last year.

12. Maxim Integrated Products Inc. (NASDAQ:MXIM): Semiconductor Industry. Market cap of $6.98B. Institutional investors currently own 280,729,627 shares vs. 288,386,646 shares held 3 months ago (-2.66% change). Short float at 7.69%, which implies a short ratio of 6.32 days. The stock has gained 38.83% over the last year.

13. Sauer-Danfoss Inc. (NYSE:SHS): Diversified Machinery Industry. Market cap of $1.5B. Institutional investors currently own 8,514,749 shares vs. 8,708,161 shares held 3 months ago (-2.22% change). Short float at 3.07%, which implies a short ratio of 2.39 days. The stock has gained 243.56% over the last year.

14. Waters Corp. (NYSE:WAT): Scientific & Technical Instruments Industry. Market cap of $7.19B. Institutional investors currently own 82,258,233 shares vs. 83,962,790 shares held 3 months ago (-2.03% change). Short float at 1.5%, which implies a short ratio of 1.85 days. The stock has gained 32.61% over the last year.

15. Chart Industries Inc. (NASDAQ:GTLS): Metal Fabrication Industry. Market cap of $828.M. Institutional investors currently own 26,528,323 shares vs. 27,072,071 shares held 3 months ago (-2.01% change). Short float at 3.65%, which implies a short ratio of 4.06 days. The stock has gained 78.2% over the last year.

Disclosure: No positions