Last week, the professional social network LinkedIn (LNKD) reported its Q2'14 financial results, beating EPS and revenues expectations. LinkedIn reported a net revenue of $534M which is almost $23M above analysts' consensus and a Q2'14 non-GAAP EPS of $0.51 which is $0.12 higher than analysts' consensus. LinkedIn's stock reacted sharply with an 11.7% increase in price on the day after the earnings release. As seen in chart 1 below, all three operating segments of LinkedIn continued to show increases in revenue each quarter. Q2'14 delivered higher revenues in 2014 than the previous quarter and higher than the same quarter of 2013.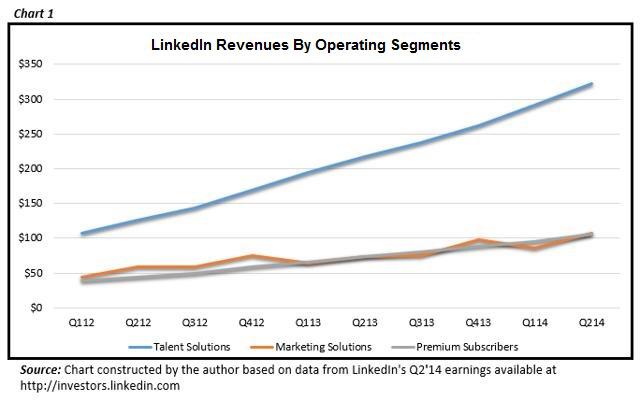 LinkedIn has two long-term strategies that could be the catalysts for further revenue increases and stock price upside. The first strategy is to unbundle its current service in order to broaden its business. The second strategy is to increase global expansion by penetrating the Chinese market.
Broaden the Business through Unbundled Services
Since the beginning of the year LinkedIn has launched three stand-alone services that are targeted to increase traffic and revenues in each operating segment:
LinkedIn Job Search app - Launched in June based on the Bright acquisition, this new job search app is targeted at recruiters and job seekers. The new job search app allows job seekers to search and apply for jobs online privately, without the need to share that information with their LinkedIn network. This comprehensive and useful app is expected to increase revenue in the talent solutions segment as recruiters can now reach a wider audience than before.
LinkedIn Connected app - Launched in July based on the Connected acquisition, this contact management app helps LinkedIn users not only manage their contacts but also network with their connections effectively. The Connected app is expected to increase interaction between contacts and drive more traffic to the LinkedIn network. This higher traffic should translate into higher revenue in the marketing solutions segment.
LinkedIn Sales Navigator - Launched just last week, during the Q2'14 earnings release, with integrated features based on the Newsle acquisition and CRM integration with Salesforce and Microsoft Dynamic, this new app is targeted at sales professionals looking for leads and productive connections. By launching this new stand-alone service, LinkedIn is attempting to attract sales professionals and, as a result, drive additional revenue into the premium subscribers segment.
Unbundling LinkedIn's services could allow the company to broaden its business and specialize in specific areas that were part of the bundled platform. The new apps and services allow LinkedIn to leverage its strengths by offering standalone services under its brand to reach a broader audience and attract new customers.
Global Expansion and Penetrating the Chinese Market
As shown in chart 2 below, LinkedIn's business is focused on the US. American revenues accounted for approximately 60% of LinkedIn's total net revenues with only slight increases in international revenues over the years. Dependence on US revenues is a risk to LinkedIn, and the company has accelerated its efforts to penetrate China.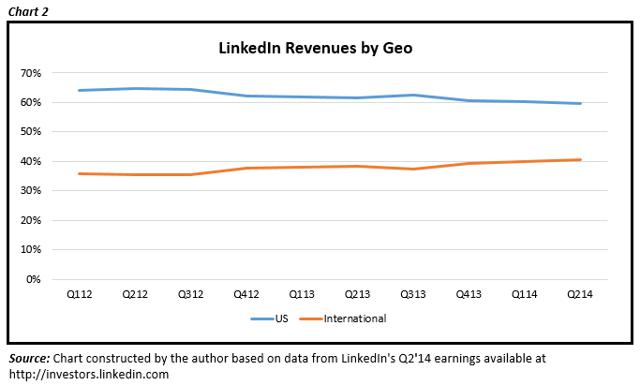 In February of this year, LinkedIn introduced its Simplified Chinese site focused on the Chinese market, and three months later that site had more than five million members. As has happened to many other American internet companies in China, LinkedIn was required to censor posts and comments that refer to the Tiananmen Square massacre that took place 25 years ago. Unlike previous cases involving Facebook, Google and Twitter, who refused to accept government censorship, LinkedIn understands that the only way it can operate in mainland China is by enforcing censorship requirements. CEO Jeff Wiener did not provide any actual numbers regarding the China expansion in the earnings release. However, he mentioned that "China has become our fastest-growing major market for new members over the past several months." LinkedIn could offer several types of services to the Chinese market:
Marketing solutions to Chinese companies that want to expand globally - These companies could reach potential customers overseas by advertising in the English version of LinkedIn, although it is not available in China.
Marketing and talent solutions to the local market - Chinese companies that want to attract local talent or advertise to the local market.
Talent solutions for non-Chinese companies - Foreign companies that want to open a Chinese office and hire a local workforce.
LinkedIn could use the absence of other international social networks and the weak global spread of the Chinese social networks and become a leading player in that market.
Conclusions
LinkedIn works in parallel on two long-term strategies that are expected to generate more revenue, attract new members, and offer a potential upside in stock price. The first strategy is to broaden LinkedIn's business by unbundling its services and offering them as standalone apps or services, and the other strategy is to accelerate global expansion and expansion in China in particular. Currently, LinkedIn is successfully working on these two strategies and has already shown some nice results. These two strategies mark a change in LinkedIn's way of thinking and make LinkedIn a long-term investment.
Disclosure: The author has no positions in any stocks mentioned, and no plans to initiate any positions within the next 72 hours. The author wrote this article themselves, and it expresses their own opinions. The author is not receiving compensation for it (other than from Seeking Alpha). The author has no business relationship with any company whose stock is mentioned in this article.
Additional disclosure: Information provided in this article is for informational purposes only and should not be regarded as investment advice or a recommendation regarding any particular security or course of action. This information is the writer's personal opinion about the companies mentioned in the article. Investors should conduct their own due diligence and consult with a registered financial adviser before making any investment decision. Lior Ronen and Finro Financial Consulting and Analysis are not registered financial advisers and shall not have any liability for any damages of any kind whatsoever relating to this material. By accepting this material, you acknowledge, understand and accept the foregoing.