When companies are first born out of an entrepreneur's dream, it is inherently part of the business to take risks. With nothing already established, entrepreneurs seek to innovate, take risks, and make game-changing products. But there are far too many companies that will find success in one niche and then be satisfied with their progress. The company will limit itself, discouraging risk taking and innovation in fear of deviating from what works. If 3M (NYSE: MMM) was one of these self-limiting companies, it would probably be just a small sandpaper products business out of Minnesota. Or maybe it would have shifted its focus to healthcare when that was the dominant segment in the early 2000s. But management at 3M has created a culture that encourages trying new things and expanding into unknown realms, which is the reason why it has become the massively successful industrial conglomerate it is today.
A Quick Overview
3M is one of the world's largest industrial conglomerates, with a market capitalization of over $90 billion. The company offers a diversified basket of products including adhesives, filtration products, surgical supplies, office supplies, security products, electronic displays, and much more. The division of revenues amongst segments is as follows (with -1.8% from "Elimination of Dual Credit"):
Industrial: 34.3%
Safety and Graphics: 18.3%
Electronics and Energy: 17.5%
Health Care: 17.3%
Consumer: 14.4%
Game-Changing Company Policy
Many companies are limited by strict bureaucratic policies that punish failure and discourage risk taking. Employees are driven away from trying to be creative in an attempt to maintain their own reputation as well as the company's. 3M is on the opposite end of the spectrum. Back in 1948, the company introduced a policy called 15 Percent Time. It stated that employees were to dedicate 15% of their working time to working on individual projects. Additionally about $750,000 is given out as seed funding each year to employees that have come up with potentially profitable ideas. Seeing that time is money, 3M must've understood that they were essentially gambling 15% of their profits as well as their time by creating this policy, a risk most companies aren't willing to take. But over the long run, this initiative has paid off immensely. For example, a 3M employee named Art Fry spent his 15 Percent Time trying to create the best possible bookmark for his church hymnal. Few people would have expected that to turn into Post-it notes, one of the company's most globally recognized products. Is this to say that the 15 Percent Time is always used to come up with groundbreaking products? Of course not, but 3M embraces failure as the path to an eventual success. If you fail nine times and succeed on the tenth, you're still a success. Additionally, this policy draws some of the world's most talented scientists and engineers toward 3M, as they know that their creative ideas won't be suppressed. This has led to 3M continually growing and dominating hundreds, if not thousands, of much smaller companies that compete with them in numerous product markets. This idea of personal creative time has been emulated by other fantastic companies such as Google and Hewlett-Packard.
Speaking of Hewlett-Packard, the company is working with 3M to develop an extremely innovative product that they call the One Wire Computer. The monitor on this device only uses 10% of the power that a standard computer monitor does. This product could potentially reach such high demand because it benefits companies in two ways:
Saves tens of thousands of dollars by using less power
With the trend of being environmentally friendly currently being at full throttle, this power saving device can help to improve companies' reputations. With standard monitors in use around the globe, PCs and monitors create 43 megatons of CO2 emissions per year. This could be cut down to 4.3 megatons if companies start to use this product.
Again, that's just another example of what a heavy focus on creating innovative and game-changing products can do for a company.
Heavy Investments In R&D
Along with company policies that encourage innovation, 3M is not shy in investing large amounts of money toward developing products. In 2013, the company spent a whopping $1.715 billion on R&D and related expenses. Earlier this year, the company surpassed 100,000 patents, a major milestone symbolic of the company's inventive skills. These patents, along with the talent that has produced them, have proved to be a major competitive advantage for 3M. The investments that the company has made in improving existing products and creating new ones have allowed them to break into new markets and improve margins by increasing the value provided to customers. The chart below, from an investor presentation, shows that 3M isn't messing around about continually investing more aggressively in the company's high quality products.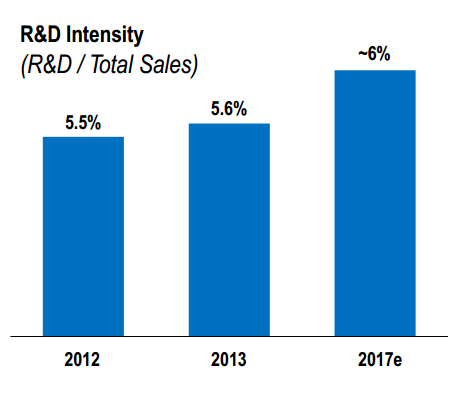 3M has been no stranger to innovation over the course of its century-long history. The company's competitive advantage of always being able to create new, effective products has made it into one of the world's largest industrial conglomerates. With innovation being as important to the company's culture now as it has ever been, 3M should continue to impress customers in each of its targeted markets with game-changing product offerings for years to come.
Strong Balance Sheet
The next notable advantage that 3M has is superb financial health. The balance sheet is saturated with high quality assets and manageable debt. For example let's look at the growth trend for company inventories. For a company like 3M, inventories that were growing too fast would mean products were piling up on the shelves and in warehouses, which doesn't make the company any money. Luckily, as the chart below illustrates, this isn't the case. 3M has maintained decently low growth rates in comparison to peers, as shown by the chart below. Annual inventory growth has rarely outpaced 15%, and it has generally stayed toward the low end.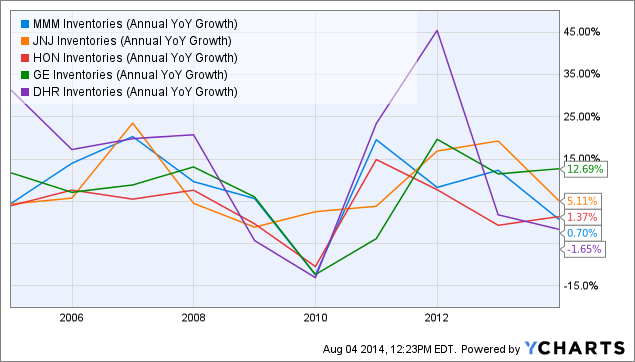 MMM Inventories (Annual YoY Growth) data by YCharts
3M has also been expanding their business by continually adding value-producing assets. The image below shows how 3M has been adding machinery, buildings, land, etc. in order to grow the business and increase productivity (the left column is at the end of fiscal 2013, with each column to the right being one year prior).

It is important to note that 3M has also been extremely efficient in converting their assets into value. The return on assets of each company in the peer group I've been using is as follows (Source: Yahoo! Finance):
| | |
| --- | --- |
| | Return on Assets |
| MMM | 12.65% |
| GE | 1.68% |
| HON | 8.10% |
| DHR | 6.14% |
| JNJ | ~12% |
Now let's compare these companies again, this time considering the liabilities side of the balance sheet as well:
| | | | | | |
| --- | --- | --- | --- | --- | --- |
| | MMM | GE | HON | DHR | JNJ |
| Debt To Equity | 0.39 | 2.70 | 0.49 | 0.13 | 0.23 |
| Current Ratio | 1.87 | 2.66 | 1.57 | 2.16 | 2.20 |
As you can see, 3M doesn't stand out here as being significantly superior to the rest of the companies. But overall, this is a financially healthy peer group that 3M has found themselves right in the middle of. With decent debt to equity and current ratios, 3M is capable of paying off short-term liabilities while also being able to finance any project, internal or external, with debt. Going forward, this will serve as a huge competitive advantage for 3M against the hundreds of smaller companies they compete with in numerous niche markets.
Catalysts
So with a history of success accompanied with the current financial health that they need to continue the trend, what are 3M's catalysts for the next few years?
First of all, 3M's conglomerate business model has led them to have a global reach that spans across numerous developed and developing nations. In times of turmoil, 3M can rely on established markets such as the United States to continue to provide significant revenues. In times of stability, 3M has these geographic areas as well as high growth developing nations. This sort of geographic diversification has led to continually growing exposure to new markets and customers. The image below illustrates how management expects these geographic regions to play a role in 3M's growth (Source: Investor Presentation):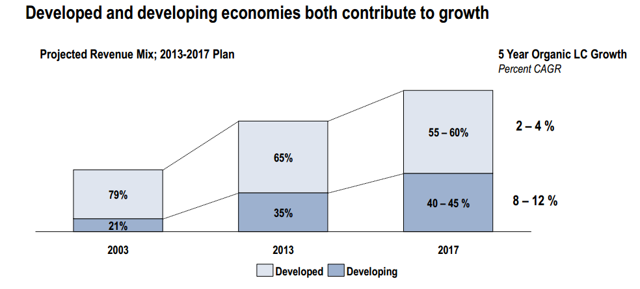 Next, the company is in the process of making the move to a globally integrated IT platform. Essentially, this will just allow the company to operate much more smoothly. It will enable the company to further integrate their supply chain, increase customer intimacy and responsiveness, and improve generally efficiency of operations and decision making. This brings the company together and furthers the idea that all employees are working toward the same goal: greater success for 3M.
The final catalyst for growth is a diversified basket of products. Being the innovative machine that 3M is, the company has built up an arsenal of products that complement each other nicely. As 3M enters developing markets, the company will at least be able to profit from infrastructure products. But as the markets that 3M serves continue to grow and progress, each product group will have growing demand. This advantage of a diversified product offering is expressed in the chart below, again from the previously referenced investor presentation: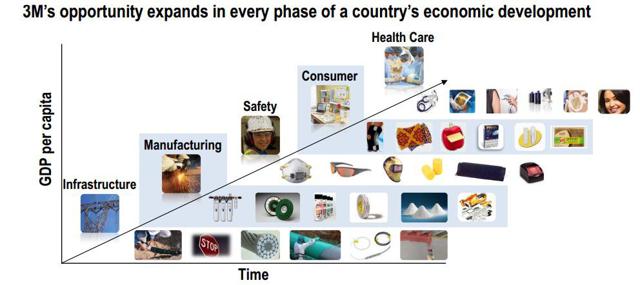 Valuation
I will end this analysis with a quick valuation. From a historical perspective: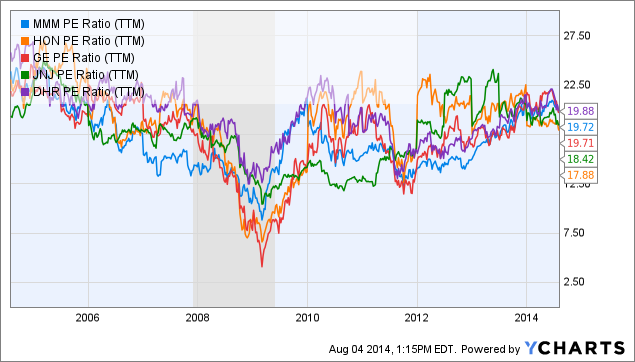 MMM PE Ratio (TTM) data by YCharts
The shaded region above indicates the US recession. This recession and its aftermath led to depressed valuation for industrial conglomerates. Since then, valuations have risen steadily and today's price to earnings ratios are in the high teens. Although this is not the bargain we saw a few years back, current valuations are about in line with what they have been historically.
It is also interesting to look at things from an earnings perspective. Here are my assumptions:
A discount rate of 11%
For the next five years, growth will come in at 10% per year. Considering current company catalysts and economic conditions, this is achievable,
After this, earnings growth will trail off to 5%. This should be seen as a bit conservative considering the fact that 3M has been around for more than a century and has proven to be an innovative company that adapts to change as well as anyone.
With a current EPS of $6.90 for the trailing twelve months, this leads to a fair value of about $149. With a current price of $140, this indicates upside of only about 6%. In terms of value, this valuation is about fair. But when you have a company such as 3M that has proven it can continually impress the public with growing earnings and lasting innovation, it might not be necessary to wait for a dip. Depending on your style of investing (and, of course, after you've done your own due diligence), you may want to buy at current prices or wait for a correction that isn't guaranteed.
Disclosure: The author has no positions in any stocks mentioned, and no plans to initiate any positions within the next 72 hours. The author wrote this article themselves, and it expresses their own opinions. The author is not receiving compensation for it (other than from Seeking Alpha). The author has no business relationship with any company whose stock is mentioned in this article.