"Hard news, taken harder, don't look at me...disappointed, we don't agree, I don't need your praise" - Avenged Sevenfold
The market has extreme pessimism for Genworth Financial (NYSE:GNW) right now, but I'm willing to take the other side given its attractive valuation and timeliness of the stock price.
The Company
Genworth Financial, Inc. is a financial services company that provides insurance, investment, and financial solutions for clients domestically and internationally. It operates through five segments including: U.S. Life Insurance, International Mortgage Insurance, U.S. Mortgage Insurance, International Protection, and Runoff segments. Genworth was founded in 2003, headquartered in Richmond, Virginia. Despite that the company doesn't have outstanding relative metrics within the industry, compared to companies like Metlife (NYSE:MET) for example, it still yields significant opportunity given the valuation.
Valuation Figures
ROE, being one of the primary indicators for financial institutions, should be analyzed the closest versus standard companies with cash flows. Between 2010 and 2013, the metric has significantly improved from virtually zilch to two to four percent. Normalized, the company was clocking in close to 10%, and it appears to be recovering nicely. Given the full recovery takes place (management believes it will still take a couple years), the stock should trade well north of $20 pps.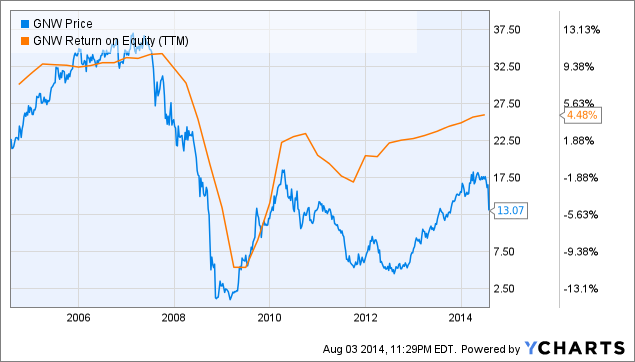 Despite that the S&P's big three insurers are all trading at roughly 8x expected, I think these companies generally move closer in-line with a ten times multiple. The industry average has been sitting around 15x, but this also includes smaller and faster growing firms. This method would suggest about 25% upside from current levels.
Price to book is another good absolute and relative metric to look at for assessing value for an insurer. Here are the BV ratios below:
| | | | |
| --- | --- | --- | --- |
| Company | MET | PRU | GNW |
| P/B | .89 | 1.02 | .42 |
If we take an average of the three, we get a ratio of 0.78. Also, prior to the financial crisis, the company traded near a price to book of 0.6 or 0.7. Even if we just see a reversion back to the mean of 0.55 seen a few months ago, that still generates about 30% upside.
Technical Situation
The chart has been favorable for a very long time but now it's safe to say a lot of institutional money has been running scared with the concerns over the capital reserve requirements. I believe most technical analysts would rate this as a no-brainer avoid given the uptrend has been broken and indicators suggest bearish momentum. Conversely, Stochastics RSI and Williams show that this is a very good entry point to be long the stock.
This particular modified indicator shown below has proven to be relatively consistent over time and currently suggests going long as well: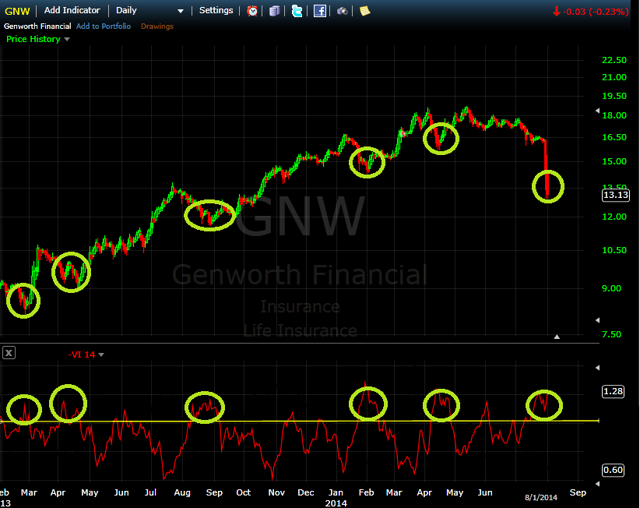 Speculation Issues
The reserves charge could adversely affect the company's book value and earnings quite heavily, making the current discount somewhat unattractive. Right now there are two areas under current revision that will reported by the next quarter:
1) Search for possible reasons behind increases in adverse claims experience.
2) Overview of the methodology behind linked reserves such as mortality, interest rates, terminations, and so forth.
Furthermore, Genworth's long term care insurance unit only came out with an operating income figure of 6mm, severely lower than anticipated versus the prior year of 26mm. This area is a primary concern for shareholders given it was a net loss of approximately 1.82% off EBIT.
Sidenote: I recently read that the company is also under the scope of a law firm for alleged federal securities law violations, specifically related to understating the risk of reserve charges.
Analysts remain bullish however, maintaining price targets that issue at least 25% upside, and I too have a long side bias for the company. If the reserves end up having no issues, there will be a massive upside spike in shares. Although it was noted that the pessimism will likely be present throughout the quarter until management provides further insight on the issue. Ultimately I think the recovery will persist over time, except additional time may need to be extended given a negative result.
Bottom Line
I know many will disagree with me as this is a classic contrarian play that possibly does not even present an asymmetric risk/reward opportunity. Although I think insurance is a great area to have exposure for one's portfolio, particularly given this sudden situation that the entire market has its eyes on. These current challenges could offset the attractive valuation, so prospective investors may want to wait until management provides further guidance on the issue. I however will likely generate a position in the stock under $13 within the coming week.
Disclosure: The author has no positions in any stocks mentioned, but may initiate a long position in GNW over the next 72 hours. The author wrote this article themselves, and it expresses their own opinions. The author is not receiving compensation for it (other than from Seeking Alpha). The author has no business relationship with any company whose stock is mentioned in this article.