WellCare (NYSE:WCG) erased the last year of stock gains after surprise negative earnings and lowered guidance on July 25.
For reasons I will explore, WellCare (the "company") remains fully valued today and if no suitor announces an acquisition in the next 12 months, shares could be worth 12%-34% less than today.
Slowed acquisition pace and lack of strategic vision
In the last few years, the company has opted to make acquisitions to grow horizontally. WellCare completed acquisitions of Medicaid lives in South Carolina from UnitedHealth (NYSE:UNH) in February 2013, Medicaid lives in Missouri from Aetna (NYSE:AET) in April 2013, Windsor Health in January 2014, and Medicaid lives in New Jersey from Healthfirst in July 2014. While the company has used these acquisitions to achieve significant membership growth, the future of these types of acquisitions might slow.
WellCare's acquisition of Missouri Medicaid lives from Aetna was opportunistic, as Aetna needed to shed business to achieve regulatory approval of its Coventry acquisition. Healthfirst, a very large Medicare and Medicaid plan in New York, might have wanted to sell its small NJ business in order to raise cash and remain focused on its core business in New York City.
Other potential acquisition targets in the attractive Florida market have found themselves in liquidation. Universal Health Care in St. Petersburg grew rapidly but its leadership mismanaged it into bankruptcy in 2013. Physicians United Plan, which was an Orlando-based Medicare Advantage plan with rapid growth, was unable to meet financial obligations forcing liquidation in June 2014. These two targets of critical size are now off the table.
In fact, at the time of publication, WellCare had yet to announce a new pending acquisition for 2014.
While WellCare has focused on acquisition of Medicaid and Medicare lives, larger HMOs such as Humana (NYSE:HUM) and UnitedHealth have put an emphasis on costs or owning provider networks. Humana, as an example, closed its acquisition of SeniorBridge in July 2013. SeniorBridge's focus is to reduce hospitalization and other high costs of the most elderly complex population in the US through historical documentation and monitoring. Humana closed another acquisition focused on cost, Metropolitan Health Networks, in December 2012. Metropolitan is a large network of Medicare focused healthcare providers in Florida. These are two examples of Humana's direct control of patient care. Benefits in controlling care delivery not only can help keep costs managed, but also raise reimbursement through improved documentation. WellCare has historically overlooked such acquisitions and not expanded into provider networks or other companies that might improve population management.
WellCare as an acquisition target
Although the outcome will be binary in the next year, there are several factors that might dissuade the identified group of potential acquirors.
In the first half of 2014, analysts suggested that WellCare would be an attractive acquisition target. Potential suitors suggested by analysts include Ascension Health, Centene (NYSE:CNC), WellPoint (WLP), Cigna (NYSE:CI), UnitedHealth, and Humana. The case for most of these suggestions is simple: Significantly expand into Medicaid and Medicare in attractive markets by acquiring a public company with a leadership vacuum for approximately $4bn. The analysts were even nice enough to give a 1-2 year period for an acquisition to take place. In fact, the stock price rose over $75 in May as Ascension Health's CEO Robert Henkel said he is "in talks to acquire an insurance company with operations in 18 states."
This is the likely the biggest support to the stock price. As long as interest rates remain low and the debt markets awash in liquidity, any number of potential suitors could justify an acquisition of WellCare.
However, I think a list of potential acquirers might be fewer than analysts suggest. For example, several of the HMOs such as Humana and UnitedHealth might face high regulatory scrutiny over membership concentration in Florida or elsewhere. While some analysts noted the lack of leadership as a positive for acquisition interest, I am not sure what the evidence is for this assertion. It might be the interim CEO and CFO are causing the missteps in guidance and dismal second-quarter results. The recent earnings mismanagement coupled with a still lofty stock price could scare buyers off. In fact, while the company cleaned up its act and settled with the DOJ, the company still owes millions in costs stemming from the fraud charges that occurred 8 years ago. Additionally, the settlement includes an additional $35mm payment trigger if someone acquires the company on or before April 30, 2015.
If the provider network Ascension Health were the buyer as previously suggested, Ascension would need a strong management team with insurance experience in place and would likely have a harder time of parachuting in these resources compared to a larger HMO acquiror.
WellCare's dismal second-quarter results
Alec Cunningham was basically fired as CEO on November 1, 2013 because, to paraphrase now interim CEO David Gallitano, Alec Cunningham could not ensure WellCare would capitalize on growth opportunities or was capable of "leading a company the size and scope we anticipate." A few months later, in February 2014, the company announced their CFO, Tom Tran would be leaving once a new CFO was in place. At the time of publication, the company has found neither.
Due to management missteps, WellCare both announced a large E.P.S. miss due to costs in the second quarter and significantly lowered guidance. Bottom-line guidance for the year ending 2014 is now $2.20 to $2.50 from $4.40 to $4.75, for adjusted net income per diluted share. Note this is only about 3 months after the same management team raised 2014 guidance in their prior earnings call to $4.40 to $4.75, up from $3.75 to $4.05.
MBR could be a sustained trend into 2015 given higher guidance for 2014 Medicaid MBR to 90.25% to 90.75%, 2014 Medicare 88.25% to 88.75%, and PDP of 90.25% to 90.75%.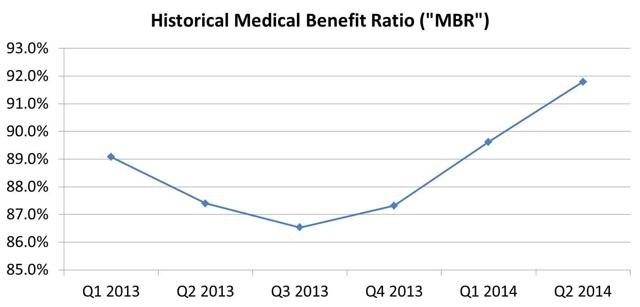 Source: SEC.gov WCG filings
SG&A in the second quarter was below the average trend. Management also indicated that they would not expect it to stay so low.
Valuation
Below is my 2015 income statement assuming 10.0% premium growth to $13,640 million. Primary assumptions are SG&A of 8.2% as a percent of premium revenue, tax rate of 40%, increase of 400k diluted shares, and MBRs of 25 bps better than the low-end guidance for 2014.
Using these assumptions, the result is 2015 E.P.S. of $4.05.
If WellCare does not improve from the average MBR guidance in 2015, my estimated result is 2015 E.P.S. of $3.13.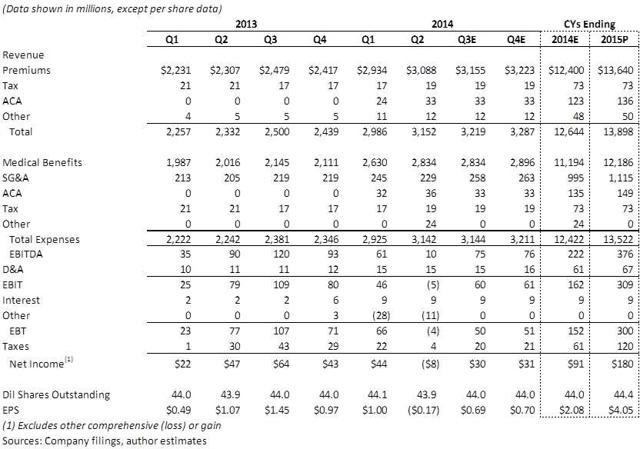 Stock price to E.P.S. multiples are probably the cleanest valuation metric in a managed care comparable group. Based upon analyst estimates as of August 1st, the market values WellCare at 15.1 times 2015 E.P.S. of $4.11. This is the highest of the managed care group tied with Centene.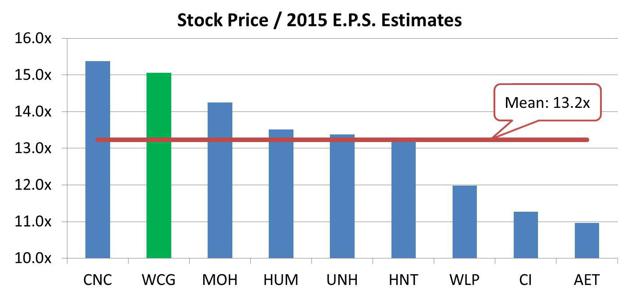 What I see from this analysis is WellCare fully valued at today's price. 15x 2015 P/E is the top end of the range assuming the company continues to add to the top line and manages costs in 2015. A more reasonable multiple in line with the market is 13x 2015 P/E. In addition, if management is unable to improve MBR performance to their 2014 guidance, E.P.S. will stay significantly lower (as evidenced by second-quarter results.) My model shows a 2015 E.P.S. estimate of $3.13 per share if MBRs remain at the same midpoint of 2014 guidance provided by management.
At the low end, 13x 2015 P/E implies a stock price of $40.69, or a 34% loss from the closing price on August 1st.
The range shown below implies a 12%-34% loss from the closing price on August 1st.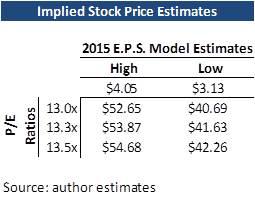 Disclosure: The author has no positions in any stocks mentioned, and no plans to initiate any positions within the next 72 hours. The author wrote this article themselves, and it expresses their own opinions. The author is not receiving compensation for it (other than from Seeking Alpha). The author has no business relationship with any company whose stock is mentioned in this article.