Editor's note: Originally published on July 10, 2014
The last 12 months have seen a record $12.5B games acquisitions across mobile games ($4.6B), MMO games ($4B), games tech ($2.8B) and console games ($1B), as detailed in Digi-Capital's new Global Games Investment Review Q2 2014. There are 5 drivers of this "consolidation crush".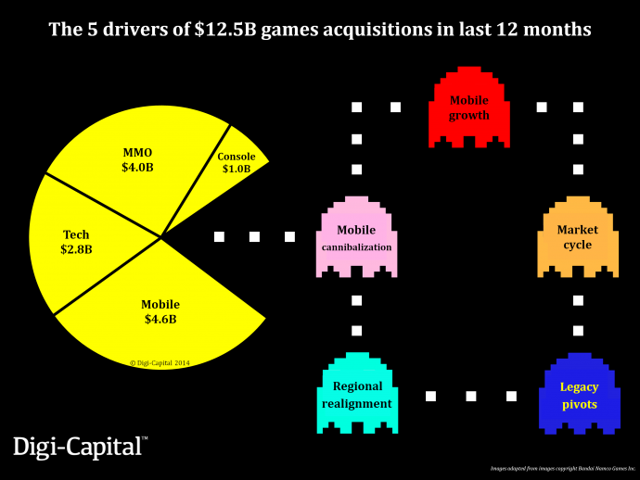 Mobile growth – acquirers buying into a large, high growth market
Digi-Capital forecasts that mobile games will hit $33B revenue globally in 2017, after growing from $4B in 2011 to $16B in 2013 (or ¾ of global app revenues). Large markets growing this fast are rare, so corporates are buying mobile games companies to capture more of it for themselves. For example, Chinese giant Tencent (OTCPK:TCEHY) bought 28% of C J Games for $500M, and Ourpalm bought Playcrab for $285M.
Mobile cannibalization – acquirers stopping mobile insurgents from eating their lunch
Mobile has cannibalized other media usage dramatically (print -33%, online -23%, radio – 14%, TV -10% 2012 vs 2013). Digi-Capital forecasts that mobile games will drive 2/3 of all games software market growth, delivering $100B total software revenue by 2017 (the remaining growth coming from online). Console, PC, MMO, social and web games are being cannibalized by mobile in terms of usage, revenue and development talent, with major corporates future proofing their businesses by acquiring both within and across sectors. Zynga (ZNGA) bought Natural Motion for $527M, also admitting that Supercell had "eaten its lunch".
Regional realignment – acquirers leveraging their strength to dominate at home and abroad
Digi-Capital forecasts mobile/online games combined will produce $60B revenue by 2017, with $38B in Asia and $13B in Europe. North America remains important, but its historic position from the console legacy is waning. China, Japan and South Korea boast multi-billion dollar games companies that Westerners hadn't heard of 5 years ago, with Tencent the most valuable games company on the planet at >$150B market cap (bigger than Intel (INTC), Cisco (CSCO) and HP (HPQ)). High profits and dominant ambitions led Asian buyers to make 9 of the top 10 games M&As in 2013, up from 8 out of 10 in 2012. Europe's renaissance has also seen King (KING), Supercell and Wargaming emerging as global leaders. Softbank's (OTCPK:SFTBY) $1.5B acquisition of 51% of Supercell, twinned with GungHo (OTC:GUNGF), is an example of what pan-regional visionaries can achieve.
Legacy pivots – acquirers buying their way into the future
The advent of the web and now mobile have proven that pivoting to address disruption is standard operating procedure for survival. Facebook (FB) did this in a surprising way when it bought Oculus for $2B to address potential virtual reality disruption, after initially being slow to react to mobile (and then successfully pivoting). In Asia, there have been online to mobile games pivots (e.g. Smilegate acquiring 20% of Sundaytoz for $112M), and traditional telecoms and book publishing pivots to mobile/web games (e.g. Chinese Universe Publishing & Media/Elex Tech $434M, Datang Telecom/Yaowan Yule $278M, Tangel Publishing/Beijing Magic Universe $206M).
Market cycle – acquirers taking advantage of the current phase in the investment cycle
Many publicly traded games companies are at significant discounts to 12 month highs, valuations for games M&A have softened somewhat, and only $472M was invested in games in the first half of 2014 (vs. $2B for full year 2012). There were 2 U.K. based IPOs in 2014 (King and Game Digital), with the Chukong IPO reported to have been postponed due to valuation concerns. Some think games market assets are undervalued, with Giant Interactive taken private for $1.6B, and a proposal to take Shanda Games (GAME) private for a reported $1.9B. Others think trade exits might be preferable to IPOs in the medium term, so this phase of the cycle is a good one for major games acquirers.
All acquisitions should be made on their merits, but understanding the 5 drivers of the recent bull games acquisitions market could help to decide when (and how) to sell your games company. With timing critical, are you ready?
Disclosure: No positions
Editor's Note: This article discusses one or more securities that do not trade on a major U.S. exchange. Please be aware of the risks associated with these stocks.