A few days ago I read for the first time Unilever's (NYSE:UL) annual report. I was truly impressed. The quality of the company and of the management team jumps at you. They are very straightforward, have a very clear vision, and don't try to hide their opportunity areas. They instead show what they are doing to improve.
Some of the things that are not usually in the ARs of other companies and which were in Unilever's annual report include: 1) Attendance of committee members 2) ARs must include risk factors but Unilever adds a column detailing what they are doing to mitigate these risks 3) very clear metrics detailing how the pay for the CEO and CFO are computed and what they have to achieve to earn different bonus amounts.
Even more impressive, they point out very clearly the areas where they have to get better. For example, they explain they are working hard to improve the taste and nutritional quality of all their products. In 2013 31% of the portfolio by volume met the highest nutrition standards. They are aiming to double that proportion by 2020. I can think of many well-known companies where this percentage is probably close to 0% and they don't mention it nor are working to get better.
Unilever also shares details on their social and environmental impact (water usage, CO2 emissions, waste, work accidents, etc.) and how they are working to improve.

These efforts are making the company sustainable (generating goodwill with customers and communities), generate efficiencies that improve operating margins, and help the company attract the best available talent. With respect to the last point, it is worth mentioning that Unilever was rated in 2013 as the third most in-demand employer by business social network LinkedIn, behind only Google and Apple. This speaks volumes to the quality of the board of directors and the management of the company.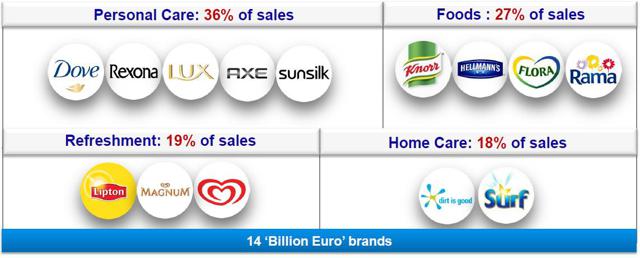 The company currently owns 14 brands that bring more than 1.3 billion USD each. Most are in the Personal Care segment but food is also very important. In total these 14 brands make up more than 54% of the business, and this is where the company has very significant competitive advantages in terms of consumer's recognition and preference. The portfolio has been further strengthened with the recent acquisitions of Alberto Culver, Sara Lee, Kalina and Toni & Guy. Additionally, Unilever increased its holdings in Hindustan Unilever in 2013 from 52% to 67% and bought out most of the remaining shares in Unilever Pakistan.
Currently emerging markets account for approximately 57% of the business and are projected to continuing increasing in importance. The good news is that growth has been very attractive, averaging close to 9% per year. This is in stark contrast to developed markets where growth has been almost non-existent (despite the company mostly holding market share and sometimes even winning a little). This makes it reasonable to expect some 57% x 9% = 5.1% underlying sales growth going forward.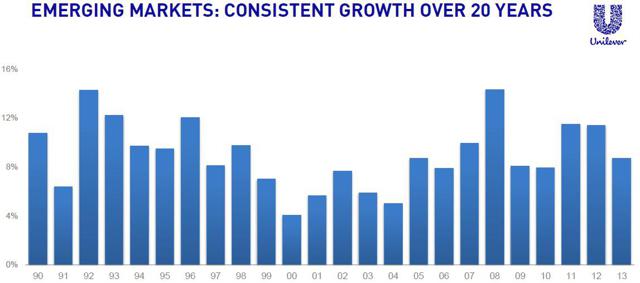 Some additional attractive characteristics of Unilever are that it has consistently enjoyed a negative working capital position arising from disciplined management of the supply chain. It has also been a pioneer in the use of Open Innovation initiatives, which together with its Strategic Science Group and the New Business Unit have really accelerated the pace of innovation. They have thus learned to harness the power of working with academia, small and medium sized companies, and start-ups, to develop new science and breakthrough technologies.
The company is generating approximately $5.3B in free cash flow, of which close to $4B USD are returned to shareholders via dividends ($1.51 USD per year, paid quarterly for a yield of approximately 3.5%). The current payout ratio seems high, but one has to consider that capital expenditures have been significant the last few years as the company invests to expand the business (capital expenditures are currently about 2X depreciation).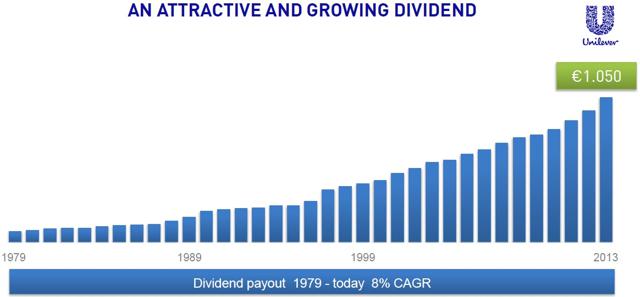 Unilever has very low financing costs and is striving to maintain a strong single A credit rating on a long-term basis. One of the few things I did not like was that the overall net liability for all pension arrangements was $2.7 billion at the end of 2013, although that is down from $4.4 billion at the end of 2012.
Conclusion
The company is still reasonably valued at around twenty times expected earnings for this year. It is quite reasonable to expect 5% underlying sales growth on average going forward for several years (thanks to emerging markets). This coupled with some margin expansion due to improved efficiency and operating leverage could result in EPS growth approaching 6%. Adding the close to 3.5% dividend yield the expected return approaches 9.5% annually. This is quite attractive considering the low-risk ensuing from the exceptional quality of the business and management team. There are 2bn consumers in more than 190 countries that use a Unilever product on any given day. Unilever is also working hard driving waste and inefficiencies out of the system, innovating and improving the health and well being of its customers, and growing through new and better products. At the current reasonable valuation it should be worthy of consideration for your investment dollars. There are two ADRs available (with different tax implications) for US investors, Unilever PLC and Unilever N.V. (NYSE:UN).
Disclosure: The author is long UL. The author wrote this article themselves, and it expresses their own opinions. The author is not receiving compensation for it (other than from Seeking Alpha). The author has no business relationship with any company whose stock is mentioned in this article.