In the beginning of July 2014, I wrote an article about how Realty Income's (NYSE:O) debt was tight, and gave investors an alternative - namely EPR Properties (NYSE:EPR). At the conclusion of the article, I stated:
Bottom line: I believe that EPR's debt is attractive at current levels and should outperform its peer group going forward. The REIT, while different than many given the nature of its assets, has been improving and has been able to show that its performance is stable and its metrics are strong. The yield/spread available on the debt does not fully reflect the strength of the underlying assets.
One reason that EPR trades at a discount to its triple net peers (as most REITs have gone triple net, should this be a category anymore?) is the nature of its assets. They are not your typical assets, and therefore, need additional work to understand them. This makes them different, not worse. What if there was a "triple net" REIT that had more "traditional" assets and still traded cheap to where it should. There is.
American Realty Capital Properties, Inc (ARCP) is a REIT which operates in two segments, Real Estate Investment ("REI") and Cole Capital, the Company's private capital management segment. Through the REI segment, ARCP acquires, owns and operates single-tenant, freestanding commercial properties, primarily subject to net leases with high credit-quality tenants. The portfolio is generally net leased to corporate tenants. These tenants are primarily investment grade-rated (approximately 49% as of June 30, 2014). Cole Capital is responsible for raising capital for, managing the affairs of and identifying and making acquisitions and investments on behalf of non-traded REITs sponsored indirectly by the Company.
Yes, it's the Nicholas Schorsch triple net juggernaut that hit the triple net space like a tsunami and has changed the landscape for all players.
The ARCP tsunami can be shown in the following charts: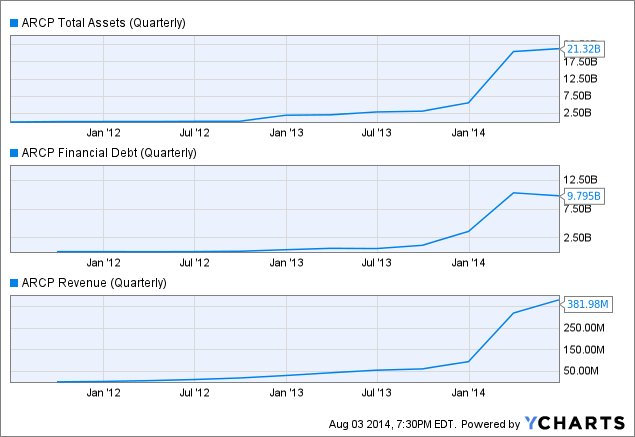 ARCP Total Assets (Quarterly) data by YCharts
That is what a triple net REIT on steroids looks like when it comes out of the gate (2011) and has enough access to capital to grow almost exponentially. For those that like to see it in balance sheet form (from the Q2 2014 supplemental):
The growth, however, was done rationally and a slide from a recent investor presentation shows the effects: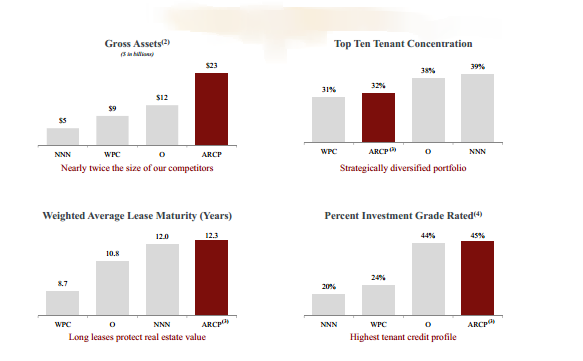 Interestingly, it was only this year that the REIT issued debt. Upon its debt issuance, its capital structure looked as follows (from the 6/30/14 10-Q):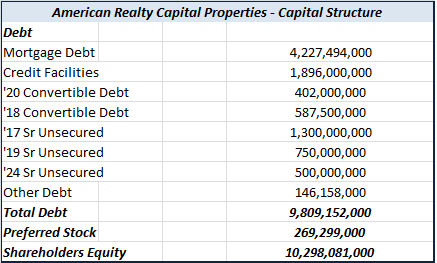 Let's take a look at ARCP's outstanding debt:

The ARCP 2017s were left off of this analysis due to their short maturity, but they are somewhat compelling as well for the short-duration folks.
Looking at ARCP's debt from a "rate perspective" (using basis points per unit of duration or yield per unit of rate risk), we see: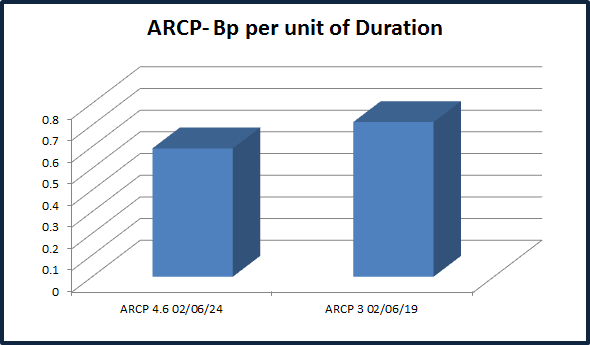 Having only inaugural issues to look at makes any valuation difficult, so we have to view it versus triple net peers. The peer group being used is Realty Income, Lexington Realty (NYSE:LXP), National Retail Properties (NYSE:NNN), EPR Properties and American Campus Communities (NYSE:ACC) - ACC used for a similar maturity/rating comparison. First, the overview:

As the table shows, ARCP's debt trades cheaper on a spread to the yield curve basis and a spread to the benchmark treasury basis. It trades significantly cheaper than industry veteran (and former 800-lb gorilla) Realty Income.
Now, a look at where ARCP's bonds are valued versus peers from a "rate perspective":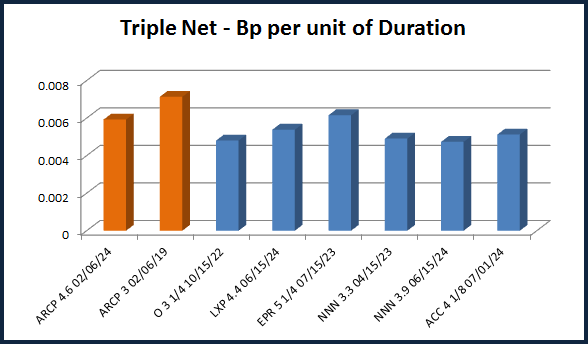 As the chart above shows, ARCP is cheaper compared to peers from a rate perspective as well.
Finally, let's take a look at the "triple net yield curve":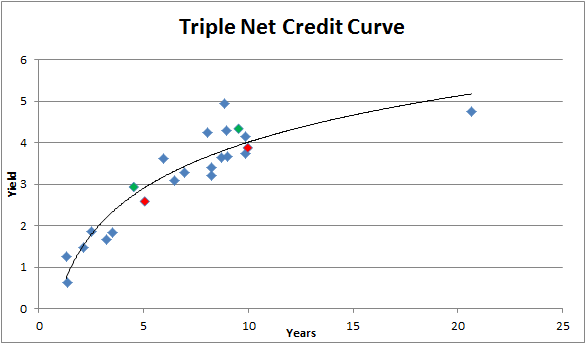 ARCP's debt (green) plots above the curve, while Realty Income's debt (red) plots below it. One might look at a potential swap out of O and into ARCP in either the five-year or ten-year maturity.
As always, a look at the covenants and covenant compliance is necessary. For a REIT, covenant compliance is typically shown in the quarterly supplemental (a vital document for analysts). As I have stated numerous times, as with most rated REIT debt, there are financial covenants contained in the offering (unlike almost all other public investment grade debt). In my opinion, the financial covenants are often overlooked and undervalued relative to other financial issuers.
ARCP's debt and credit covenants, plus current compliance are: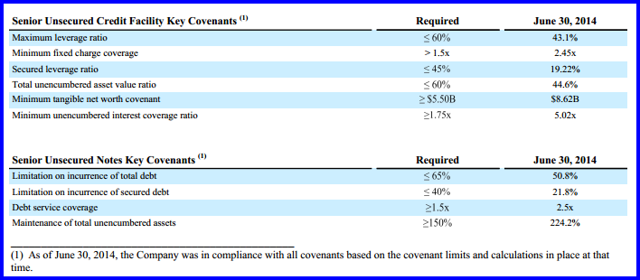 American Realty Capital has headroom under its covenants, which increases its financial flexibility, should an opportunity arise.
Naturally, the question becomes: why are they cheap?
My thoughts on this question:
Acquisitive. An acquisitive company makes investors worried that the company will sacrifice its ratings on an "elephant hunt". Since going public, ARCP did a $3.1B merger with ARCT III, a $774MM acquisition from GE, a $3B merger with ARCT IV, a $2.2B merger with CapLease, an $11.2B acquisition of Cole and a $601MM acquisition from Fortress - in the last TWO years. Then, there is the sale/leaseback acquisition with Red Lobster for a tidy $1.5B. Naturally, this will spook investors, as there is merger risk, integration risk, credit risk and ratings risk. In a recent shareholder communication, Chairman Schorsch stated that for the time being, acquisitions are over and the focus will be inward and organic growth. Combine this with the fact that acquisitions have always had a dominant slug of equity used, and I believe the ratings have upside (they have been extending and delevering).
Cole Capital. Cole Capital is an interesting piece of the pie. Many REITs have been spinning out their "asset management" arms - NorthStar Asset Management (NSAM) ring a bell? - to simplify and define their business. ARCP has retained Cole. Personally, I believe that the inclusion of an asset manager with public non-traded funds does complicate things and will continue to cost the REIT a couple of basis points versus its peers.
Acquisitive.
Acquisitive, and
Acquisitive.
Get the picture?
But after all the big game hunting, the company has emerged with a decent credit profile (in addition to its covenant profile). From an investor presentation, we see: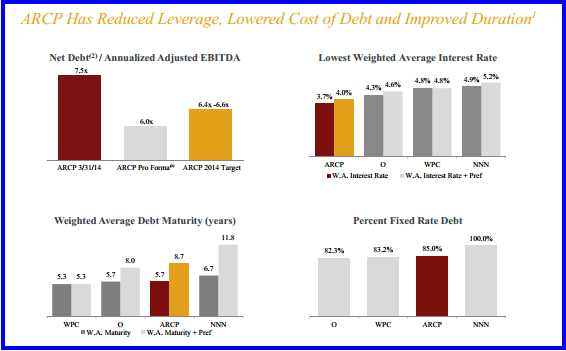 ARCP has done a great job of managing its credit profile throughout its acquisitions.
As Moody's stated:
A rating upgrade would reflect effective leverage closer to 45%; reducing net debt/EBITDA closer to 6x; secured leverage in the low teens; and successful execution of the 2013 acquisition pipeline and capital markets offerings. A rating downgrade would likely reflect effective leverage above 60%; net debt/EBITDA over 8x; secured leverage over its current 16%; fixed charge coverage below 2.5x; and a significant change in core investment strategy or levered acquisitions.
I believe the REIT knows that mid-BBB is the right spot for it, as it retains flexibility at this rating level.
Bottom Line: American Realty Capital properties bonds are what we called "story bonds". Essentially, there is a story to the company that has to be bought into before investing. The story here is that the REIT can integrate the acquisitions it has done and continue to strengthen its balance sheet. I believe it can and it will. As progress on these fronts continues, the bonds should tighten more towards peers, leading to outperformance versus peers. In my opinion, the bonds are a decent outright buy or done on swap versus Realty Income.
Disclosure: The author is long O, LXP. The author wrote this article themselves, and it expresses their own opinions. The author is not receiving compensation for it (other than from Seeking Alpha). The author has no business relationship with any company whose stock is mentioned in this article.
Additional disclosure: Long O pref, LXP equity. This article is for informational purposes only, it is not a recommendation to buy or sell any security and is strictly the opinion of Rubicon Associates LLC. Every investor is strongly encouraged to do their own research prior to investing.