In early July, I wondered if new highs would be coming soon for social media giant Facebook (NASDAQ:FB). While analyst estimates were rising, Facebook had been very impressive in recent quarters, and another beat seemed likely. The valuation seemed fair, and Facebook is the one name in this space with tremendous profitability. Well, after the company's Q2 report we did see new highs, which I think can be topped rather soon. Today, I'll detail why Facebook should see another new high soon.
A few weeks ago, Facebook reported another strong quarter. The company reported $2.91 billion in revenues, just over 60% growth from the prior year period. Analysts were looking for $2.81 billion, so this was another solid beat for Facebook. On the bottom line, Facebook came in at $0.42 in non-GAAP EPS, which beat by a dime for the second straight quarter. In the last four quarters, Facebook has beaten analyst estimates by an average of about 30% on the bottom line. Right now, Facebook is one of, if not the best, reporting companies in this market. As you can most likely guess, analyst estimates for 2014 are on the rise. The table below shows a history of these estimates.
Since May 2013, revenue estimates for 2014 are up by more than $3.8 billion or 45%. Non-GAAP EPS estimates have more than doubled, which is no small feat. Facebook had a non-GAAP profit of nearly $1.1 billion in Q2 2014, and a GAAP profit of nearly $800 million. Additionally, 2015 estimates have risen nicely, as you can see in the table below.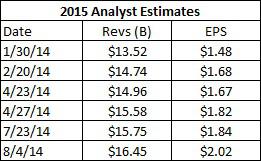 Since the end of January 2014, revenue estimates for 2015 are up by nearly $3 billion or nearly 22%, quite impressive given the short period of time. Non-GAAP EPS estimates are up by more than 50 cents, with analysts now looking for a 2015 non-GAAP profit of more than $5 billion. Even on a GAAP basis, Facebook is likely to have profits in the billions this year and next. A lot of the names in this space can't even get a GAAP profit right now.
Facebook continues to amaze, so investors need to stay in this name and buy on pullbacks. Even though analyst estimates continue to skyrocket, the company still beats by large margins. The company may end up doing close to $20 billion in revenues next year, along with a non-GAAP profit that could top $5 billion. The average analyst price target is about $86, and I think that's a fair value for shares at this point. That represents 17% upside from Monday's close, and it should just be a matter of time before Facebook shares hit another new high.
Disclosure: The author has no positions in any stocks mentioned, and no plans to initiate any positions within the next 72 hours. The author wrote this article themselves, and it expresses their own opinions. The author is not receiving compensation for it (other than from Seeking Alpha). The author has no business relationship with any company whose stock is mentioned in this article.
Additional disclosure: Investors are always reminded that before making any investment, you should do your own proper due diligence on any name directly or indirectly mentioned in this article. Investors should also consider seeking advice from a broker or financial adviser before making any investment decisions. Any material in this article should be considered general information, and not relied on as a formal investment recommendation.