Since late last year, Pfizer (NYSE:PFE) has been courting AstraZeneca (NYSE:AZN) in order to gain access to AstraZeneca's large and promising drug pipeline and to lower its effective tax rate by domiciling in the United Kingdom. After three successively higher bids, Pfizer walked away from AstraZeneca in May. The final bid for £69.4 billion ($120 billion) or £55/share was a 45% premium over the stock price prior to announcement of the takeover deal and stands at a 27% premium over the stock price as of August 1, 2014. A bid by Pfizer will be beneficial to AstraZeneca's shareholders over the short-term, but as I have argued before, it may hinder innovation in the combined company over the long-term. However, Pfizer is legally required to abandon its pursuit of AstraZeneca till November, but in the unlikely event that AstraZeneca changes its desire to be pursued, talks can resume as early as this month.
Earnings for Pfizer and AstraZeneca Fall Off the Patent Cliff
Much of big pharma is affected by the sudden and dramatic hit in earnings that follows patent expiration dates of blockbuster drugs, i.e. ones that fetch $1 billion or more in annual revenues. The table below indicates that both Pfizer and AstraZeneca are at risk for losing a substantial portion of their revenues due to patent expiration dates.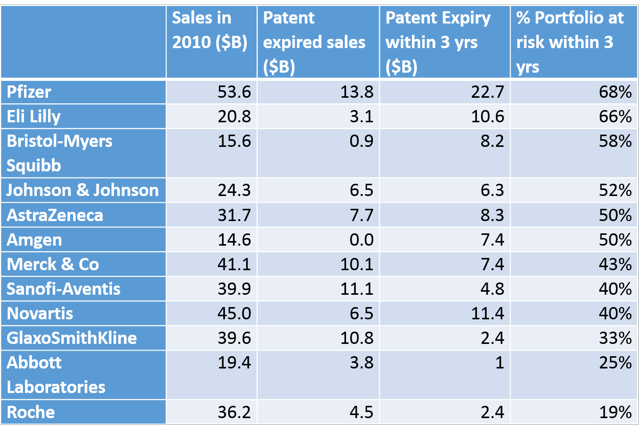 Source: EvaluatePharma
The patent cliff phenomena is clearly affecting sales at both AstraZeneca and Pfizer and neither have been able to compensate with new products to replace the patent expiring ones. From 2010 to 2013, annual revenues decreased 21% for Pfizer and 23% for AstraZeneca.
And, unfortunately, there is more pain ahead for both companies. AstraZeneca's Nexium, which brought in sales of $4.9 billion in 2010, lost patent protection earlier this year in May. Pfizer's Celebrex, which brought in sales of $2.5 billion in 2011, will face patent expiration at the end of this year. Lastly, AstraZeneca's Crestor, which brought in sales of $6 billion in 2010, will face patent expiration in 2016. Clearly, both companies need a way of replenishing lost revenues through new successes.
AstraZeneca has a Promising Drug Pipeline and Pfizer Needs One
AstraZeneca is focused in producing new treatments in three core areas: 1) Oncology, 2) Respiratory, Inflammation, and Autoimmune, and 3) Cardio-Metabolism. A cursive glance at their pipeline as of March 31, 2014 shows an impressive 32 new molecular entities in phase 1 trials, 28 new molecular entities in phase 2 trials, and 11 new molecular entities in phase 3 trials.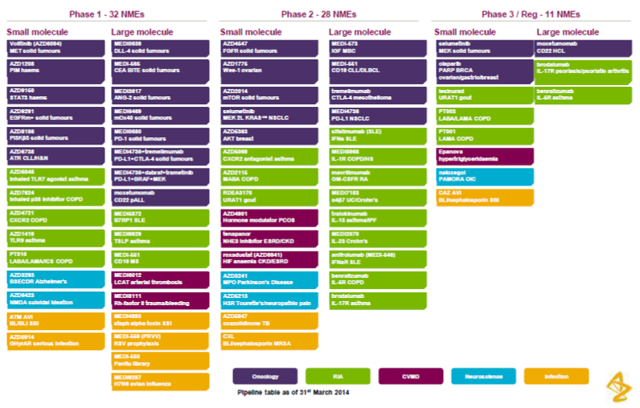 Based on their own projections, AstraZeneca expects revenues of at least $45 billion in 2023, or 7.5% annual revenue growth over the next 10 years. This strategy is bet on innovation to drive future success at the company. Despite declining revenues, AstraZeneca has increased R&D expenditure from 16% of revenues in 2010 to 19% of revenues in 2013.
In contrast, Pfizer has cut R&D expenditure from 17% in 2010 to 16% in 2013 and this lackluster approach to innovation is reflected in their drug pipeline. Pfizer has a disappointing 24 new molecular entities in phase 1 trials, 18 new molecular entities in phase 2 trials, and 7 new molecular entities in phase 3 trials. If innovation is an indicator of a pharmaceutical company's future success, then developing its drug pipeline should be a key priority. Instead, Pfizer has a long history of trying to acquire innovation at a high premium and then cutting back on internal R&D. As a result of these efforts, Pfizer, which has roughly twice the market cap of AstraZeneca, only has 49 new molecular entities in its pipeline in comparison to AstraZeneca's 71 new molecular entities in development.
Yet Another Tax Inversion Deal
President Obama may think that tax inversion deals are distasteful, but he is unlikely to get Congress to ban them anytime soon. As AstraZeneca is headquartered in the United Kingdom, acquiring it would allow Pfizer to domicile to the United Kingdom for tax purposes. Since United Kingdom's corporate tax rate of 21% is much lower than United States' corporate tax rate of 35% (although effective tax rates tend to be much lower), changing its tax address makes good financial sense for Pfizer. Pfizer estimates that the combined company would save at least $1 billion annually in tax expenses by domiciling in the United Kingdom.
Pfizer is a Successful Predator and AstraZeneca is its Prey
Pfizer has pulled off some of the largest acquisitions in the pharmaceutical industry in a strategic bid to acquire innovation.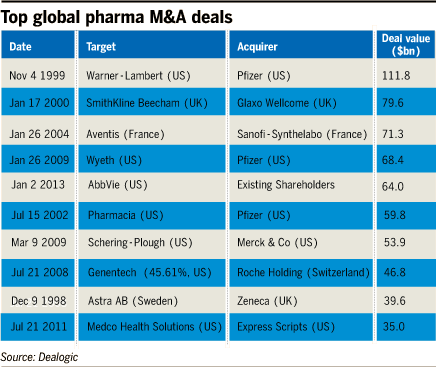 In 2000, Pfizer acquired Warner-Lambert for $112 billion; in 2003, it acquired Pharmacia for $60 billion; in 2009, it acquired Wyeth for $68 billion. Over this time frame, Pfizer also focused aggresively on cost cutting by shutting down R&D facilities resulting in the loss of 51,500 jobs or 40% of its workforce. The collective R&D budget of the combined company was also slashed roughly by 40%. Despite this large expenditure of $240 billion, Pfizer's revenues continued to decline and its drug pipeline is disappointing compared to smaller rivals.
But, there is no reason to believe that Pfizer will change its mind about continuing to try acquiring innovation. And, when Pfizer sets its sights on a company it wants to acquire, it can be very persistent. For instance, Warner-Lambert tried to fend off Pfizer when it first came knocking and Pfizer countered by initiating a hostile takeover bid and finally, Warner-Lambert acquiesced. However, in that instance, Pfizer had a large vested stake in the company since the two companies co-developed Lipitor and were equally sharing revenues from the drug.
Conclusions
Pfizer is in desperate need of innovation to survive and after slashing internal R&D ex, it needs to acquire to survive. While public sentiment in the United Kingdom was against a deal between Pfizer and AstraZeneca, many of AstraZeneca's large shareholders were in favor of the deal. If Pfizer can sweeten the offer and appease public sentiment, then it is likely that a future deal will go through given that AstraZeneca has few defenses against Pfizer. In anticipation of a better offer from Pfizer and even if you do not believe that Pfizer will come back with an offer, AstraZeneca is an attractive long-term investment that may offer at least a 30% short-term upside.
Disclosure: The author has no positions in any stocks mentioned, and no plans to initiate any positions within the next 72 hours. The author wrote this article themselves, and it expresses their own opinions. The author is not receiving compensation for it (other than from Seeking Alpha). The author has no business relationship with any company whose stock is mentioned in this article.