While most promising young biotechs devote all resources to development of new drugs, Momenta Pharmaceuticals (NASDAQ:MNTA) is adopting a fairly unusual strategy of aiming for the middle. Its plan for developing biosimilars -- generic versions of complex biologics -- yielded short lived success in the past, and another winner is likely on the way.
Unlike small molecule generics, biosimilars have a much higher barrier to entry, offering jucier margins in return. Deep-pocketed partners Baxter (NYSE:BAX) and Novartis (NYSE:NVS) are eager to exploit Momenta's proprietary platform, as it may offer significant savings on development costs. If those savings don't materialize, Momenta could find itself in trouble.
This time is different
Momenta's brief affair with profitability illustrates the precarious pricing power of biosimilars. Just over four years ago Momenta's bottom line took off like a rocket following Novartis' launch of enoxaparin, an anticoagulant similar to Sanofi's (NYSE:SNY) Lovenox. Sales of the biosimilar reached blockbuster status, then receded just as quickly following entry of another Lovenox biosimilar from Amphastar and Actavis (ACT).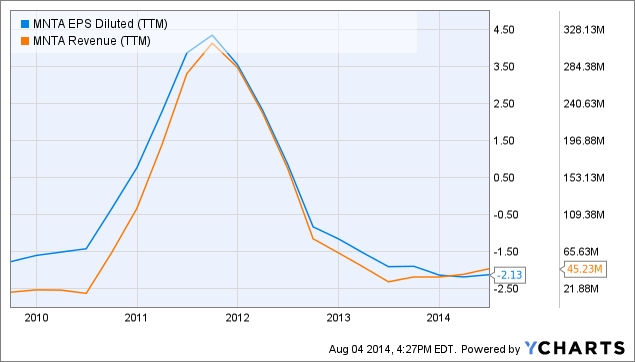 MNTA EPS Diluted (NYSE:TTM) data by YCharts
On the cusp of another big biosimilar launch, Momenta would like to avoid another rapid decline. The company's deal with Novartis concerning generic Copaxone -- Teva's (NYSE:TEVA) popular multiple sclerosis therapy -- has a couple features that could make it more lucrative than enoxaparin over the long run. Momenta's royalty rate for enoxaparin was between 10% and 12%, and entry of Actavis' competitor negated further milestone payments. If approved, Momenta could enjoy a 50% profit share from its Copaxone biosimilar without restrictions to milestone payments following entry of competing biosimilars.
An uncertain advantage
Momenta's generic Copaxone could bring the company to profitability again, but long-term growth is overly dependent on pleasing partners. The company's technology allowed Novartis to become the first approved manufacturer of a Lovenox equivalent. Rapid decline of enoxaparin sales following Actavis' entry highlights the value of speedy biosimilar development.
Momenta's technology allows the company to characterize a complex biological process in order to effectively develop an equivalent. It's a great selling point, but it's also a huge gamble. The process requires higher early development costs, with hopes of avoiding immensely expensive full-scale clinical trials. Unpredictable government regulators could require full scale trials for biosimilars, effectively flipping Momenta's advantage to an impediment.
Beyond biosimilars
If Monenta's strategy to derive regulatory advantages through use of its proprietary platform should fizzle, a mid-stage oncology candidate could provide life support. Necuparanib is a heparan mimetic discovered and developed in-house, and associated with anti-tumor activity.
The use of heparins as a clot preventer in cancer patients has long been associated with anti-tumor activity. Boosting heparin dosage in an effort limit tumor growth would raise the risk of bleeding events, and that's where Momenta found an opportunity. Necuparanib is basically heparin engineered with reduced anticoagulant activity.
The company is in the middle of a two-part study, and expects to release results from a dose-escalation study before the end of the year. If successful, the company intends to begin a longer, controlled study shortly thereafter.
Final thoughts
As you can see above, getting just one biosimilar to market pushed Momenta's EPS up over $4. Copaxone sales are feeling pressure of Biogen Idec's (NASDAQ:BIIB) rival Tecfidera, but demand for an effective follow-on multiple sclerosis therapy could be far greater than enoxaparin enjoyed a few years ago.
More importantly going forward, Momenta's 50% share of profits could fill the company's coffers with enough coin to allow further development of proprietary candidates like necuparanib. While biosimilars are currently an attractive opportunity for Momenta, regulatory uncertainty makes diversifying operations a must.
Sources:
Momenta Q2 2014 earnings release
Momenta Q2 2014 earnings call transcript
Disclosure: The author has no positions in any stocks mentioned, and no plans to initiate any positions within the next 72 hours. The author wrote this article themselves, and it expresses their own opinions. The author is not receiving compensation for it (other than from Seeking Alpha). The author has no business relationship with any company whose stock is mentioned in this article.