Twitter (NYSE:TWTR) recently beat earnings estimates and gaped upwards following the report. Nonetheless, Twitter faces significant headwinds and only had a positive quarter due to a temporary benefit from the World Cup. With management not being transparent with actual user growth, Twitter investors should be concerned over its future.
World Cup Effect
The ubiquitous following of the World Cup clearly benefited social media sites such as Facebook (NASDAQ:FB) and Twitter. Engagement levels were buoyed over the final two weeks of the quarter with record numbers of interactions on both platforms. Twitter experienced 300 million Tweets about the World Cup, while Facebook had a total of 1 billion interactions with the event.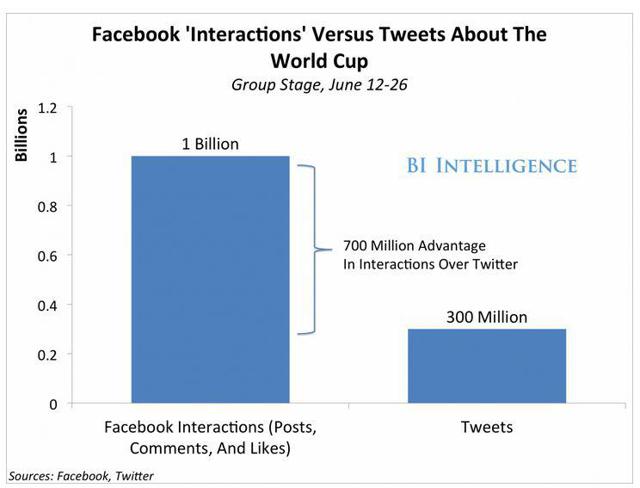 Source: Business Insider
The ephemeral benefit in engagement for Twitter can be recognized by viewing the timeline views of monthly active users. In the United States, the World Cup is less followed than in other parts of the world. Therefore, the U.S. engagement did not experience as much of the World Cup benefit, and engagement levels fell both y/y and q/q. However, the engagement in the rest of the world, which had been dropping each quarter since Q2 of last year, actually experienced an uptick. This positive effect will be transitory, and engagement should suffer in the coming quarters. In my previous article, before the earnings release, "Twitter: Earnings May Surprise, But Long-Term Bear Thesis Intact," I opined that Twitter would beat estimates from the temporary boost in engagement, but would falter in the long-term.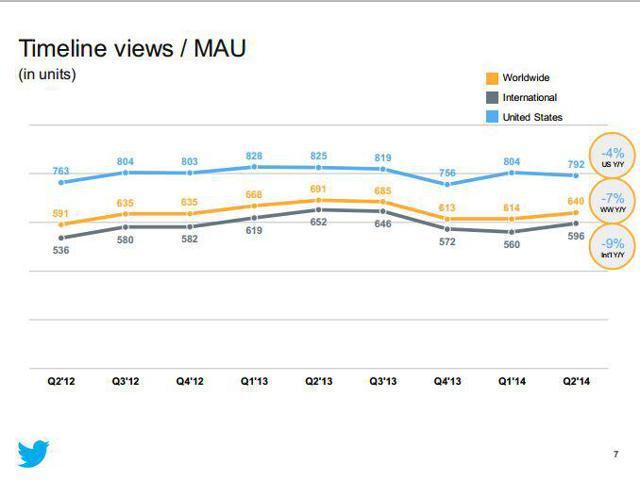 Source: Q2 Earnings Presentation
Exaggerating Its User Base
On the surface, Twitter ostensibly enjoyed prodigious user growth over the last few quarters. Investors were worried about its saturating and stagnating growth in the future, so this positive announcement fueled the bidding up of TWTR shares after the announcement. However, upon reviewing them more closely, the numbers are not as exceptional as they appear to be.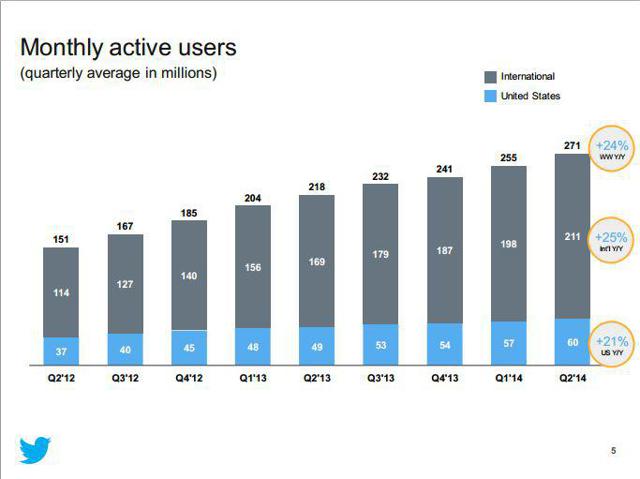 Source: Q2 Earnings Presentation
In the fine print of the presentation, there are some concerning statements. First, the metric does not remove users with multiple accounts. Although this may not affect the numbers significantly, it certainly blurs the overall picture.
We treat multiple accounts held by a single person or organization as multiple users for purposes of calculating our active users because we permit people and organizations to have more than one account.
Source: Q2 Earnings Presentation
Second, and more influential, management has subjectivity in estimating the number of false or spam accounts counted in its calculation. Management estimates that it is less than 5% of total monthly active users, however, management goes on to say further that the number may not accurately be represented:
We have performed an internal review of a sample of accounts and estimated that false or spam accounts represented less than 5% of our MAUs. In making this determination, we applied significant judgment, so our estimation of false or spam accounts may not accurately represent the actual number of such accounts, and the actual number of false or spam accounts could be higher than we have estimated.
Source: Q2 Earnings Presentation
The final and most compelling reason to be skeptical of Twitter's user numbers is the growing number of users that never see ads. Of Twitter's 271 million users, 38 million, or 14%, never log-in directly to Twitter and instead just connect through third-party applications. Further, this trend is accelerating, as the number of users accessing Twitter through third-party applications grew to 24% in Q2 from 17% in Q1. Since Twitter cannot generate revenue from these users, this trend is alarming. Removing these user additions, user growth actually slowed to 3.9% from 4.4% last quarter.
Final Remarks
Although Twitter could presumably generate revenue by integrating ads into these third-party platforms, it currently does not have a method to do this. With a dearth of user information compared to Facebook, targeting of ads is less effective, so it faces headwinds in creating a third-party ad product. In closing, management is skewing the actual revenue generating user growth, and investors should wake up and realize the future is not as bright as it first seems.
Disclosure: The author is long FB. I also own FB LEAP call options. The authors wrote this article themselves, and it expresses their own opinions. The author is not receiving compensation for it (other than from Seeking Alpha). The author has no business relationship with any company whose stock is mentioned in this article.