Since my primary investment objective revolves itself around the generation of income, dividend-related events are always something I tend to keep an eye on. With that said, and in the wake of its latest dividend increase, I wanted to highlight several reasons why I've chosen to stay bullish on shares of Summit Hotel Properties (NYSE:INN).
Company Overview
Headquartered in Austin, Texas, Summit Hotel Properties, Inc. is a hotel investment company that engages in acquiring, owning, renovating, repositioning, and asset-managing and selling premium-branded limited-service and select-service hotels in the upscale and midscale without food and beverage segments of the United States' lodging industry.
Summit Raises Its Dividend For First Time Since 2011
On Friday, August 1, Summit Hotel Properties announced a quarterly dividend increase of $0.005/share, which brings its upcoming dividend payout to $0.1175/share from the previous payout of $0.1125/share.
It should be noted that this was the company's first dividend increase in the last three years and it will be paid on August 29 for shareholders of record as of August 15. This boost represents a 4% increase from its prior dividend of $0.1125/share, which was paid to investors on May 30.
Upcoming Earnings Outlook
When it comes to the company's upcoming earnings, there are a number of things potential investors should consider. For instance, analysts are currently calling for INN to earn $0.26/share in terms of FFO (which is $0.07/share higher than what the company had reported during Q1 2014, and in-line with what the company had reported during the year-ago period) and $101.11 million in revenues when earnings are announced on August 6.
In order to meet and/or exceed estimates Summit Hotel Properties will need to continue to demonstrate increases in both its Same-Store RevPAR (which grew 8.4% during the previous quarter) and its Adjusted EBITDA (which jumped 44% during the previous quarter).
I strongly believe that if the company can continue to enhance its Same-Store RevPAR as well as its Adjusted EBITDA, there's a very good chance second quarter results could exceed analysts' expectations.
Recent Trend Behavior
On Monday, shares of INN, which currently possess a market cap of $901.8 million, a forward P/E ratio of 16.47, and a dividend yield of 4.27% ($0.47), settled at a price of $10.54/share. Based on a closing price of $10.54/share, shares of INN are trading 0.02% below their 20-day simple moving average, 1.23% above their 50-day simple moving average, and 13.71% above their 200-day simple moving average.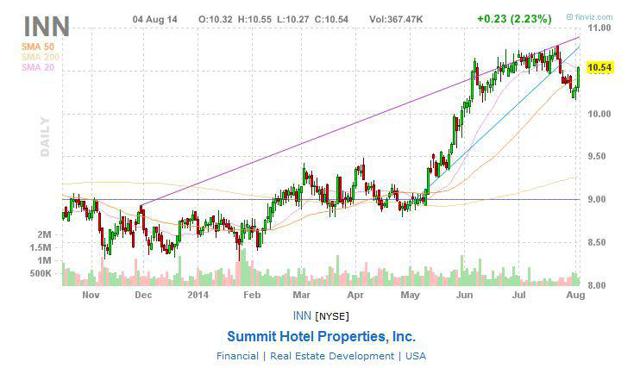 Based on the above referenced trends, these numbers indicate a short-term downtrend and a long-term uptrend for the stock, which generally translates into a selling mode for most near-term traders and a buying mode for most long-term investors.
If the company can demonstrate a stronger-than-expected earnings performance when it announces Q2 results on August 6, there's a very good chance the company's trend behavior will begin to move in a much more positive direction.
Conclusion
For those of you who may be looking to establish a position in Summit Hotel Properties I'd begin by keeping an eye on the company's upcoming earnings announcement and seeing how well both its RevPAR and Adjusted EBITDA have improved. If the company can demonstrate solid improvements in each of the above mentioned areas, then there's a very good chance that both its trend behavior and long-term growth could also improve.
Disclosure: The author is long INN. The author wrote this article themselves, and it expresses their own opinions. The author is not receiving compensation for it (other than from Seeking Alpha). The author has no business relationship with any company whose stock is mentioned in this article.