Merck & Co. Inc. (NYSE:MRK) recently reported positive results from the SHARP (Study of Heart and Renal Protection) study on its cholesterol-lowering drug Vytorin. Vytorin 10/20 mg met the primary endpoint of achieving a statistically significant (16.1%) reduction in the incidence of major vascular events like stroke and heart attack compared to placebo.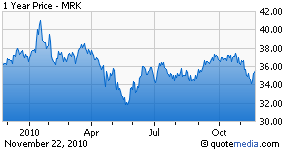 The study was conducted with more than 9,000 patients suffering from advanced or end-stage chronic kidney disease (CKD). Following the encouraging SHARP trial results Merck plans to file for the approval of Vytorin as a treatment for end-stage CKD.
Vytorin, a combination product containing active ingredients of Zetia and Zocor and marketed as Inegy outside the United States, is approved for use as an adjunctive therapy to diet for the reduction of elevated total cholesterol in patients with primary hypercholesterolemia or mixed hyperlipidemia.
Merck currently has patent infringement lawsuits ongoing against Mylan Inc. (NASDAQ:MYL), Teva Pharmaceutical Industries Ltd. (NYSE:TEVA) and Impax Laboratories Inc. (IPXL), which are seeking to market generic versions of Vytorin.
Neutral on Merck
We currently have a Neutral recommendation on Merck, which is supported by a Zacks #3 Rank (short-term Hold rating). Merck is currently faced by issues like patent expirations of key drugs and EU pricing pressure. However, the company has a deep pipeline that should act as a cushion when its key products lose patent protection in the next few years.
Moreover, some of the company's recent launches should start contributing significantly to the top line in the forthcoming quarters. The restructuring initiatives undertaken by the company should also improve its bottom line.