US commercial real estate prices as measured by Moody's/REAL Commercial Property Price Indices (CPPI) increased 4.3% in September, its first increase since May and the largest gain in the history of the CPPI.
As of the end of September, prices are up 0.3% from a year ago but down 36.8% from two years ago. They are now 42.7% below the peak value reached in October 2007.
"Each of the summer months this year recorded declines in the 3%-4% range, followed by this month's sizeable uptick," said Moody's Managing Director Nick Levidy. "The relatively large swings seen in the index recently are due in part to the uncertain macroeconomic environment and the effects of a thin market with low transaction volumes.
Click image to enlarge.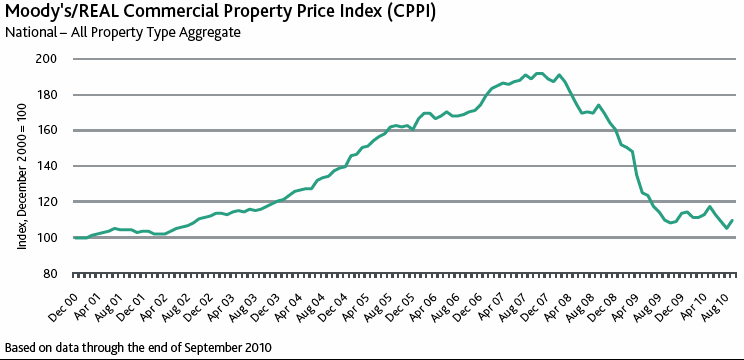 The national property type indices, which are quarterly, had mixed results. Two of the four major property types recorded gains in the third quarter and two showed declines. On the gain side were retail, which went up 5.7% in the quarter, and apartments, which rose 0.4%. Office properties saw a 3.8% decline in prices and industrial properties dropped 4.3%.