I want to share some words of caution for the high yield market in general, comments that will apply whether you're getting your exposure through a mutual fund, ETF or ETN. The second part will address a handful of specific ETFs and their individual issues.
High Yield is a sub segment of the fixed income market represented by bonds that pay higher coupons and have lower credit ratings than investment grade corporate bonds. The idea is you're willing to take on the higher risk because you earn a higher return.
Let's start by looking at the historical data. Looking at a long period of time (2000 - 2014, the longest data set I could find). The iBoxx High Yield Index has annualized at 5.9% vs. the Barclays Aggregate Index at 5.7%. So returns have been similar. What about risk, well if you look at the two indices today, the iBoxx HY Index is all B and C rated credits. The chart below is from iShares.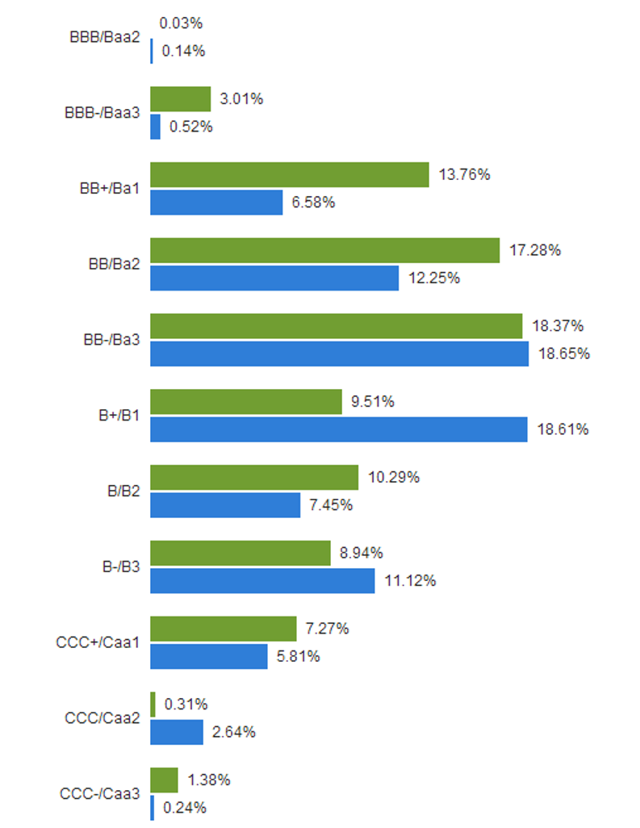 Source: iShares
Compare that to this credit profile for the Barclays Aggregate, also from iShares showing almost all A credits.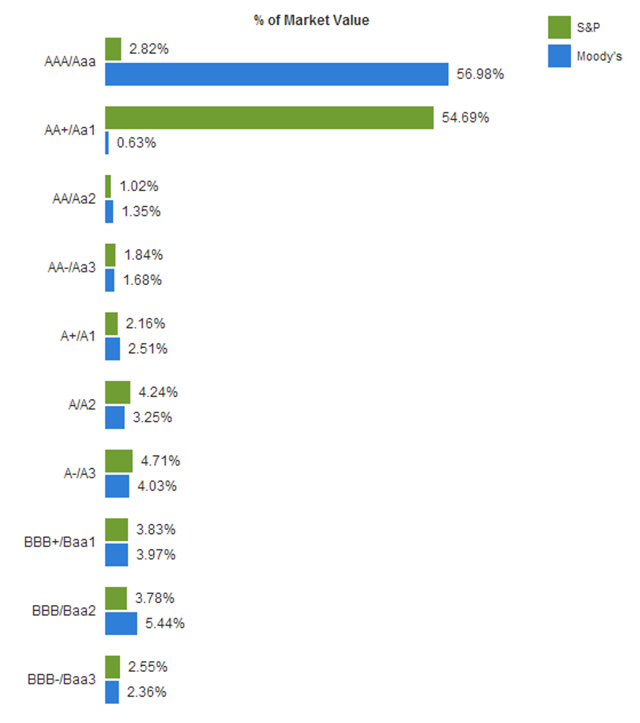 Source: iShares
So I would conclude a negligible increase in return for a material difference in credit or risk. Let's take that track record and look at a few timely examples. In the 2001/2 crisis, the Barclays Agg was up 35% while the high yield index fell 4%. More recently, in 2008 the Barclays Agg was up 5% and the high yield index fell 24% - there is definitely plenty of risk there. So what excess return are investors demanding today for this risk?
According to this chart from JP Morgan, high yield investors are demanding the lowest yield on record.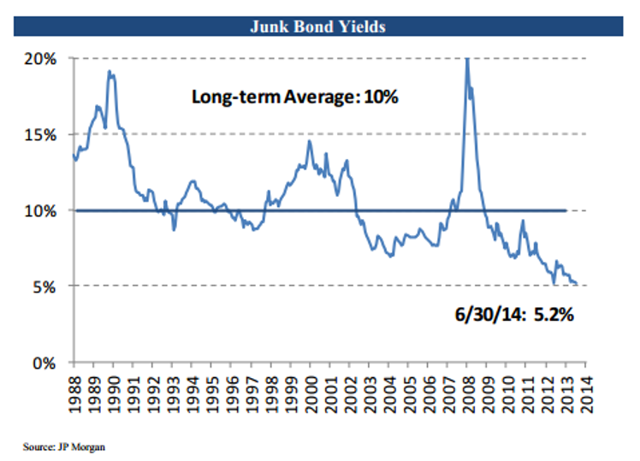 But we're in a low yield world, right? This isn't unique to high yield, everything yields less today. So let's look at relative value. What additional yield do investors get for taking high yield risk vs. higher quality bonds.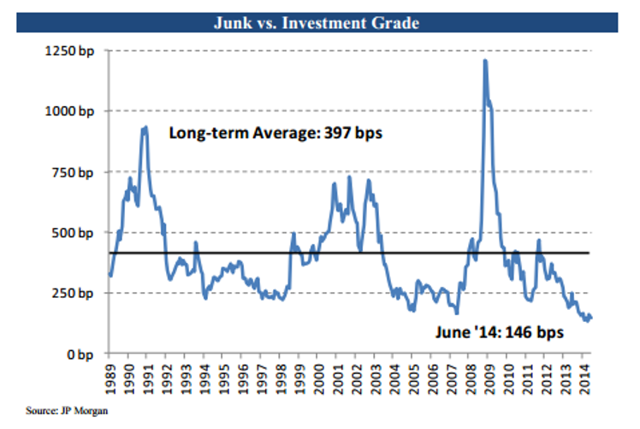 Again, we can thank JP Morgan for this great chart of spreads, today investors are willing to accept the lowest spread for credit risk.
So what could investors be thinking? Many probably think that they can clip the higher coupon and get out quickly once defaults start to increase. The pennies in front of steamrollers...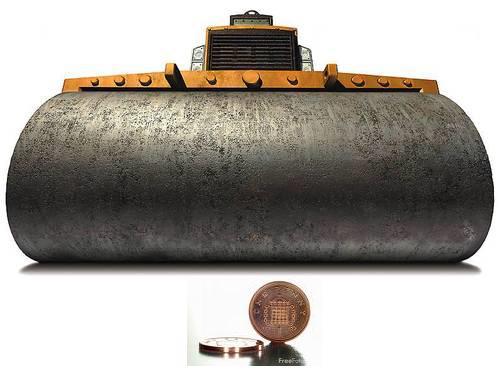 Source: Seeking Alpha
Let's look at how that did last time around. In 2008, by the time that defaults started to signal trouble, the sell off was over and high yield investors had already lost 20-30%.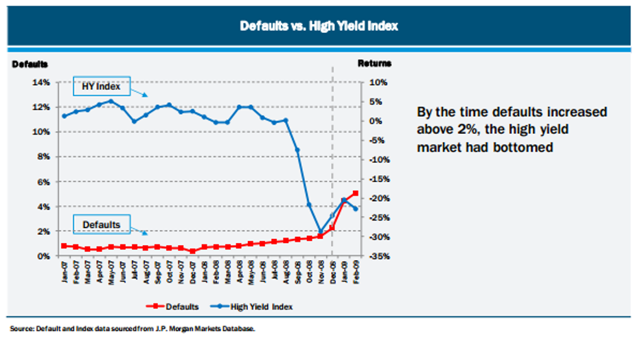 And now this from the Wall Street Journal - liquidity continues to dry up in the high yield market.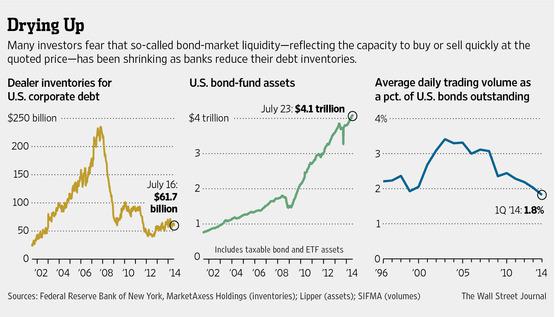 With average volumes down 50% from the last crisis, high yield investors will create even more damage when they rush to the exits this time around.
Now to the specific investments
I wanted to review the top 5 high yield ETFs, the list according to ETFdb.com includes:
| | Yield to Worst | Duration | Barclays Credit Composite | Fees |
| --- | --- | --- | --- | --- |
| HYG | 5.5% | 3.8 | BB3 | 0.5% |
| JNK | 5.9% | 4.0 | B1 | 0.4% |
| BKLN | 5.0% | 1.7 | B1 | 0.65% |
| HYS | 5.1% | 2.1 | B1 | 0.55% |
| SJNK | 5.6% | 2.3 | B1 | 0.4% |
Based on these five options, if you absolutely have to include high yield exposure, make sure you're not taking unnecessary risks. For example, HYG has a better composite credit score than all the others but requires a longer duration of almost 4 years. The clear loser of the bunch is BKLN where you pick up the highest fees, lowest yield, lowest credit composite and barely improve your duration relative to HYS and SJNK. I recommend selling all of them but now definitely isn't the time to start stretching for yield. Be careful what trade offs you're taking with credit quality and duration to pick up a few extra basis points.
Disclosure: The author has no positions in any stocks mentioned, and no plans to initiate any positions within the next 72 hours. The author wrote this article themselves, and it expresses their own opinions. The author is not receiving compensation for it (other than from Seeking Alpha). The author has no business relationship with any company whose stock is mentioned in this article.