The following is a list of stocks trading near 52-week lows. All of these stocks have seen significant institutional inflows over the past three months.

To compile this list, we started with a universe of 120 stocks trading 0%-10% above their 52-week lows. We then narrowed down the list by looking at institutional inflows, ranking the stocks accordingly.

The smart money seems to think these stocks are set to rebound, what do you think? Full details below.

Short float data collected from Finviz, and institutional flows collected from Reuters.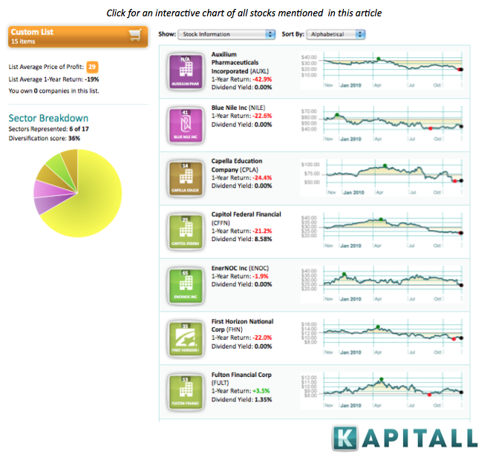 The list has been sorted by the change in institutional ownership.

1. Capitol Federal Financial (NASDAQ:CFFN): Savings & Loans Industry. Market cap of $1.72B. The stock is 1.87% above its 52-week low. Institutional investors currently own 11,468,556 shares vs. 9,206,816 shares held 3 months ago (+24.57% change). Short float at 13.78%, which implies a short ratio of 11.74 days. The stock has lost -14.9% over the last year.

2. Oppenheimer Holdings Inc. (NYSE:OPY): Investment Brokerage Industry. Market cap of $322.8M. The stock is 9.84% above its 52-week low. Institutional investors currently own 6,001,656 shares vs. 5,427,683 shares held 3 months ago (+10.57% change). Short float at 4.49%, which implies a short ratio of 18.04 days. The stock has lost -19.69% over the last year.

3. Wilmington Trust Corporation (NYSE:WL): Regional Bank. Market cap of $369.58M. The stock is 2.28% above its 52-week low. Institutional investors currently own 76,375,881 shares vs. 71,377,536 shares held 3 months ago (+7.% change). Short float at 17.61%, which implies a short ratio of 4.97 days. The stock has lost -67.52% over the last year.

4. EnerNOC, Inc. (NASDAQ:ENOC): Business Services Industry. Market cap of $596.7M. The stock is 0.57% above its 52-week low. Institutional investors currently own 22,528,091 shares vs. 21,094,701 shares held 3 months ago (+6.8% change). Short float at 16.26%, which implies a short ratio of 13.03 days. The stock has lost -1.91% over the last year.

5. Blue Nile Inc. (NASDAQ:NILE): Online Retail Industry. Market cap of $636.76M. The stock is 8.72% above its 52-week low. Institutional investors currently own 19,459,904 shares vs. 18,377,130 shares held 3 months ago (+5.89% change). Short float at 40.38%, which implies a short ratio of 25.52 days. The stock has lost -22.63% over the last year.

6. Fulton Financial Corp. (NASDAQ:FULT): Regional Banks Industry. Market cap of $1.74B. The stock is 9.71% above its 52-week low. Institutional investors currently own 93,008,978 shares vs. 87,985,351 shares held 3 months ago (+5.71% change). Short float at 4.46%, which implies a short ratio of 7.63 days. The stock has gained 4.9% over the last year.

7. MB Financial Inc. (NASDAQ:MBFI): Regional Bank. Market cap of $785.51M. The stock is 0.83% above its 52-week low. Institutional investors currently own 43,818,901 shares vs. 41,887,719 shares held 3 months ago (+4.61% change). Short float at 7.2%, which implies a short ratio of 11.97 days. The stock has lost -20.48% over the last year.

8. RRI Energy, Inc. (RRI): Electric Utilities Industry. Market cap of $1.3B. The stock is 9.55% above its 52-week low. Institutional investors currently own 336,362,414 shares vs. 321,691,659 shares held 3 months ago (+4.56% change). Short float at 6.11%, which implies a short ratio of 4.25 days. The stock has lost -27.33% over the last year.

9. Capella Education Co. (NASDAQ:CPLA): Education & Training Services Industry. Market cap of $907.38M. The stock is 6.19% above its 52-week low. Institutional investors currently own 17,550,930 shares vs. 16,858,595 shares held 3 months ago (+4.11% change). Short float at 20.95%, which implies a short ratio of 10.02 days. The stock has lost -24.45% over the last year.

10. First Horizon National Corp. (NYSE:FHN): Regional Bank. Market cap of $2.25B. The stock is 3.54% above its 52-week low. Institutional investors currently own 177,685,658 shares vs. 170,751,404 shares held 3 months ago (+4.06% change). Short float at 14.23%, which implies a short ratio of 7.55 days. The stock has lost -26.45% over the last year.

11. Regions Financial Corp. (NYSE:RF): Regional Bank. Market cap of $6.72B. The stock is 4.49% above its 52-week low. Institutional investors currently own 850,679,158 shares vs. 819,433,977 shares held 3 months ago (+3.81% change). Short float at 3.84%, which implies a short ratio of 2.3 days. The stock has lost -1.29% over the last year.

12. Auxilium Pharmaceuticals Inc. (NASDAQ:AUXL): Drug Related Products Industry. Market cap of $951.81M. The stock is 3.64% above its 52-week low. Institutional investors currently own 60,927,161 shares vs. 58,986,508 shares held 3 months ago (+3.29% change). Short float at 22.79%, which implies a short ratio of 15.16 days. The stock has lost -42.89% over the last year.

13. TFS Financial Corp (NASDAQ:TFSL): Regional Bank. Market cap of $2.5B. The stock is 1.37% above its 52-week low. Institutional investors currently own 49,580,970 shares vs. 48,194,277 shares held 3 months ago (+2.88% change). Short float at 5.09%, which implies a short ratio of 6.03 days. The stock has lost -25.87% over the last year.

14. PacWest Bancorp (NASDAQ:PACW): Regional Bank. Market cap of $665.21M. The stock is 9.97% above its 52-week low. Institutional investors currently own 26,675,089 shares vs. 26,018,959 shares held 3 months ago (+2.52% change). Short float at 14.04%, which implies a short ratio of 20.39 days. The stock has gained 5.32% over the last year.

15. Glacier Bancorp Inc. (NASDAQ:GBCI): Regional Bank. Market cap of $952.94M. The stock is 8.22% above its 52-week low. Institutional investors currently own 57,168,527 shares vs. 55,813,984 shares held 3 months ago (+2.43% change). Short float at 10.53%, which implies a short ratio of 17.47 days. The stock has gained 4.17% over the last year.

Disclosure: No positions