With Black Friday around the corner, all eyes are on retail data. Below is a list of the top 25 consumer goods stocks with bullish options sentiment.

To compile this list, we started with a universe of consumer goods stocks and then narrowed down the list by only focusing on apparel, sporting goods, electronics and other related stocks. We then ranked them by bullish option market sentiment, i.e. comparing the number of open call option positions relative to put option positions.

We're not going to go into detailed analysis for each company. The goal here is to give you a starting point for your own analysis.

Short float data sourced from Finviz, options data sourced from Schaeffer's.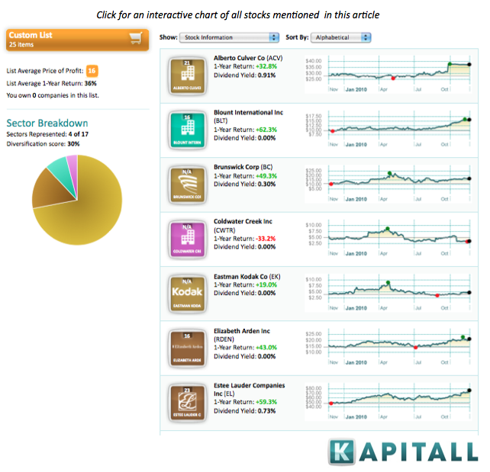 The list has been sorted by the Put/Call ratio.

1. Alberto-Culver Co. (NYSE:ACV-OLD): Personal Products Industry. Market cap of $3.68B. Call open interest at 4,614 contracts vs. put open interest at 121 contracts (Put/Call ratio at 0.03). Short float at 0.58%, which implies a short ratio of 0.25 days. The stock has gained 34.33% over the last year.

2. Select Comfort Corporation (SCSS): Home Furnishings & Fixtures Industry. Market cap of $469.41M. Call open interest at 1,882 contracts vs. put open interest at 189 contracts (Put/Call ratio at 0.1). Short float at 10.84%, which implies a short ratio of 8.49 days. The stock has gained 59.81% over the last year.

3. Iconix Brand Group, Inc. (NASDAQ:ICON): Apparel Footwear & Accessories Industry. Market cap of $1.33B. Call open interest at 576 contracts vs. put open interest at 137 contracts (Put/Call ratio at 0.24). Short float at 10.93%, which implies a short ratio of 15.75 days. The stock has gained 56.46% over the last year.

4. Timberland Co. (NYSE:TBL): Apparel Footwear & Accessories Industry. Market cap of $1.28B. Call open interest at 3,102 contracts vs. put open interest at 1,112 contracts (Put/Call ratio at 0.36). Short float at 3.59%, which implies a short ratio of 3.52 days. The stock has gained 46.75% over the last year.

5. Hasbro Inc. (NASDAQ:HAS): Toys & Games Industry. Market cap of $6.43B. Call open interest at 16,185 contracts vs. put open interest at 6,297 contracts (Put/Call ratio at 0.39). Short float at 2.17%, which implies a short ratio of 2.17 days. The stock has gained 66.27% over the last year.

6. LeapFrog Enterprises Inc. (NYSE:LF): Toys & Games Industry. Market cap of $356.8M. Call open interest at 1,425 contracts vs. put open interest at 558 contracts (Put/Call ratio at 0.39). Short float at 3.57%, which implies a short ratio of 3.42 days. The stock has gained 73.35% over the last year.

7. La-Z-Boy Inc. (NYSE:LZB): Home Furnishings & Fixtures Industry. Market cap of $420.86M. Call open interest at 770 contracts vs. put open interest at 323 contracts (Put/Call ratio at 0.42). Short float at 9.68%, which implies a short ratio of 7.64 days. The stock has lost -11.45% over the last year.

8. Coldwater Creek Inc. (NASDAQ:CWTR): Apparel Footwear & Accessories Industry. Market cap of $312.04M. Call open interest at 1,335 contracts vs. put open interest at 566 contracts (Put/Call ratio at 0.42). Short float at 5.35%, which implies a short ratio of 3.31 days. The stock has lost -33.2% over the last year.

9. G-III Apparel Group, Ltd. (NASDAQ:GIII): Apparel Clothing Industry. Market cap of $531.67M. Call open interest at 479 contracts vs. put open interest at 214 contracts (Put/Call ratio at 0.45). Short float at 10.17%, which implies a short ratio of 6.87 days. The stock has gained 54.26% over the last year.

10. Revlon, Inc. (NYSE:REV): Personal Products Industry. Market cap of $524.42M. Call open interest at 916 contracts vs. put open interest at 417 contracts (Put/Call ratio at 0.46). Short float at 3.73%, which implies a short ratio of 3.75 days. The stock has lost -41.56% over the last year.

11. Under Armour, Inc. (NYSE:UA): Apparel Clothing Industry. Market cap of $2.8B. Call open interest at 14,850 contracts vs. put open interest at 6,780 contracts (Put/Call ratio at 0.46). Short float at 15.74%, which implies a short ratio of 7.56 days. The stock has gained 101.35% over the last year.

12. Wolverine World Wide Inc. (NYSE:WWW): Apparel Footwear & Accessories Industry. Market cap of $1.46B. Call open interest at 358 contracts vs. put open interest at 168 contracts (Put/Call ratio at 0.47). Short float at 4.23%, which implies a short ratio of 6.78 days. The stock has gained 14.7% over the last year.

13. Skechers USA Inc. (NYSE:SKX): Apparel Footwear & Accessories Industry. Market cap of $1.03B. Call open interest at 28,827 contracts vs. put open interest at 13,564 contracts (Put/Call ratio at 0.47). Short float at 19.33%, which implies a short ratio of 2.9 days. The stock has lost -4.69% over the last year.

14. Blount International Inc. (NYSE:BLT): Housewares & Accessories Industry. Market cap of $755.55M. Call open interest at 621 contracts vs. put open interest at 300 contracts (Put/Call ratio at 0.48). Short float at 3.08%, which implies a short ratio of 6.11 days. The stock has gained 62.28% over the last year.

15. Quiksilver Inc. (NYSE:ZQK): Apparel Clothing Industry. Market cap of $667.24M. Call open interest at 1,813 contracts vs. put open interest at 993 contracts (Put/Call ratio at 0.55). Short float at 3.31%, which implies a short ratio of 4.32 days. The stock has gained 109.79% over the last year.

16. iRobot Corporation (NASDAQ:IRBT): Appliances Industry. Market cap of $518.87M. Call open interest at 918 contracts vs. put open interest at 507 contracts (Put/Call ratio at 0.55). Short float at 9.36%, which implies a short ratio of 14.65 days. The stock has gained 43.22% over the last year.

17. Estee Lauder Companies Inc. (NYSE:EL): Personal Products Industry. Market cap of $14.93B. Call open interest at 24,714 contracts vs. put open interest at 14,098 contracts (Put/Call ratio at 0.57). Short float at 3.44%, which implies a short ratio of 2.63 days. The stock has gained 61.19% over the last year.

18. Liz Claiborne Inc. (LIZ): Apparel Clothing Industry. Market cap of $661.29M. Call open interest at 25,851 contracts vs. put open interest at 15,697 contracts (Put/Call ratio at 0.61). Short float at 21.64%, which implies a short ratio of 9.2 days. The stock has gained 50.21% over the last year.

19. Eastman Kodak Co. (EK): Photographic Equipment & Supplies Industry. Market cap of $1.28B. Call open interest at 94,944 contracts vs. put open interest at 58,072 contracts (Put/Call ratio at 0.61). Short float at 18.3%, which implies a short ratio of 8.35 days. The stock has gained 18.95% over the last year.

20. Sturm, Ruger & Co. Inc. (NYSE:RGR): Sporting Goods Industry. Market cap of $300.37M. Call open interest at 942 contracts vs. put open interest at 599 contracts (Put/Call ratio at 0.64). Short float at 15.88%, which implies a short ratio of 18.47 days. The stock has gained 48.19% over the last year.

21. Whirlpool Corp. (NYSE:WHR): Appliances Industry. Market cap of $5.75B. Call open interest at 43,480 contracts vs. put open interest at 28,500 contracts (Put/Call ratio at 0.66). Short float at 9.17%, which implies a short ratio of 3.23 days. The stock has gained 10.88% over the last year.

22. Jarden Corp. (NYSE:JAH): Housewares & Accessories Industry. Market cap of $2.94B. Call open interest at 5,011 contracts vs. put open interest at 3,339 contracts (Put/Call ratio at 0.67). Short float at 3.33%, which implies a short ratio of 4.98 days. The stock has gained 13.92% over the last year.

23. Kimberly-Clark Corporation (NYSE:KMB): Personal Products Industry. Market cap of $25.33B. Call open interest at 39,513 contracts vs. put open interest at 27,774 contracts (Put/Call ratio at 0.7). Short float at 1.34%, which implies a short ratio of 2 days. The stock has lost -0.06% over the last year.

24. Elizabeth Arden, Inc. (NASDAQ:RDEN): Personal Products Industry. Market cap of $595.09M. Call open interest at 61 contracts vs. put open interest at 43 contracts (Put/Call ratio at 0.7). Short float at 3.36%, which implies a short ratio of 6.31 days. The stock has gained 43.03% over the last year.

25. Brunswick Corporation (NYSE:BC): Recreational Goods Industry. Market cap of $1.45B. Call open interest at 15,924 contracts vs. put open interest at 11,269 contracts (Put/Call ratio at 0.71). Short float at 18.35%, which implies a short ratio of 15.77 days. The stock has gained 49.73% over the last year.

Disclosure: No positions