Colgate-Palmolive (NYSE:CL) has made a significant drop from its 52-week high of $70.11, and is now trading at $63.95. With analysts expecting the company to have earnings per share of $2.97 this fiscal year, the forward p/e ratio stands at 21.5. The trailing twelve month p/e ratio stands at an even higher 26.72. Can Colgate-Palmolive provide investors with the high growth rates that would be necessary to justify such a valuation?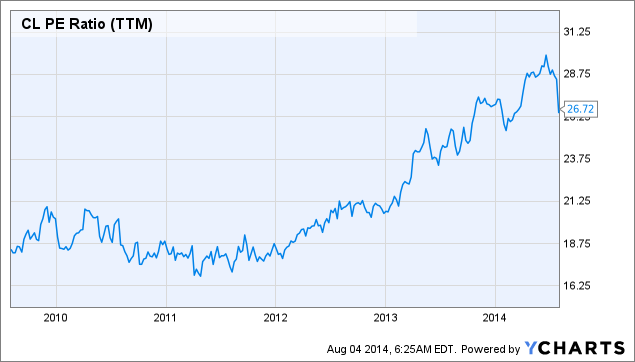 CL PE Ratio (TTM) data by YCharts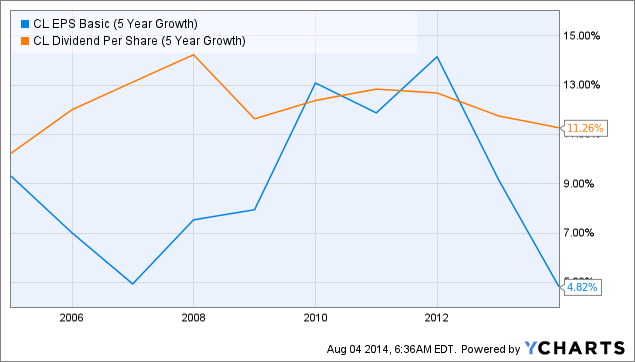 CL EPS Basic (5 Year Growth) data by YCharts
At 11.26%, Colgate's dividend growth rate is very impressive. The dividend yield currently stands at 2.25% and if the company is able to continue increasing the dividend at this pace, it could double in roughly 7 years. The question is, will Colgate be able to keep up the dividend increases at this pace?
Over the past decade, dividend growth has exceeded EPS growth in all but 2 years. The payout ratio has gone up from only 41.2% in fiscal year 2004, to 63.6% in the most recent 4 quarters, despite the fact the company has spent huge amounts of money on share repurchases in an attempt to boost earnings per share.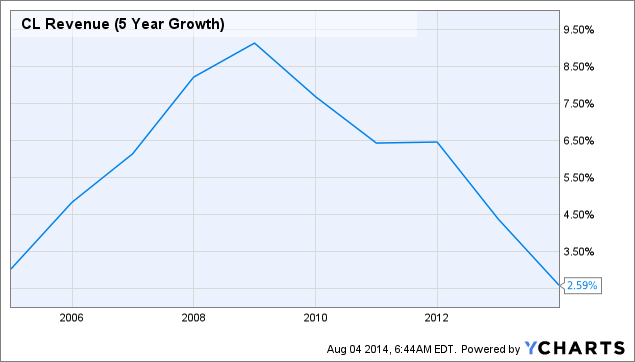 CL Revenue (5 Year Growth) data by YCharts
In recent years, Colgate's revenue growth has been steadily declining. For the current fiscal year, average analyst revenue expectations stand at $17.65 billion, which would be an increase of only 1.32%. The profit margin peaked in 2010, but has since been steadily declining, as can be seen in the graph below.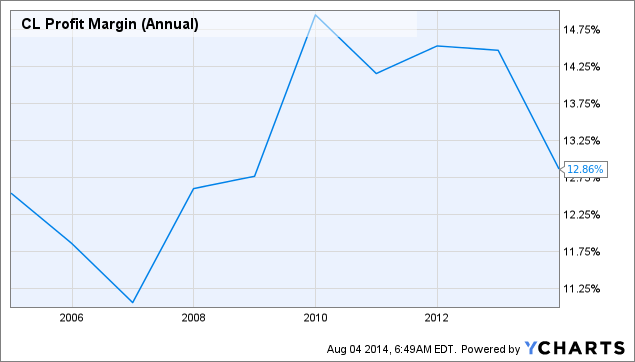 CL Profit Margin (Annual) data by YCharts
Colgate-Palmolive's balance sheet looks pretty good, with a current ratio of 1.27. The company has $1.16 billion in cash and cash equivalents, which is 1.99% of the current market cap and $1.27 for each outstanding share. The long-term debt stands at only $5.74 billion, which is quite low for a company of this size.
Conclusion:
Despite the recent drop from its 52-week high, Colgate-Palmolive is still trading at an incredibly high price to earnings ratio. The balance sheet looks good and I can understand investors would be drawn towards the high dividend growth ratio. However, the payout ratio has been going up in recent years, while revenue growth has been slowing down. The profit margin, which has increased each year between 2007 and 2010, has been steadily declining. If the company manages to increase its profit margin, decrease its payout ratio, and still keep the dividend growing at double digits, I may reconsider, but for now, I won't be buying any shares.
Disclosure: The author has no positions in any stocks mentioned, and no plans to initiate any positions within the next 72 hours. The author wrote this article themselves, and it expresses their own opinions. The author is not receiving compensation for it (other than from Seeking Alpha). The author has no business relationship with any company whose stock is mentioned in this article.