Tekmira Pharmaceuticals (TKMR) traded as high as $16.87/share on the morning August 4, 2014, an increase of over 75% since I suggested on July 22 that the TKM-Ebola clinical hold sell-off could be a buying opportunity. This share price increase was fueled by the widespread media coverage of the Ebola outbreak in West Africa and reports that two US healthcare workers infected with Ebola were being flown back to the US after receiving an 'experimental serum' in attempt to cure them of Ebola. A summary of the events over this past weekend is below followed by why I believe the investment opportunity in Tekmira has only begun.
Events Prior to Morning of Monday August 4, 2014
On August 2, the first of the infected healthcare workers, Dr. Kent Brantley, landed in the US and was promptly admitted to an isolation facility at Emory University Hospital. There was widespread speculation that TKM-Ebola could be the 'experimental serum' which was administered to the two US healthcare workers. However, Tekmira revealed in an email statement on August 3, "TKM-Ebola has not been given to either of the Samaritan Purse workers or anyone else infected in the current outbreak, and has not been given to anyone outside of our Phase I trials".
Later that night on August 3, the FDA released the following in an email statement:
"The FDA is also working with U.S. government agencies that fund medical product development and product sponsors to facilitate the development of and access to medical products that could potentially be used to mitigate Ebola. For example, the FDA granted Fast Track Designation to an investigational anti-Ebola therapeutic being developed with support from the U.S. Department of Defense in March 2014 (http://investor.tekmirapharm.com/releasedetail.cfm?ReleaseID=830680). Fast track is a process designed to facilitate the development and expedite the review of drugs to treat serious conditions and fill an unmet medical need. Once a drug receives Fast Track designation, early and frequent communication between the FDA and a drug company is encouraged throughout the entire drug development and review process. The frequency of communication assures that questions and issues are resolved quickly, often leading to earlier drug approval and access by patients.

While the FDA cannot comment on the development of specific medical products, it's important to note that every FDA regulatory decision is based on a risk-benefit assessment that includes the context of use for the product and the patient population being studied. A clinical hold is based on the risk-benefit assessment for a proposed study. A future proposal for a study or emergency use in a different population, for example in patients with disease, might have an acceptable risk-benefit balance. If the benefits of studying the product on an individual outweigh the risks, we may consider permitting that study to proceed."
The FDA is referring to TKM-Ebola in this statement and it demonstrates that the FDA is working as fast as they can with Tekmira to lift the clinical hold on the phase I trial of TKM-Ebola in healthy volunteers. The FDA also comments on their willingness to allow a new trial to begin where there is a different risk-benefit profile, such as a trial in individuals infected with Ebola in Africa.
Events Occurring on August 4, 2014
After opening +10% Monday morning and promptly trading as high as $16.87/share (+18%), Tekmira's surging stock price promptly came to a halt as it was revealed that MAPP Bio's drug, ZMapp, is the 'experimental serum' and theStreet journalist Adam Feuerstein tweeted: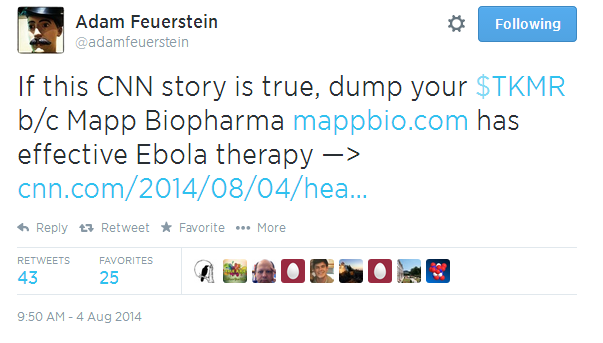 Adam F. then proceeds to release an article on theStreet suggesting that the Tekmira Ebola trade may already be over and investors picked the wrong horse in Tekmira. I disagree with Adam F. and believe the Tekmira Ebola investment is only beginning.
Not in the best interest of Tekmira for US healthcare workers to receive TKM-Ebola
First, it is important to understand that it was not in Tekmira's best interest to provide TKM-Ebola to the infected US doctors via the FDA's "compassionate use". Tekmira is currently in the process of attempting to get the FDA's clinical hold lifted on their Phase I trial of TKM-Ebola in healthy volunteers. This trial is part of TKM-Ebola's clinical development plan which is being developed under the FDA's 'Animal Rule'. The Animal Rule is a regulatory pathway which allows for marketing approval based of animal studies and human safety studies. Human efficacy does not have to be demonstrated because it is not ethical (cannot infect someone with Ebola for testing) or feasible to test for efficacy in humans. This allows for a rapid clinical development timeline that is not seen in the traditional FDA approval process. It would not be in Tekmira's best interest to jeopardize their clinical development plans by providing TKM-Ebola outside clinical trials via "compassionate use" especially with the FDA's commitment to fast-tracking this asset. This could potentially jeopardize the timeline for Tekmira securing a stockpiling contract which is the ultimate catalyst for the Ebola trade.
It was also not in the best interest of the US healthcare workers to potentially receive TKM-Ebola because of the red tape that would have to be cut through to acquire it. Since TKM-Ebola is funded by the US Department of Defense, any use of the drug would require approval by the DoD. This could prove to be a lengthy process which is not ideal in an extremely time-sensitive situation such as treating an individual infected with Ebola. Therefore, it was more logical to peruse and provide a drug such as ZMapp that could be rapidly acquired via "compassionate use".
The above demonstrates that it was in neither the best interest of Tekmira nor the US healthcare workers to receive TKM-Ebola via "compassionate use".
Tekmira's TKM-Ebola Best Positioned to Enable for Stockpiling Cash Flow and Regulated Deployment in Outbreak Situations
Table summarizing Key Aspects of each Ebola treatment:
TKM-Ebola

ZMapp

Development Status

Clinical (Phase I healthy volunteers, currently on hold)

Pre-clinical (Experimentally used in 2 humans)

Human Safety Profile

Safely administered in 14 individuals. Robust Platform data

Safely Administered in 2 individuals

Non-Human Primate Data

Manufacturing

In-house cGMP manufacturing facility. Manufacturing process fully scaled ready to produce stockpile quantities.

No cGMP facility and months away from being able to scale up manufacturing.

Storage

Lyophilization. Ability to be stored at room temperature and rapid use.

Requires sub-zero refrigeration and multiple hrs. of thawing prior to use

Funding

$140 million US Department of Defense contract: TKM-Ebola clinical development fully funded. Multiple NIH grants.

Tekmira has a cash balance of over $125 million

DTRA contract for funding of IND and phase I trial to be performed within 12 months.

Human Efficacy Data

None

Unverified 2 'cures' administered 9 days post-exposure

Company Structure

Public

Private
In the niche market of medical countermeasures 'MCMs', the market opportunity does not come from selling the product directly to the end-user. Instead, revenue is generated in these indications from MCM stockpiling contracts which are highly sought after because of their financial benefits. TKM-Ebola can be rapidly manufactured at stockpiling quantities and also has the ability to be stored at room temperatures. These are critical attributes that are preferred by agencies and organizations looking to stockpile MCMs. From the above table, it is clear to see that Tekmira's TKM-Ebola is farthest in development and has attributes that put it in a much better spot to be stockpiled and earn revenue than other treatments such as ZMapp.
The situation in which ZMapp was administered to the US healthcare workers makes it extremely difficult to tell if these individuals were cured because of ZMapp. ZMapp was apparently administered to these individuals over 9 days after being infected with Ebola. Due to the lack of data and length of how long treatment was delayed, it is very likely that the healthcare workers' fate were decided prior to being administered ZMapp. Sanjay Gupta reported an apparent "miraculous" recovery in which Dr. Brantley went from near death to essentially cured in less than an hour. According to filovirus expert Thomas Geisbert, a professor at University of Texas Medical Branch, "To say the whole thing cleared up in an hour, that doesn't happen in reality. That's something that happens in a movie." Dr. Anthony Fauci, head of the National Institute of Allergy and Infectious Disease, also was skeptical of Dr. Gupta's reporting. Even if ZMapp did save these individuals' lives, the mere presence of another potential Ebola treatment does not negate Tekmira's program. It simply means there could be potentially more than one Ebola treatment or MCM stockpiling option available.
Tekmira's TKM-Ebola is well-positioned to be the first anti-ebola therapy with regulated deployment in outbreak situations like the current one in Africa. This is supported by the following facts:
TKM-Ebola is the most clinically advanced anti-ebola therapeutic in development and could be the first Ebola MCM FDA approved
TKM-Ebola clinical development fully funded by DoD.
TKM-Ebola has more robust pre-clinical NHP data than ZMapp.
Statement of commitment from FDA to work on rapidly lifting the clinical hold on the Phase I trial of TKM-Ebola.
Statement from the FDA on their openness to an IND in a patient population with a different risk-benefit profile, such as those currently infected in Africa.
TKM-Ebola has numerous attributes such as scaled-up cGMP in-house manufacturing that make it advantageous for stockpiling and deployment in outbreaks.
Tekmira's Ebola Investment Has Only Begun
I believe the Tekmira Ebola investment opportunity is only beginning. Tekmira's TKM-Ebola is the farthest Ebola MCM in development, its clinical development fully funded by the DoD, and has attributes that make it the most desirable for stockpiling. These attributes include rapid, scaled-up cGMP manufacturing of stockpiling quantities and the ability to by stored at room temperature. A potential near term catalyst for the 'Tekmira Ebola trade/investment' would be the lifting of the clinical hold on the Phase I trial of TKM-Ebola.
Tekmira has not secured a stockpiling contract with the US Department of Defense. On the year-end 2013 conference call, Tekmira management stated that TKM-Ebola stockpiling discussion has been ongoing to a certain extent. Therefore, a critical future catalyst would be the company securing a US DoD MCM stockpiling contract or contracts from other countries/organizations. According to a company presentation (shown below), potential annual cash flow from TKM-Ebola can be estimated at around $75 million per year (30% discount from company estimates) if Tekmira is able to secure a stockpiling contract with the US DoD. This cash flow from stockpiling contracts is what the 'Ebola trade/investment' is all about, and TKM-Ebola is positioned best to be stockpiled and earn this cash flow. In addition, the current Ebola outbreak in West Africa shows that the medical countermeasures market could be larger than expected because the United States may not be the only country/organization that is interested in securing stockpiling contracts.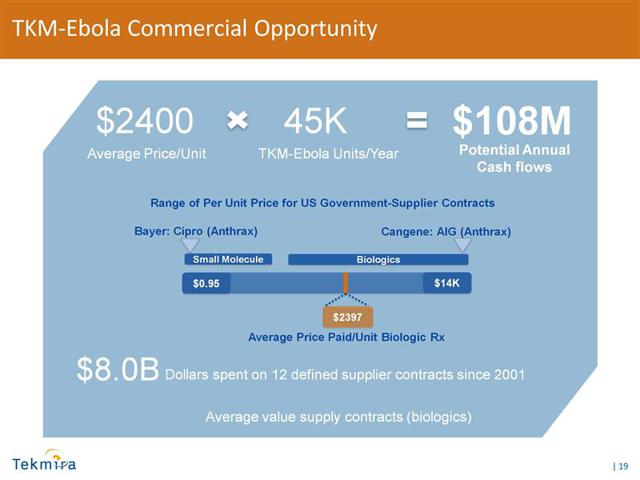 (Company Presentation)
Tekmira is also developing TKM-Marburg for medical countermeasure against the Marburg virus. Marburg is a virus very similar to Ebola and also causes hemorrhagic fever with high mortality rates. In March, Tekmira and University of Texas Medical Branch received an NIH grant worth up to $26 million to support the development of treatments for Ebola and Marburg. In April, Tekmira presented data demonstrating 100% survival in non-human primates infected with a lethal dose of Marburg when administered TKM-Marburg 48 hours post-exposure. This is the most robust post-exposure survival data in Marburg to date. If Tekmira continues their success in developing TKM-Marburg, it could pave the way for them to secure additional MCM stockpiling contracts for TKM-Marburg and position themselves as a leader in the MCM market niche.
Tekmira: More than an Ebola Play
Once Tekmira secures a stockpiling contract from the DoD for TKM-Ebola, Tekmira would be in a position to primarily fund their operations through non-dilutive means. This would allow Tekmira to rapidly develop their pipeline candidates such as the potential blockbuster drug TKM-HBV for chronic Hepatitis B virus 'HBV' infection. TKM-HBV is designed to potentially provide a functional cure for individuals chronically infected with HBV, something traditional treatments cannot accomplish. The chronic HBV indication could be the next massive blockbuster indication following Hepatitis C virus infection as shown by JPMorgan estimating the market size of chronic HBV in 2020 from $2.4 billion to $7.2 billion. When developing treatments for these types of indications, the rewards can be immense as shown by the success of Gilead's (NASDAQ:GILD) Solvaldi for HCV and Merck (NYSE:MRK) buying Idenix (NASDAQ:IDIX) for $3.85 billion to acquire their HCV programs.
Tekmira is currently behind Arrowhead Research (NASDAQ:ARWR) in development for their respective drugs in chronic HBV. Arrowhead has a market cap of over $500 million and that value is primarily derived from their drug in development for chronic HBV: ARC-520. Arrowhead is guiding to release top-line data from their Phase IIa trial in chronically infected HBV patients in the 3rd quarter 2014. If positive, this top-line data could provide significant upside for both Arrowhead and Tekmira because it would be the first step in validating their RNAi approach to providing a functional cure for chronically infected HBV patients.
With over $125 million in cash, Tekmira is well positioned to continue the development of their pipeline candidates. Tekmira has a relatively low market cap of around $300 million which gives Tekmira plenty of room for significant upside. Upcoming catalysts for Tekmira's pipeline and platform are shown below.
Catalysts:
TKM-Ebola
TKM-Ebola clinical hold "resolution": by 4th quarter 2014
Potential protocol modification and initiation of MAD portion of phase I trial: late 2014/early 2015
TKM-Ebola Phase I MAD results: 1st half 2015
TKM-HBV
Pre-clinical TKM-HBV data in non-human primates (possibly at R&D day in October and/or AASLD in November): 2nd half 2014
TKM-HBV IND by the end of 2014
TKM-HBV Phase I trial initiation in chronic HBV patients: 1st half 2015
Arrowhead's ARC-520 Phase IIa data in chronic HBV patients validating TKM-HBV's approach to treating chronic HBV: July/August 2014
TKM-PLK1
TKM-PLK1 Phase I/II data in GI-NET/ACC: by end of 2014 (possibly October for GI-NET and ACC)
TKM-PLK1 Phase I/II data in HCC: mid-2015
TKM-ALDH2
TKM-ALDH2 pre-clinical data (possibly at R&D day in October) by end of 2014
TKM-ALDH2 IND by end of 2014
TKM-ALDH2 comprehensive Phase I data in healthy volunteers: 2nd half 2015
Other
Earnings Release Aug. 13, 2014
Pre-clinical data and nomination of a new pipeline development candidate by the end of 2014 (possibly at R&D day in October)
Patisiran Phase II OLE study clinical endpoint data Oct. 12-14 at ANA meeting
New formulations of SNALP such as subcutaneous formulations and SNALP designed for respiratory applications
Additional mRNA delivery data
Additional clarification on pending $5m ALN-VSP milestone
Additional information/updates on seven Alnylam targets to be selected
Key Risks (in decreasing order of severity):
Issues with TKM-HBV and/or '3rd generation' liver-targeted SNALP
Safety/Efficacy problems with Patisiran
More problems with TKM-Ebola and/or termination of DoD contract and/or failure to secure TKM-Ebola stockpiling contract
TKM-PLK1 failures (near term)
Disclosure: The author is long TKMR, ARWR. The author wrote this article themselves, and it expresses their own opinions. The author is not receiving compensation for it. The author has no business relationship with any company whose stock is mentioned in this article.