At-home soda maker and recent IPO Sodastream (NASDAQ:SODA) rose 15% Monday, putting the stock up 73.6% since going public earlier this month.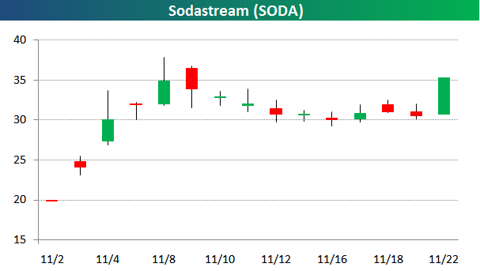 General Motors' recent offering has given the IPO market quite a bit of attention lately. And IPOs have been riding a hot streak. As shown below, the Bloomberg IPO Index has pulled away from the S&P 500 on a year-to-date basis this month.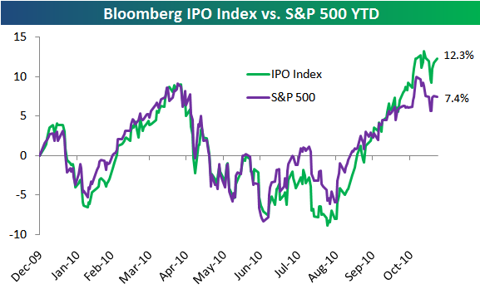 Of the 161 IPOs on US exchanges this year, the average return versus the offering price has been +16.84%. Below are the 40 that have done the best. As shown, hiSoft Technology (HSFT) is up the most at 184.26% since June 29th. Motricity (MOTR) ranks second with a gain of 178.7%. Of the 40 stocks shown, SODA went public most recently on November 2nd. If you have some time, browse through the price charts of the companies listed. In our opinion there are some very intriguing setups.