Netflix (NASDAQ:NFLX) moved up $15+ yesterday, from $172.60 to $188.32, on news that came as no surprise to anyone following the stock. The news (a cut of the streaming only subscription price to $7.99/mo. and a raise of the various DVD plans by an additional $1 to $8 from a low of $8.99 to $9.99+). This put the streaming subscription plan in line with the price already being charged in Canada ($7.99/mo.). It raised the costs of the DVD plans.
NFLX at the same time stated firmly that it intended to emphasize the streaming platform from now on. It stated that more of the movies are now being supplied via streaming than via DVDs. It announced plans for more software development of the various streaming interfaces. This should make the product more user friendly, but it will also cut into NFLX's margins.
It stated that it intends to let the DVD business slowly decay. The raise of the DVD plans costs will make NFLX less competitive with RedBox (part of Coinstar (NASDAQ:CSTR)) and BlockBuster (OTC:BLOKA), which already supplies movies 28 days earlier that NFLX. However, if NFLX is phasing out this part of the business, that help will be very transitory in nature. That's assuming it doesn't lose significant portions of the DVD business to other competitors.
Is the above good news? I don't think so. More like it is no news to anyone who has been following the conference calls of the last two quarters. It is certainly no reason to send the stock up by almost 10% in one day. It is no reason for the PE to go to 71 or the FPE to go to 50. NFLX is only forecast to grow 36% next year, and that is very much in doubt. NFLX grew its subscriber base by almost 2 million customers in Q3 (15M to 16.9M).
Yet, its EPS were lower in Q3 ($.70/share) than they were in Q2 ($.80/share). In fact, the Q3 results were a miss on market expectations. Given the negative growth of the QOQ EPS data, the idea that this stock deserves to soar on blatantly obvious news is a joke! In fact a recent Motley Fool article was entitled, "Is this Stock Already A Dinosaur?" It is leaving its niche as a DVD supplier to emphasize a streaming niche that numerous and formidable competitors do and will inhabit. This list includes Amazon (NASDAQ:AMZN), Apple (NASDAQ:AAPL), Google (NASDAQ:GOOG), Coinstar, Bestbuy (NYSE:BBY), HULU, etc.
How could such extravagance in pricing occur? After all NFLX has historically traded in a PE range of 21 to 69, and the top figure was generally when it was forecast to grow at a much faster rate than it currently is The simple answer is that there is no rational reason. NFLX is just one of those popular stocks that some people seem to identify with. They watch a lot of movies. NFLX has a long history of price performance. On top of that it is heavily shorted (32.10% of the float as of 10/29/2010). This makes it very susceptible to short squeezes.
Why am I doing anything but applauding? The reasons are myriad. First, there is nothing great about this company. It has taken a lead position for the last few years in a field that has had many leaders. All the others have fallen by the wayside with time. If history is any indication, NFLX will do the same. It is heavily shorted. Its PE and FPE multiples are ridiculous (71 and 50 respectively). Its P/B (MRQ) is approximately 51.26 (Yahoo Finance). Its Price/Sales (TTM) is 4.89. Its book value per share (MRQ) is only $3.67 (Yahoo Finance), while its actual price is $188.32 (11/22/2010 close). Doesn't that seem ridiculously low? By way of contrast CSTR's P/B (MRQ) = 4.44, P/S (TTM) = 1.37, and book value per share (MRQ) = $14.22 (with a stock price of $63.11).
Admittedly, CSTR is not the industry leader, but it is a formidable company. It is entering the streaming realm. It competes very well in the DVD realm with its RedBox kiosks in huge numbers of grocery stores, etc. GOOG, AAPL, and AMZN numbers are similarly much better. Plus they are clearly much more leading companies than NFLX.
How can you justify the price? The only rational answer is that you can't. More competition is coming. NFLX has stated it intends to derive its primary revenue from streaming. It is already lowering the price of this streaming as an acknowledgement of the stiff competition. More competition is coming. AMZN may soon announce a streaming subscription service very similar to NFLX's. CSTR has already announced its intentions in this area. GOOG and AAPL will increasingly make their presence felt. HULU will try, and so on. The glory days of NFLX are almost certainly behind it. It has stepped into an arena that includes the biggest and the best tech companies in the US.
The competition is not the only problem NFLX faces. It is now said to be 20% of the internet traffic during prime time. That figure was produced with only about 15-17 million subscribers. NFLX has forecast to grow to about 30 million subscribers by the end of 2011. It is already causing the internet to slow down in the evenings. A year from now, that may be much worse. NFLX traffic will double. Then too CSTR, GOOG, AAPL, AMZN, BBY, HULU, a plethora of online stores, etc. will all use the internet more. I shudder to think what the speeds on the internet will be during prime time. It may be that angry lawyers will bring class action suits against NFLX for bogging down the Internet. It may be that stores will sue when their online business sales figures go down because customers become frustrated with the slowness of shopping during prime time.
Doesn't one always hear that Cisco (NASDAQ:CSCO), Juniper Networks (JNPR), etc. are speeding up the internet? Aren't speeds getting faster? Won't the internet take more traffic by then? The answer is two fold. Yes, CSCO, JNPR, etc. are producing machines that can transfer data faster over now optical cables. However, the optical cables are only used for the backbone of the internet and for big businesses. For the average NFLX subscriber the same cable or phone line that has existed often for 30+ years is being used. There is a limit to how much speed can be obtained.
The cable situation is particularly dire. It is only a 30Mbps line. It already uses a portion of its bandwidth for the cable TV channels. It time slices the remaining available bandwidth among all of the cable internet users in that cable's neighborhood, which can be a substantial number. As the number of NFLX subscribers grows, more subscribers will exist in each neighborhood. More GOOGLETV, APPLETV, CSTR streaming, AMZN streaming, HULU streaming, etc. users will exist in one neighborhood. More simple internet surfers, students, and researchers will exist in one neighborhood.
Perhaps they will pass local laws against downloading NFLX and other movies during prime time. The delivery will be much less user friendly unless there is a major change in delivery method, I don't see that happening at this time. It would be prohibit ably expensive. All of the above means that download speeds for cable in many neighborhoods will be less than 0.5Mbps during prime time. Downloading huge multiple GB movie files will take quite a long time. NFLX customers won't be happy. The cable company won't be happy. Non-NFLX internet users won't be happy. Perhaps some will download the movies to their phones first. Then they will transfer them to their set top boxes. Then the phone companies won't be happy. The customers will complain that the whole situation is cumbersome.
The average analysts 1 yr. target price for NFLX is $138.50. This is $50 below the current price. Rationally NFLX should fall to below this level. More circumspectly, how much it falls may be determined by market emotion and market news. But if the Motley Fool, one of its biggest proponents over the years, has now turned on it (the Is NFLX a Dinosaur reference) that market emotion may be on the brink of turning sour. The chart below indicates possible support points.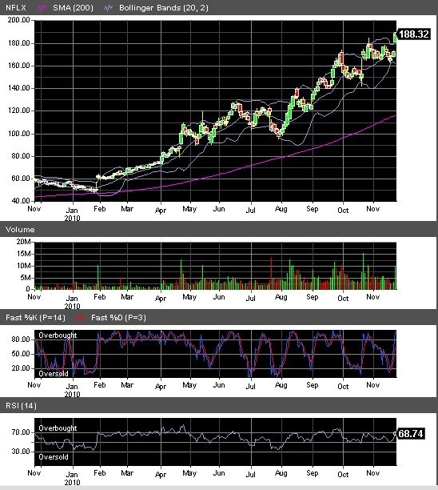 (Click to enlarge)
Technically, Monday's move has pushed NFLX far beyond its upper Bollinger Band. It hasn't historically stayed extended that far above it for any time at all. NFLX has also moved far above its 200 day SMA. It is likely to close that gap substantially too. The $140 area looks like the most propitious support point in the near term. If AMZN announces a streaming subscription service soon, it may return to this level or below. Other support points are at approx. $120, $100, etc. Nearer term the $150 - $170 range seems to be a support trading range. Keep in mind that NFLX has risen from a low in the high 40's in Jan. 2010. That means it has quadrupled since January. It can easily fall substantially while still having impressive gains for the year.
Disclosure: Author short NFLX