When Pioneer's announcement of being allowed to export condensates hit the newswires, markets barely flinched. Was it that Pioneer's stock price already had the revelation contained in it? Or was it more that proof of impact was needed? The company did actually export a first cargo in late July to Asia, possibly South Korea or Japan bound.
According to the article:
The company [Pioneer] said its monthly condensate shipments are expected through year-end at prices higher than domestic levels. It added that Asian petrochemical demand for the Eagle Ford shale condensate is growing. Pioneer's production of NGLs grew from 34.4 thousand in 2Q2013 to 45.4 this quarter. (I'm using condensates and NGLs interchangeably.)
Pioneer Natural Resources (NYSE:PXD) pinpointed its production growth to the high end of the earlier estimated range, up to 195,000- 208,000 boepd from 172,000 in the first quarter. The growth of liquids in the portfolio from 66% at the second half of 2014 to ~75% liquids in two years is still expected. This is a considerable leap from 2013, and it adds to potential revenue growth. Pioneer added 56 horizontal wells from early 2014 to year-end, with 36 of them horizontal Wolfcamp wells (see page 6 from 2Q earnings presentation). This brings the company's horizontal wells put on production for the Wolfcamp/Spraberry at 193 for 2014, adding to second half-weighted production growth. We all know oil price realizations are king, but rich liquids are queen, and the kingdom benefits overall to a reign of both, in Pioneer's case.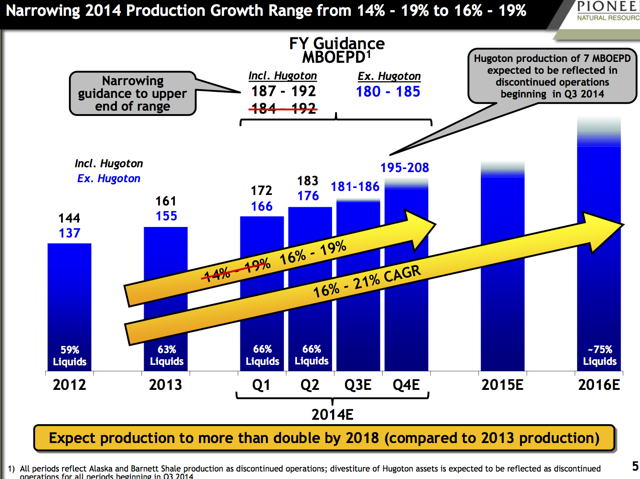 Pioneer noted in the earnings presentation that 400,000 barrels of condensate were exported by Enterprise Products this late July. A significant portion of the condensate was from Pioneer's Eagle Ford acreage and its distillation units. The company noted growing interest in Asia's petrochemical industry, which can only be on the rise. Pioneer's vertical integration strategy, with the focused, heavy-liquids sweet spots of both the Eagle Ford and the Permian's Midland Basin, are a source of competitive advantage. In 2014, Pioneer will have drilled 125 "liquids-rich" wells in the Eagle Ford. There the company also continues to pump out 20-30% more EUR (estimated ultimate recovery) as a result of completion optimization, also raising production guidance from 46,000-49,000 barrels of oil equivalent per day to the end of the year. Overall, third quarter guidance estimates production costs of $13.50 -15.50 boe.
While it is well known about Pioneer's dominant acreage and position in the Permian's prolific Midland Basin, the vertical integration story receives less attention. The condensate story is part of the larger Pioneer story - it has implications for other producers that have dual Texas basin acreages and/or decent holdings in the Eagle Ford whereby they leverage their alpha-adding rich-liquids production. EOG (NYSE:EOG) is one such producer. Pioneer did receive better pricing on its exports than domestic pricing. Price realizations for NGLs were estimated at 30-34% as a percent of NYMEX oil, $30.65 in the second quarter. Pioneer earned nearly $96 per barrel of crude in the second quarter.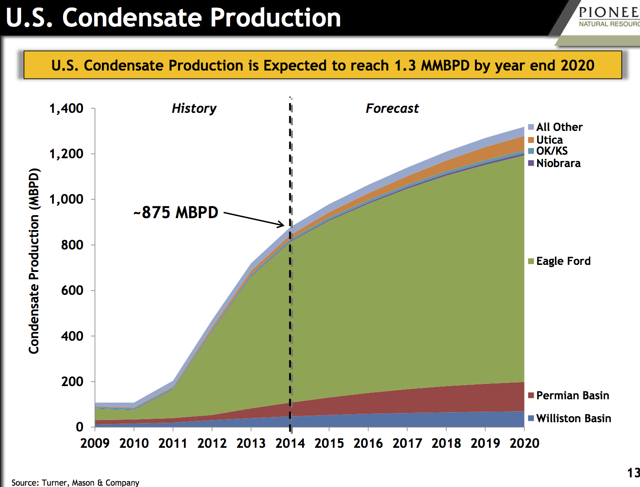 Analysts have suggested that the full oil export ban will continue on through the election year upon us. I do not disagree, as politicians stick to issues with less volatility. However, the assessment that gasoline prices would rise for U.S. consumers if crude oil were allowed for export does not hold economic logic of supply and demand, a story for another day. (A report in my earlier article about the export ban cites the Resources For the Future report.) The chart below indicates a historical breakdown of the last 10 years of related petroleum products. This is an area that has the attention of midstream firms like Energy Transfer (NYSE:ETE) (NYSE:ETP), as well as other firms. This chart may well look different in the next ten years.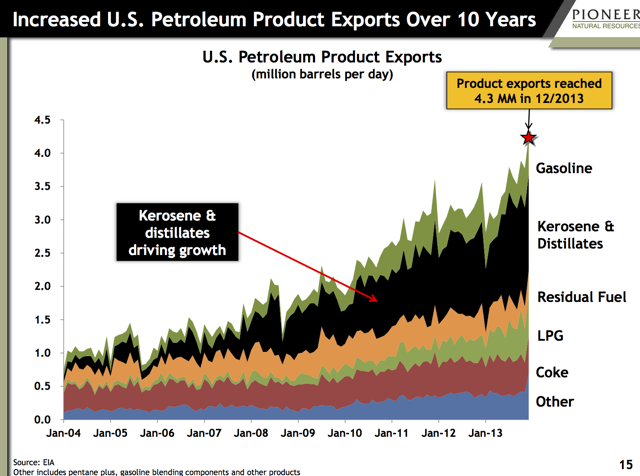 To Pioneer's credit, it is discussing its ten-year growth plan in a holistic way. Such a plan includes all of the supply chain issues with both developing the oil and gas resources and their transportation to market. In recent news, Pioneer announced the use of and securing of effluent water from two Texas municipalities. Seeking sustainable practices, Pioneer is taking care of its shareholders in ways that other firms should model, which was alluded to in an earlier article.
As of this writing, PXD dropped ~$12.00 to $210, alongside much of the market's decline.
Disclosure: The author has no positions in any stocks mentioned, and no plans to initiate any positions within the next 72 hours. The author wrote this article themselves, and it expresses their own opinions. The author is not receiving compensation for it (other than from Seeking Alpha). The author has no business relationship with any company whose stock is mentioned in this article.