Groupon, Inc. (NASDAQ:GRPN) is expected to announce Q2 earnings after-hours on Tuesday August 5. The company runs online marketplaces that connect merchants to consumers by offering goods and services at discounted prices. Groupon also acts as a merchant in certain circumstances. Analysts are expecting flat revenue sequentially, and earnings of $0.01 per share, versus a loss of $0.06 per share in Q1 2014. An earnings miss could turn the $7 per share stock into kindling, similar to its competitor, RetailMeNot, Inc. (NASDAQ:SALE) after its Q2 2014 earnings declined 16% year-over-year:
The market thrashed RetailMeNot; in pre-market the stock was down $5.30 (21%) to $20 per share. At its pre-market price, the company's market capitalization would be about $1.1 billion or 9x run-rate revenue (Q1 2014 + Q2 2014 revenue annualized). At $20 per share, the company trades at about 53x run-rate earnings per share.
Below are the company's financial results for Q1 2014 versus Q1 2013: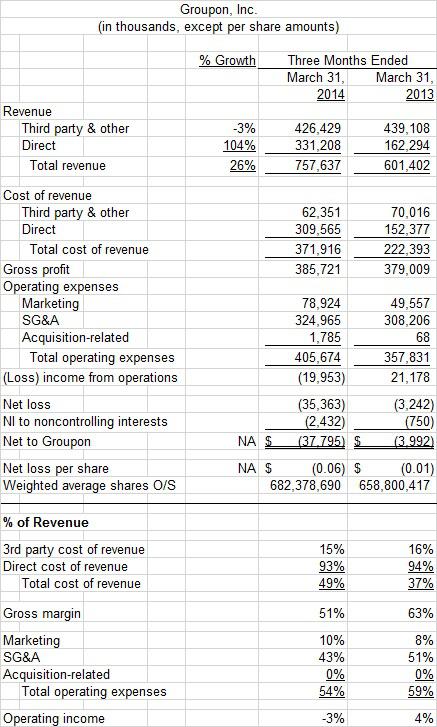 Revenue
Revenue increased 26% from $601 million in Q1 2013 to $758 million in Q1 2014. The direct sales increased 104% over that period, while sales via other channels declined by 3%.
For Q2 2014 analysts are expecting revenue of $762 million, which is flat sequentially, and an increase of 25% annually. The company's Q2 2013 revenue was $609 million.
Earnings
The company's gross margin declined from 63% in Q1 2014 to 51% in Q1 2014. Cost of revenue for 3rd party channels (15%) and for the direct channel (93%) were virtually unchanged. However, as more of the sales are via the direct channel where the company makes a lower margin, i.e. has a higher cost of revenue, it has a drastic impact on gross margin.
Operating costs declined from 59% of revenue to 54% of revenue in Q1 2014.
Net loss widened from $4 million in Q1 2013 (a penny per share) to $38 million in Q1 2014, or a loss of 6 cents per share.
Analysts are expecting earnings of $0.01 per share for Q2 2014. The company had a loss of $0.01 per share for Q2 2013. To meet estimates, Groupon would have to drastically cut marketing and SG&A expenses, assuming the revenue mix does not change.
Conclusion
The change in the mix of revenue from third parties to direct has caused gross margin to decline drastically. Assuming Groupon's revenue mix does not change, it would take a Herculean effort to meet Q2 earnings estimates. I own straddles on the stock just in case.
Disclosure: The author is short GRPN. The author wrote this article themselves, and it expresses their own opinions. The author is not receiving compensation for it (other than from Seeking Alpha). The author has no business relationship with any company whose stock is mentioned in this article.
Additional disclosure: I own straddles on Groupon