About the Company & Its Growth Strategy
Southwest Airlines Co. (NYSE: LUV) operates commercial passenger airlines that provide scheduled point to point air transportation services in the United States (Southwest Airlines 2014). The company was founded in 1967 and is headquartered in Dallas, Texas.
Attempting to keep operating expenses at a minimum, the corporation initially had slow growth. Southwest flew mainly into second tier airports, such as Chicago Midway, in order to avoid high landing fees. Since 1978, the company's strategically oriented frugalness has demonstrated competency, surviving through 180 declared bankruptcies within the airline industry (Boguslaski, Ito and Lee 2004). The reduction in operating expenses were compounded by savings of nearly $2 billion from fuel hedges (Carter, Rogers and Simkins 2001). During the corporation's maturing phase, it expanded its market in 37 larger airports such as Hartsfield Jackson Intl. in Atlanta, the world's busiest airport according to passenger traffic.
LUV's Approach towards Dealing with the Industry's 2008 Crisis
During the 2008 crisis, due to fuel hedge savings from 2004-2008, LUV maintained an idle growth model relative to other carriers which suffered financially. In order to compensate, many airlines began charging for checked bags. Southwest Airlines did not charge for checked baggage. Instead it increased its ticket fees by 30%; since 2009.
M&As and Inventory Management
In 2011 Southwest Airlines merged with AirTran Airlines (Manuela Jr. and Rhoades 2013). Since that time M&As have played a large role in the airline industry. Currently four carriers fly 82% of the nation's passengers, relative to 9 in 2009. Reducing competition also reduced the effect of utilizing pricing strategy to gain business. Since the merger, Southwest's primary strategy has remained point to point air transportation, increased flight times. LUV also maintained a uniform fleet of Boeing 737-300s, servicing one type of aircraft reduced inventory maintenance and training expenses.
Bearish Headwinds
Although saving money from the company's inventory, with 75% of union representation, the company faced headwinds by maintaining an expensive labor-force. A few maintenance issues on aircraft, fuel cost being 30% of operating expenses, an increase of airfare ticket tax by 20% since 1972, and concentrating on a domestic market diminished international market leverage over its peers. Although the company had maintained a nice profit margin over the years, Southwest Airlines had to come up with a solution to its problems. By cutting cost, and increasing return on invested capital, it would be able to do just that.
Bullish Strategy
Southwest decided to enhance its fleet by utilizing a new, improved, and technology enhanced aircraft model. In 2012, the company upgraded its inventory to the more fuel-efficient Boeing 737-800; revenue from three flights on a 737-300 was equal to what a 737-800 could produce in two (Owram 2014).
Financial Strength
Southwest has continued to be a leader in its industry. Innovative from the start, being the first to adopt a paperless ticketing system, early entry into utilization of web-based applications, and a focus on "high touch" services, rather than maintaining a negative distance from its customers, has all aided the corporation to succeed both in brand and financially (Feighan 2001):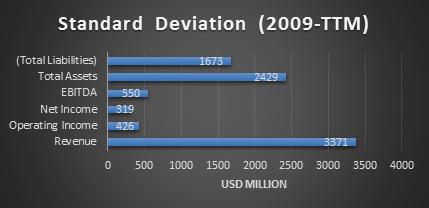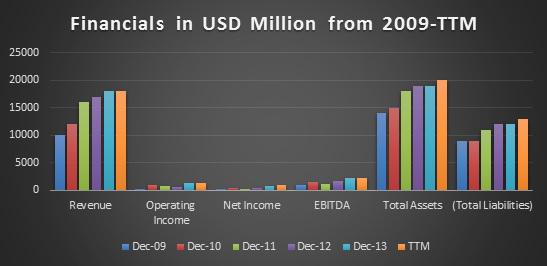 (Figures above developed by author in Microsoft Excel upon utilization of LUV's 10K SEC Filings)
For the past five years, revenue, operating income, net income, EBITDA, and Total Assets:Total Liabilities ratio have all been positive in growth.
Current Situation
The corporation now has a fleet of 612 Boeing 737-800s and 88 Boeing 717 aircraft. LUV flies to 97 destinations in 41 states, the District of Columbia, the Commonwealth of Puerto Rico, Mexico, Jamaica, The Bahamas, Aruba, Dominican Republic, and Bermuda (KOENIG 2014). Southwest Airlines has a roster of 45,000 employees and has generated around $18 billion in revenue during the past two years. It also sells frequent flyer points, credits, and related services to business partners participating in the Rapid Rewards frequent flyer program. These business partners include car rental agencies, hotels, restaurants, and retail locations (Yahoo 2014) (Southwest Airlines 2014) (Neal 2014). LUV has proven itself to be a long-term low-risk investment with a soft moat, producing strategically sound business decisions.
Works Cited
Boguslaski, Charles, Harumi Ito, and Darin Lee. 2004. "Entry Patterns in the Southwest Airlines Route System." Review of Industrial Organization 25 (3): 317-350. doi:10.1007/s11151-004-1970-5.
Carter, Dave, Damn Rogers, and Betty Simkins. 2001. "Fuel Hedging in the Airline Industry: The Case of Southwest Airlines." Case Research Journal 32. www.sba.pdx.edu/faculty/danr/danraccess/....
Feighan, Aisling Reynolds. 2001. "Traffic distribution in low-cost and full-service carrier networks in the US air transportation market." Journal of Air Transport Management (Elsevier) 7 (5): 265-275. doi:DOI: 10.1016/S0969-6997(01)00021-7.
KOENIG, DAVID. 2014. Southwest Opens New Chapter: International Flights. July 2. Accessed July 29, 2014. www.blackpressusa.com/2014/07/southwest-....
Manuela Jr., Wilfred S., and Dawna L. Rhoades. 2013. "Southwest's acquisition of AirTran: an analysis of short-term stock performance." World Review of Intermodal Transportation Research (Inderscience Publishers) 4 (4): 227-246. doi:10.1504/WRITR.2013.059840.
Neal, Dihora. 2014. "Southwest is laying the groundwork for international expansion." July 24. Accessed 2014.
Owram, Kristine. 2014. Financial Post: Southwest Airlines could steal market share from Canadian carriers: Canaccord Genuity. July 28. Accessed July 29, 2014. business.financialpost.com/2014/07/28/so.../.
2014. Southwest Airlines. Accessed July 29, 2014. www.southwest.com/html/rapidrewards/enro....
Southwest Airlines. 2014. Investor Relations. Accessed July 29, 2014. southwest.investorroom.com/.
Yahoo. 2014. Yahoo Finance: SUV Corporate Data. Accessed July 29, 2014. finance.yahoo.com/q/pr?s=LUV.
Disclosure: The author has no positions in any stocks mentioned, and no plans to initiate any positions within the next 72 hours. The author wrote this article themselves, and it expresses their own opinions. The author is not receiving compensation for it (other than from Seeking Alpha). The author has no business relationship with any company whose stock is mentioned in this article.