Tesla (NASDAQ:TSLA) announced last week it has signed an agreement with Panasonic which revealed some details of the cooperation to build the much talked about Gigafactory.
If you are new to the term, the Gigafactory describes the very ambitious Tesla/Elon Musk plan to revolutionize the production of Li-ion batteries and reduce their manufacturing cost dramatically. The plan, originally announced earlier this year, got a lot of criticism, as does any plan that Elon Musk conceives.
Now with Panasonic officially on board let's discuss what does the Gigafactory is going to be like.
Location, Location, Location
Elon Musk and the eccentric bunch at Tesla are taking a safe approach with their site selection. Tesla is breaking ground on at least five different locations in: Nevada, California, New Mexico, Arizona and Texas.
The final decision, said to be announced in the next several months, will depend on the incentives the potential states offer Tesla.
In the meantime, GTM Research unidentified source, with the pseudonym 'Bob Treglius', took some pictures showing the work of what he claims to be the Gigafactory location in Reno Industrial Park.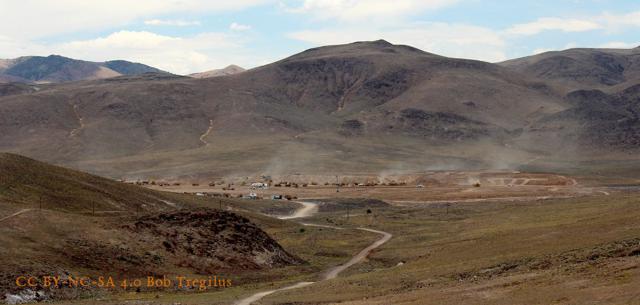 Source: GTM Research/Bob Tregilus
It's All About The Size
The Gigafactory is one of the most ambitious plans for a single manufacturing plant I have ever encountered. This is a $5B plant, which is supposed to more than double current global production capacity for Li-ion batteries.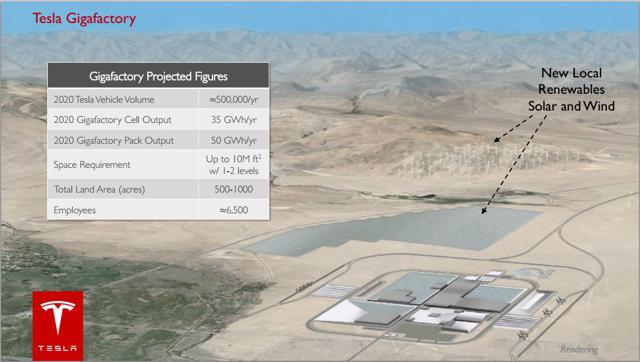 Source: Tesla's Presentation
Global production in 2013 was just shy of 35 GWh worth of Li-ion cells. An average Tesla battery pack is 85 KWh. Assuming that by 2020, the average pack will be 100 KWh, that means the Gigafactory, planned to produce 50 GWh of packs per year by 2020, will support an annual production rate of up to 500,000 Tesla cars.
What About The Cost?
The move to expand global production capacity on such extreme scale reminds me of the move made by the Chinese solar industry back in 2006. Then, the Chinese pursued massive capacity expansions in order to become the leading player in solar manufacturing.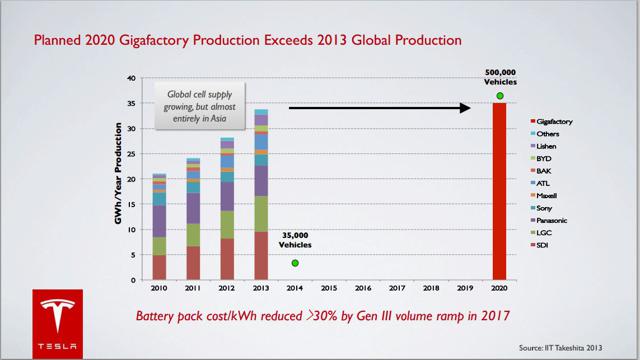 Source: Tesla's Presentation
Whenever production capacity is planned to grow in that rate, we can anticipate two things:
Cost reduction which result from the new huge scale.
Price reduction which result from supply going up.
According to Tesla, they expect to cut production costs by 30% by 2017, when the Gigafactory is planned to enter production.
I believe that production costs could be even cut further down, by about 50% by 2020.
According to Navigant Research, today the price of Li-ion batteries is about $500/KWh. By 2015 Navigant expect the price to fall to $300/KWh. By 2020, the price is expected to be well below $200/KWh. I think it is safe to assume $150/KWh.
That means Tesla will have access to $120/KWh Li-ion batteries (assuming Tesla will be able purchase batteries at close to cost from the Gigafactory). That will yield an 60 KWh, entry level, Tesla battery pack which cost $7,200.
What Does It Mean For Tesla?
According to MIT Technology Review piece on Tesla model S which been published 12 months ago:
By most estimates, the battery for the Model S that I drove should cost between $42,500 and $55,250, or half the cost of the car. But Straubel (Tesla CTO) indicated that it is already much lower. "They're way less than half, actually," he says. "Less than a quarter in most cases." Straubel says more can be done to lower battery costs. He's working with cell and materials suppliers to increase energy density more, and he's changing the shape of the cells in ways that make manufacturing them easier.

Source: MIT Technology Review
So, Tesla CTO claims the battery pack cost is less than a quarter of the cost of the car. The model S 85 KWh version costs about $80,000. A quarter of the cost in this case is $20,000, which is $235/KWh.
The same 85 KWh battery pack would cost Tesla about half of that, $10,200 in 2020, which can further lower the cost of manufacturing a Tesla car, and push it closer to mainstream adoption.
What Does It Mean For Energy Storage?
JB Straubel, Chief Technical Officer and Co-founder of Tesla Motors said: "The Gigafactory represents a fundamental change in the way large scale battery production can be realized. Not only does the Gigafactory enable capacity needed for the Model 3 but it sets the path for a dramatic reduction in the cost of energy storage across a broad range of applications.

Source: Tesla/Panasonic Press Release, 31 July 2014
Although as of now, Li-ion batteries are a very expensive means of storing energy on a large scale, the price reductions which will result from the Gigafactory could make it a possibility.
At $100/KWh, a home energy storage device that could store 30 KWh is possible. 30 KWh is enough to supply an average home with all of its electricity needs during the night (and then some back-up) and would cost about $3,000. Attaching such a system to a 7,000 watt solar system would have a cost of $0.42/watt.
In that cost, it is very likely to see a complete storage-attached, off-the-grid, solar system selling for about $1.30/watt by 2020.
At this price, storage-attached solar systems could fuel massive adoption of on-site, distributed energy systems. The available, cheap storage could also fuel the growth of solar farms which act exactly as a conventional power plant, feeding electricity to the grid during the night time as well.
Tesla Gigafactory is likely to provide the required batteries to SolarCity (SCTY) to enable this offering. Other Li-ion providers, which will look for other customers to consume their output once Tesla battery needs are completely in-sourced, could supply the required batteries to other solar installers.
Conclusion
Tesla Gigafactory is underway and will have a rippling effect through the EV industry, as well as the energy storage industry, which will cause higher adoption of both.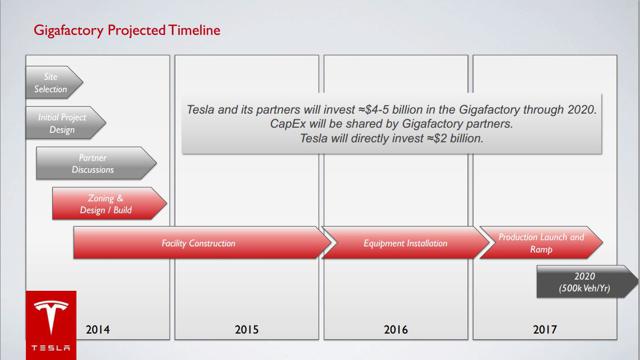 Source: Tesla's Presentation
To the many critics to Elon Musk plan, I suggest looking at the many cases in history where massive scale drastically reduced the price of a product to the consumer, and fueled massive demand growth.
Although Tesla plant is expensive, in my view the $2B as a strategic decision that fits like a glove to the Elon Musk enterprise, and will benefit the solar industry alike.
This article was first published on SolarStockIdeas.com
Disclosure: The author has no positions in any stocks mentioned, and no plans to initiate any positions within the next 72 hours. The author wrote this article themselves, and it expresses their own opinions. The author is not receiving compensation for it. The author has no business relationship with any company whose stock is mentioned in this article.