Those who have been long ConocoPhillips (NYSE:COP) since its breakup with its refining arm in 2012 have been rewarded for both their patience and their willingness to look at the big picture: Despite a sizable funding gap since the company's 2012 breakup, investors who saw value in management's turnaround strategy have seen their shares go from as low as $50 post-breakup to as high as $86 not too long ago.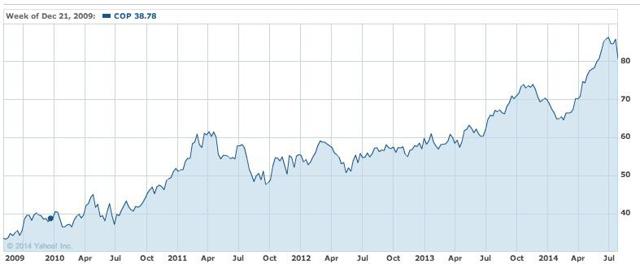 There were, of course, many who insisted that investors be "cautious" throughout that whole time span. These voices often cited concerns about the company spending well in excess of its existing cash flow. An article I wrote back in February, 2013 addressed this concern. In it, I concluded that while Conoco did have a significant funding gap between capital expenditure and cash flow, that gap was only there because the company was selling assets that provided low margins (but were cash flow positive) in favor of assets that provided high margins (but were new fields and hence still cash flow negative). Basically, Conoco was selling off its assets in places like Kazakhstan and Nigeria and developing new fields in the shale and other newer, high-margin plays. That was a process that would take a few years.
Naysayers looked at the company's balance sheet without seeing the company in greater context, and in doing so they missed out on an opportunity. Consider this comment from a follow-up article on Conoco that I wrote in April, 2013:
"Too many unknowns with COP right now. I will sit on the sidelines until the two blue bars in your graph are at least balanced."
By the way, in that article I used blue bars to denote cash flow and capital expenditure. At the time of this comment, Conoco was sitting at $58 per share.
In the company's latest quarterly earnings update just last week, management happily announced that operations were finally approaching "cash flow neutral." In other words, the two blue bars on my graph are now close to balanced. Unfortunately, shares of Conoco now go for over $80. There was a time to buy ConocoPhillips - it was the early part of last year, when the company was trading near book value and shares were in the low $50s.
Phase two
Today Conoco is in a much stronger position than it was just 18 months ago: Margins are higher, the free cash flow situation is much better, and production has grown thanks to sustained investment in North American shale, the Canadian oil sands, the Gulf of Mexico and the North Sea. Each of these four plays continues to be a source of growth.
In the second quarter Conoco grew production by another 4% year over year, which is right in the middle of the company's 3%-5% per annual production growth target. Equally impressive is Conoco's margin improvement. In the second quarter of last year Conoco saw $28.58 of cash margin for each barrel equivalent of production. That number is now up to $31.78, an improvement of over 11%. On a price-normalized basis Conoco is earning 2.4% more per barrel equivalent. (The difference between the two is likely due to higher natural gas prices, which, as you can see, is a big net positive for Conoco and others.)
Major project startups are in the Foster Creek portion of Conoco's Canadian oil sands, Gumusut field in offshore Malaysia, and Britannia field in the North Sea, where Conoco is installing a long-term compression (NYSE:LTC) module to improve production there. These projects should all contribute to growth over the next coming years.
Overall, management expects continued 3%-5% production growth until 2017. This year, the dividend was boosted by 5.8% thanks to solid production growth and improvement in cash margins per barrel. Expect this to continue for the next couple years. By comparison, Chevron earns around a $40 cash margin per barrel, and Conoco may see those levels by 2017.
Valuation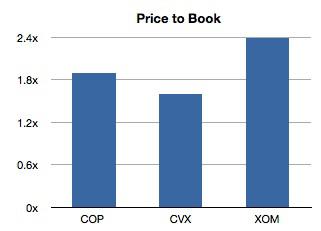 Data by Yahoo! Finance
By just looking at Conoco's "big oil" US peers, it would seem that Conoco could still be a buy right here. After all, neither Chevron nor Exxon have the growth prospects that Conoco does. Also, neither of them have invested as enthusiastically in the shale as Conoco has, a decision which has buoyed Conoco's growth while Exxon (NYSE:XOM) and Chevron (NYSE:CVX) have continued to just muddle along. While Exxon and Chevron still have considerably higher cash margins per barrel, Conoco is working on that, too. Conoco probably deserves to trade at a valuation even with that of Exxon.
However, that is not likely to happen. Exxon's unrivalled size and diversity, coupled with a pristine balance sheet, make it the primary target for institutional investors who want oil and gas exposure. Admittedly, in an article I wrote last April, titled "Don't Even Think About Selling ConocoPhillips," I argued that Conoco should trade at a similar price to book ratio to what Exxon does. In retrospect, that was probably an incorrect assumption.
With that in mind, 1.86 times book is a reasonable valuation, but it is considerably higher than Chevron's valuation of 1.62 times. There's a reason for that: Both Conoco's performance and prospects are better than that of Chevron, and so Conoco deserves to trade at a premium to Chevron.
Personally, I sold half of my holding of Conoco in the mid $80 range earlier last month, primarily because I saw limited upside and potential uncertainty in domestic oil prices if the oil export ban is not lifted. While the drop to $81 over the last few weeks has been encouraging, at 1.86 times book Conoco is not the great buy that it used to be. I would consider Conoco to be a good value again if the company's price to book was comparable to that of Chevron. At 1.62 times book, shares of Conoco would be in the low $70s. That would also mean a dividend of around 4%.
Conclusion
ConocoPhillips was a great turnaround story a few years ago. That turnaround is now, for the most part, successfully completed. While that doesn't mean the company's production growth won't stop or that margins won't continue improving, I believe that the biggest gains are behind us. Enthusiasts of this company, and there are good reasons to be one, should look to add shares when Conoco's valuation is closer to that of its slower-growing peer, Chevron. That could be considered a good buy.
Disclosure: The author is long COP. The author wrote this article themselves, and it expresses their own opinions. The author is not receiving compensation for it (other than from Seeking Alpha). The author has no business relationship with any company whose stock is mentioned in this article.