The past few years have not been kind to investors in troubled retailer J.C. Penney (NYSE:JCP). The stock has fallen from $40 per share in early 2012 to under $10 per share today, the result of a botched turnaround by former CEO Ron Johnson. While the stock has surged since hitting lows early this year, J.C. Penney is still a long way from returning to profitability, and there appears to be far too much optimism regarding the current turnaround effort.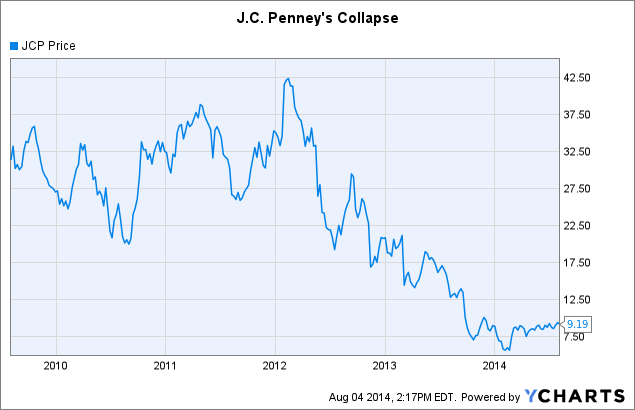 Putting the first quarter into perspective
When J.C. Penney reported its first quarter results back in May, the company appeared to be making progress. Comparable store sales surged, and the company guided for an expanding gross margin and break-even free cash flow for the year. J.C. Penney still lost plenty of money, recording an operating loss of $247 million, but this was a vast improvement over the $486 million operating loss during the first quarter of the previous year.
All of these numbers need to be put in perspective. Let's start with comparable store sales, which rose 6.2% during the first quarter, the second straight quarter of growth. This sounds great, but it's a bit misleading. In the first quarter of 2013, comparable store sales declined by 16.6%. In the first quarter of 2012, they fell 18.9%. Here's what it looks like when something falls by 18.9%, then falls again by 16.6%, and then rises by 6.2%: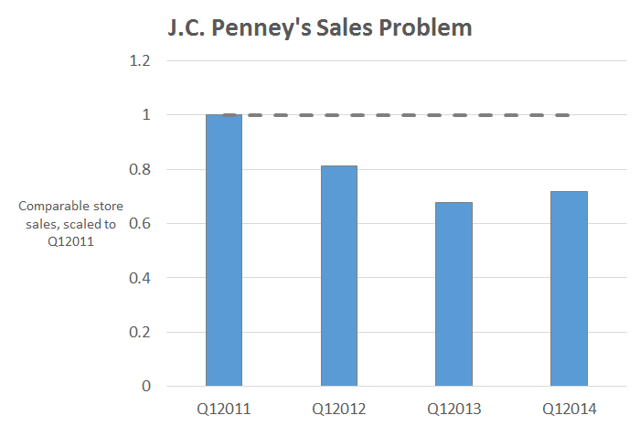 J.C. Penney's comparable store sales are growing from a depressed base, so an impressive sounding 6.2% growth rate isn't really that impressive. 6.2% better than abysmal is still abysmal.
The fact that sales are so depressed has led to operating expenses as a percentage of revenue to balloon. J.C. Penney has cut costs, but not as fast as revenue has declined, and this combined with a depressed gross margin has led to enormous losses. Here's a comparison between J.C. Penney and peers Macy's (NYSE:M) and Kohl's (NYSE:KSS):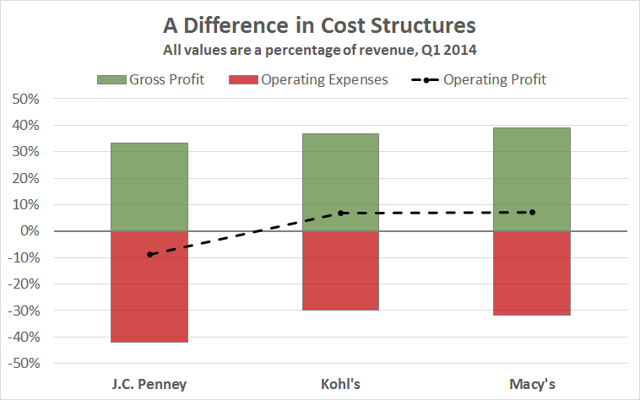 Source: J.C. Penney, Kohl's, Macy's
J.C. Penney spent more than 40% of revenue on operating expenses during the first quarter, while gross margin was in the low 30s. Both of these numbers compare poorly to the competition, and they raise an important question: how does J.C. Penney return to profitability from here?
The path to profitability
Historically, J.C. Penney's gross margin has been around 40%, as can be seen from the chart below: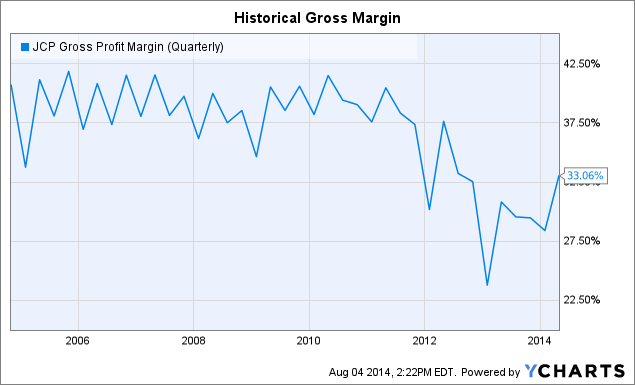 JCP Gross Profit Margin (Quarterly) data by YCharts
But even if J.C. Penney manages to get back to that level, at the current level of sales operating expenses are eating up about 42% of revenue. This means that even if J.C. Penney was able to return to historical levels of gross margin, it would still be posting an operating loss.
The only way to solve this problem is to grow sales in addition to growing gross margin, thereby reducing operating expenses as a percentage of revenue. The company not only has to convince customers to come back to its stores, but it also needs to have the ability to charge higher prices. That sounds like an awfully tall order.
Another problem is J.C. Penney's debt: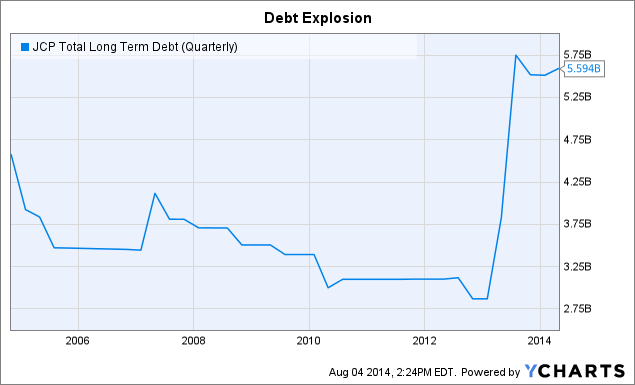 JCP Total Long Term Debt (Quarterly) data by YCharts
J.C. Penney's debt has exploded over the past few years, and the annual interest associated with that debt acts as a barrier to profitability. Even if the company grows gross margin and sales enough to post an operating profit, interest payments will completely wipe that out. During the first quarter, J.C. Penney paid $97 million in interest. Annualized, this comes out to $388 million, or about 3.2% of TTM revenue.
This means that J.C. Penney must reach a 3.2% operating margin before it actually breaks even after interest payments.
The bottom line here is that J.C. Penney still has a lot of work to do, and while sales and gross margin are trending upwards, it seems unlikely that they can rise fast enough for J.C. Penney to turn a profit anytime soon.
The break-even free cash flow fallacy
One interesting piece of guidance given by management in the first quarter earnings report was that free cash flow is expected to be at break-even this year. This sound great, but there are two caveats which make this impressive sounding feat meaningless.
First, J.C. Penney is dramatically underspending on capital expenditures. The company expects to spend just $250 million on capex this year, which is well below typical spending over the past decade: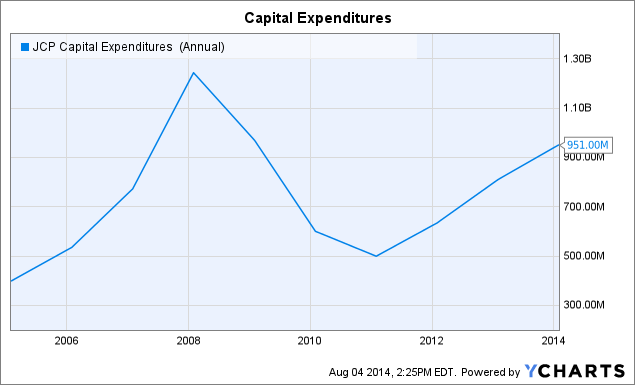 JCP Capital Expenditures (Annual) data by YCharts
This level of capex isn't sustainable, as it would lead to the deterioration of the stores if kept at this level for an extended period of time. Depreciation is a reasonable, albeit rough, estimate of the amount of maintenance capex needed to maintain the stores, and this number came in at $601 million in the last fiscal year. J.C. Penney is underspending by about $350 million, then, and this will artificially boost the free cash flow this year.
The second caveat is that J.C. Penney, as stated in the company's conference call, expects working capital to be a source of funds this year. This means that the free cash flow will be boosted temporarily by the reduction in working capital, and this won't be repeatable in future years.
J.C. Penney's expectation of break-even free cash flow, then, is deceptive. Backing out the effects of these two caveats, and the company's adjusted free cash flow will still be very negative.
Conclusion
It's management's job to paint a reassuring picture for shareholders, and J.C. Penney has done a good job of that. But looking under the hood, it becomes clear that a return to profitability is still many years away at best, and the guidance for break-even free cash flow is meaningless once considered with the two caveats mentioned above. J.C. Penney has enough liquidity to survive for a while, but whether it can return to profitability before time runs out is still an open question.
Disclosure: The author has no positions in any stocks mentioned, and no plans to initiate any positions within the next 72 hours. The author wrote this article themselves, and it expresses their own opinions. The author is not receiving compensation for it (other than from Seeking Alpha). The author has no business relationship with any company whose stock is mentioned in this article.