Spyglass
Spyglass Resources (OTC:SGLRF) was formed in early 2013 when Pace Oil & Gas Ltd., AvenEx Energy Corp. and Charger Energy merged together. 2013 was a transition year for the company in which it began to initiate a long-term plan that involves dumping non-core assets to better focus on its core areas. Through various sales of land and operations, production has declined significantly since the initial formation, but it appears that production has finally hit the point where it can grow steadily.
The company is extremely focused on cutting costs, and with the $60 million capital budget, it plans to drill 19 new wells this year. Spyglass has 4 core areas: Dixionville, Noel, Southern Alberta, and Provost-Halkirk, which at the end of 2013 accounted for about 65% of total production. This summer the company has commenced a more detailed focus on its Viking play at Provost-Halkirk, where it will drill 10 wells utilizing multi-pad drilling that will cut costs nicely.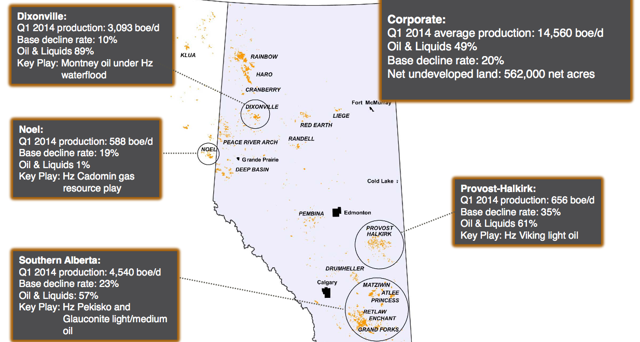 (Source: Spyglass website)
It has about a 50-50 split between liquids and gas, and it is slowly transitioning more toward liquids as it focuses its drilling program on the Viking light oil play.
Production guidance for 2014 is about 15,000 boe/d, which I think is an underestimate. In Q1, production averaged 14,560 boe/d, which was down by about a 1,000 from Q4 because of the terrible winter and the sale of non-core assets. In total the company closed the sale of about $10 million in assets in the first quarter, and it continues to pursue more to reduce debt and strengthen ts financial position.
The company has a land position of 562,000 net acres, and 2P reserves at the end of 2013 were 82.4 MMboe. Net asset value of these reserves is about $630 million, or about $4.89 a share.
Since its formation, the company has been very focused on keeping a 100% all-in payout target. The current yield is about 17%, which it has maintained since its formation. Although the dividend is quite pretty, it is most definitely not an extremely safe one. The company, along with dozens of other small E&P companies, continues to lose money. EPS for the first quarter was negative 9 cents, but for the second quarter, earnings are estimated at a loss of just 1 cent per share. Revenue for the second quarter is forecast to be up 9% from last year to $83.5M. The company is due to report on August 12th. In 2015, the company is expected to finally turn a profit consistently.
Although Spyglass has an extremely attractive yield and a very nice land position in Alberta, it is still a risky play.
Analysts are relatively neutral on Spyglass. 2 have outperform ratings, 6 have hold ratings, and 2 have underperform ratings. The average price target is $1.75, about 6% more than current levels.
Twin Butte Energy
Twin Butte Energy (OTC:TBTEF) operates mostly in Eastern Alberta and Western Saskatchewan. It is heavily weighted to liquids with 91% of current production being oil. The company is making a transformation from heavy to medium oil. In its Q1 report, it claimed the company can fetch $15 to $20 bbl better premium for medium. 53% of production right now is heavy and 38% is medium, which should change in the near future, weighted much more to medium.
In the first quarter, the company completed its acquisition of Black Shire Energy, obtaining substantial land in the Provost area, which is mainly medium oil. Currently production in this area is about 7,000 boe/d with expectations of 9,500+ by year-end. In total, the company anticipates the drilling of 50 new wells on the Provost land in 2014.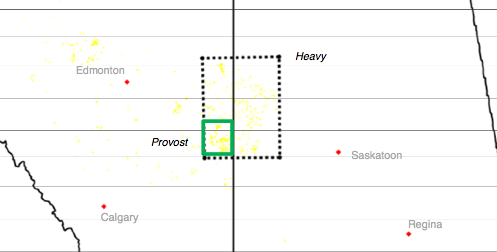 (Source: Twin Butte website)
In 2014, the whole drilling plan calls for 63 medium oil wells and 40 heavy oil wells. The majority of the heavy oil production comes from the company's Lloydminster lands, which it has increased from no production at all in 2009 to over 12,000 boe/d today.
Since 2012 production has increased 50%, with liquids production changing from 84% of production to 91% of production.
Overall current production is about 22,000 boe/d, with a planned exit rate of just 22,500 due to higher decline rates than expected. Something positive, though, is that the company has about 60% of production hedged for 2014, so there are no immediate concerns over commodity pricing.
Twin Butte has a yield of about 12%, which is also very attractive, but for obvious reasons not the safest. Revenue for the year is estimated to be around $525 million, a 30% increase versus last year, and EPS for the year are estimated at 5 cents a share. The company is set to report its second quarter results on August 13th.
Analysts remain relatively bullish Twin Butte. 3 analysts have buy ratings, 8 outperform ratings, and 9 hold ratings. The average price target is $2.45, which would point to a 50% upside.
Summary
Both of these companies have great assets and good potential going forward. The real question is if they are able to deliver. In the meantime, both pay extremely handsome dividends and both continue to be driven toward production growth.
Disclosure: The author has no positions in any stocks mentioned, and no plans to initiate any positions within the next 72 hours. The author wrote this article themselves, and it expresses their own opinions. The author is not receiving compensation for it (other than from Seeking Alpha). The author has no business relationship with any company whose stock is mentioned in this article.
Additional disclosure: Financial data in CAD; sourced from Yahoo Finance and The Financial Times. Production data sourced from the companies' websites. Always do your own research before investing.
Editor's Note: This article discusses one or more securities that do not trade on a major U.S. exchange. Please be aware of the risks associated with these stocks.