White Plains, New York-based Starwood Hotels & Resorts Worldwide Inc. (HOT) recently announced its decision to hike annual dividend by 10 cents to 30 cents per share. This translates into a 50.0% increase from the prior dividend. The increased dividend will be paid on December 30, 2010, to stockholders of record on December 16, 2010. This brings the forward annual dividend yield as of November 22, 2010, to 0.5%.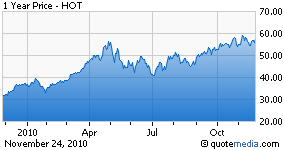 The hotel and leisure company almost a year back cut down its annual cash dividend from 90 cents to 20 cents, a slash of 78%. Starwood reduced its dividend due to the economic slowdown resulting in a decline in demand for hotel rooms and timeshare products. Both business and leisure travelers reduced their trips, resulting in a significant decline in RevPAR over the past several quarters.
After a year, the company is raising its dividend, which is a positive signal that economic conditions are improving. The company also reported better-than-expected third quarter earnings aided by an increase in demand for hotels.
We appreciate Starwood's effort to enhance shareholder return as the economy is improving. Moreover, we believe that the increase in dividend payment by the company depicts the fact that the company is in good shape and is well positioned for future growth.
At the end of the third quarter 2010, Starwood had cash and cash equivalents of $357.0 million (excluding $48 million of restricted cash). Thus, the company's cash position is good and has the ability to enhance shareholder value.
Starwood's forward annualized dividend yield of 0.5% is below the industry average of 1.17%. Moreover, it lagged the forward annualized dividend yield of 0.89% of Marriott International Inc. (NYSE:MAR).
Starwood is a leading worldwide hospitality company with a primary focus on property ownership, management and franchising. The company has 1000 properties in 100 countries.