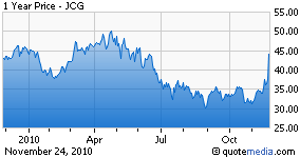 By Brian Sozzi
Undoubtedly, the $3.0 billion buyout of J Crew (JCG) by TPG and Leonard Green came as a surprise to many. Conventional wisdom when it applies to private equity and retail sector transactions has long held that a suitor steps in and buys a fixer upper. Once in, private equity stabilizes operations and closes a multitude of unproductive stores in order to recoup the premium paid up front. At least this line of thinking materialized in the retail M&A boom of 2005-2007. However, there is the emergence of a new theme pertaining to private equity and retail, and that is to buy known quality that is being mispriced by a short-term minded market (besides, who wants a broken business when the consumer remains skittish). How else to explain the transactions this year?
Before Gymboree's (NASDAQ:GYMB) buyout went public, the stock was down 6.8% from the start of 2010. The S&P Retail Index (RLX) was up 10.6% during the same time period. There is no arguing that Gymboree is the dominant children's apparel retailer in the nation's malls (they are also in outlets), and has done a good job curtailing operating expenses. Private equity saw a mispriced opportunity and swopped in; again, quality at a depressed price.
As for J Crew, its stock had shed 13.6% of its value in 2010 prior to the announcement of the TPG/Leonard Green deal. The S&P Retail Index, +16.3%. Similar to Gymboree, there is no disputing that J Crew holds a considerable position in the accessible luxury apparel market, competing directly with Banana Republic (NYSE:GPS) and Nordstrom (NYSE:JWN), in spite of only operating 247 U.S. stores and being online. CEO Mickey Drexler, a 5.2% holder in J Crew, is the ultimate merchandiser, and has surrounded himself with a deep bench of creative talent. Recent product introductions have hit a snag (specifically women's) aesthetically, and consumers are balking a bit at Drexler's decision to raise prices. Both of these factors led to soft 3Q10 earnings guidance on August 26. Deliveries for the holidays and 1Q11 are likely to be less eye-catching than the norm from J Crew, thereby placing risk to forward earnings estimates and the stock. Drexler knew this, and received certainty of value by a private equity team he knew well, in addition to obtaining piece of mind that he can go back to creating great product rather than answering to the whims of Wall Street.
We get asked all of the time which stocks in the retail sector screen well for a potential M&A transaction. Prior names that have passed our criteria included Abercrombie & Fitch (NYSE:ANF), American Eagle Outfitters (NYSE:AEO), La-Z-Boy (NYSE:LZB), and Fred's (NASDAQ:FRED). However, in the spirit of the Gymboree and J Crew transactions, which again underscores quality names at a compelling price, we believe Urban Outfitters (NASDAQ:URBN) is a name to stick away in one's portfolio.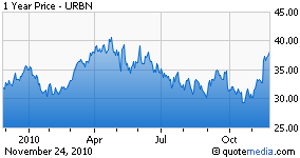 Shares of Urban Outfitters are up 6.74% year to date, underperforming the S&P Retail Index, as a shift in fashion (more streamlined looks) and difficult comparable store sales (comp) comparisons led to moderating EPS growth rates in each of 2Q10 and 3Q10. Consensus earnings estimates have been marked down, and though analyst enthusiasm on the stock remains high, there is a general agreement that the near-term for Urban will be short of historical growth patterns.
Similarities Between Urban and J Crew
Towards upper-end of peer matrix in ROE
No bank debt
Stock has underperformed the S&P Retail Index
Portfolio of brands
Non-saturated U.S. store base
Why the Company May be Better than J Crew
Significantly higher operating margin (Urban peak 19% calendar 2005; J Crew peak since it went public, 13.4% calendar 2009)
Has better store productivity (using sales per square foot and ROE)
Has penetrated Europe, and has a game plan for Asia
Larger portfolio of retail brands
Wholesale operations
Operationally more efficient
The Negatives
Founder and Chairman Richard Hayne owns 18.5% of the company. Private equity will have to come in with a very sweet offer to persuade the passionate Hayne.
Business is very fashion oriented, creating risks should the design team not interpret trend correctly.
Urban shares trade on a P/E multiple of 19.5x forward consensus earnings, a premium to peers, but a 29% discount to the five-year mean. For a company that has potential to reach a 20% operating margin through a disciplined approach to international development, greater U.S. scale, and the associated leverage on an efficient means of running the business the stock is a worthwhile investment. Urban's announcement of a new 10 million share repurchase plan post 3Q earnings signals to investors that management believes the stock is attractively valued at current levels, as well.
Disclosure: No positions