Groupon (NASDAQ:GRPN) reported-$0.03 in EPS and $752m (+23% y/y) in revenue both of which fell short of the $0.01 in consensus EPS and $762m in consensus revenue. Gross billing growth of +29% y/y suggests that commission rates have declined in the quarter. Despite the increasing number of deals, improvements in average spend per customer and the increased number of active customers (53m and counting), the declining commission rate indicates that the competition from Amazon (NASDAQ:AMZN) and other group-buy sites is heating up, and that sacrificing commission to retain relevant deals may be necessary to attract the users. That said, the transitioning from pull to push model will take longer than previously expected and investors who still have faith in the company should be prepared to be here for the long haul. With the stock down 15% after hours, I am not ready to pull the plug yet and see the current level an attractive buying opportunity as operating metrics have shown sequential improvement, which I believe could translate to improvement in the financial metrics. Reiterating my cautious but positively-biased view.
Not bad as it seems
The headline number is indeed worrisome as the 29% billing growth and 23% revenue growth indicated commission erosion in the face of heightening competitive pressure from competing sites. The company also opened a $250 three-year revolver, which could further lever up the balance sheet. Finally, revenue guidance of $720-770m was in the low-end of the consensus $760m, reflecting on the ongoing growth challenges that GRPN may face.
Looking at the geographic regions separately, North America billing and revenue growth of 12% suggests that commission rate is stable over the Q. EMEA's 0.2% billing growth but 42% revenue growth was also positive. The culprit of the headline number is the 145% growth in billing for the rest of the world and its 40% revenue growth. The higher billing growth was due to the acquisition of TMON. When TMON is excluded, billing grew 17% y/y, which puts GRPN's ROW unit on track to generate positive operating income in Q4. As matter of fact, operating income margin in all three key geographic regions improved sequentially, indicating disciplined cost control.
While the revenue outlook was in the low-end of the consensus, adjusted EBITDA for the full-year is expected to exceed $270m compared with the prior guidance of $50-70m. I believe this will likely to be a result of better cost control and maybe a positive surprise on the revenue side.
The positives are in the operating results
Operating results continue to move towards the right direction and could move the financial metrics once a critical mass is achieved. I note that the number of active users grew 22% y/y to 53m driven by North America (+43% y/y) and rest of the world (+30% y/y), which indicates solid growth in popularity involving Groupon.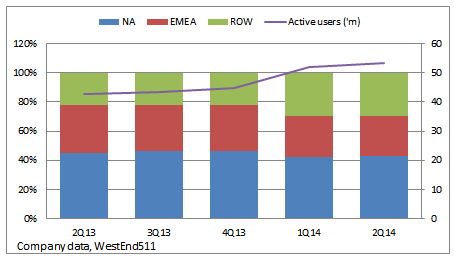 Average spend per customer also seen solid growth, in particularly outside of North America and EMEA where growth was up 10% y/y and rebounded 22% q/q. However, North America continue to see average spend decline and I suspect the ongoing transition towards mobile and the shift from push to pull business model may have impacted the users' purchasing behavior.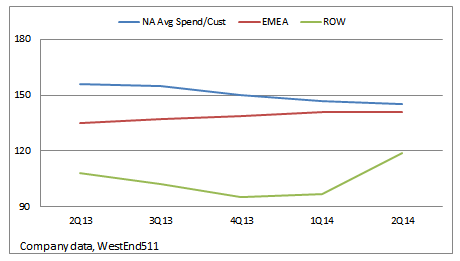 Total deal inventory expanded to 240k with 105k in North America and the number of vouchers sold grew 79% y/y to 83m units, driven largely by TMON acquisition. Nonetheless, it is positive to see that 1) demand is still trending nicely despite the lower commission rates, 2) user growth indicates GRPN's popularity continues to remain robust and 3) global average spend per customer growth indicates a rising number of relevant deals in GRPN's inventory.
Be prepared for the long haul
Groupon's transition from push to pull model is critical as it ensures that the company stay relevant going forward. While the company has greatly expanded its deals volume over the past years, I believe that there is still a lot of work to do in terms of expanding local deals so that the users can proactively search on GRPN for deals around their location. If GRPN expands the deal inventory by including frequently visited places, I believe that we could see an acceleration in revenue and rebound in commission rates as GRPN is a critical channel for these businesses to get rid of excess inventory to cover a fixed cost (ie. movie theater). The pull-model has worked extremely well in Asia, where people frequented local deals in popular restaurants, café and/or movie theaters. I believe that GRPN can also deliver the same result once the deal inventory is expanded further with a particular emphasis on local and goods, but this expansion could take a while.
Disclosure: The author has no positions in any stocks mentioned, and no plans to initiate any positions within the next 72 hours. The author wrote this article themselves, and it expresses their own opinions. The author is not receiving compensation for it (other than from Seeking Alpha). The author has no business relationship with any company whose stock is mentioned in this article.