Would you call Deere (NYSE:DE) a 'market favorite'?
Before you answer, see the chart below on DE's relative performance vs S&P500 in the past year.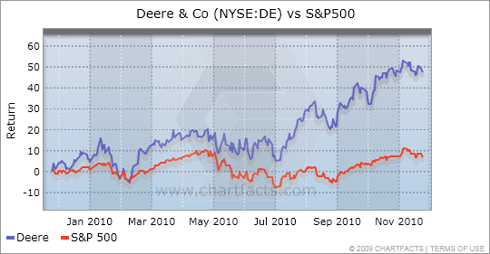 Source: ChartFacts.com
At the time of this writing, a day when stocks are up 133 points, Deere, a market favorite, is down $0.29! Why?
DE reported earnings this morning. As Zacks noted:
Deere & Co. (DE) delivered earnings per share (EPS) of $1.07 in its fourth quarter ended October 30, 2010, striding ahead of the Zacks Consensus Estimate of 96 cents, almost five times the EPS of 23 cents reported in the year-ago quarter. The outperformance was driven by positive conditions in the U.S. farm sector particularly in terms of demand for large equipment somewhat offset by weak European agricultural markets…. Deere's worldwide total sales increased 35% year over year to $7.2 billion, beating the Zacks Consensus Estimate of $6.7 billion handily. Net sales of equipment operations (which comprise Agriculture and Turf, Construction and Forestry) were $6.6 billion, a 39% year-over-year increase including a favorable currency translation effect of 1% and a price increase of 3%.
Morningstar.com's Adam Fleck also noted:
Deere's DE fiscal fourth-quarter results, filed Wednesday, highlighted the firm's continued revenue rebound, as farm and construction equipment sales jumped substantially both year over year and sequentially. Higher selling costs drove down operating margins from the previous quarter, but the effect is largely seasonal; Deere's profitability topped 2008's and 2009's fourth quarters, and is on par with the same period in 2007. That said, the firm benefited from a strong mix shift in the quarter, as sales of large, high-horsepower tractors (which tend to carry higher margins for manufacturers) have experienced a prebuy due to new emission standards effective January 2011. As such, the company's agricultural equipment profitability will likely suffer next year due to a reduction in deliveries of these larger pieces of equipment and an increase in sales of lower-horsepower tractors ahead of their updated standards (which begin in January 2012).
Looking forward into 2011, Zacks' comments:
Region-wise, the company expects industry wide sales of agricultural equipment in the United States and Canada to be flat in 2011, as a result of production limits and transitional issues associated with the broad launch of Interim Tier 4-compliant equipment. In South America, industry sales are projected to be flat year-over-year in 2011. Industry sales in Western Europe are forecast to increase 5% to 10%, while sales in Central Europe and the Commonwealth of Independent States are expected to experience moderate gains from the depressed level of 2010. Industry sales in Asia also are also forecasted to grow moderately.
And finally, back to Morningstar.com's comments regarding the outlook:
Looking into next year, Deere's management projects its top line to increase 10%-12%, led by rebounding Western Europe farm equipment sales (a laggard throughout 2010), a 25%-30% jump in construction equipment, and 2 percentage points of price increases… Deere will launch several new products next year in South America, and with lower market share in the area than rivals AGCO AGCO and CNH Global CNH, the company could see outsized growth if this equipment proves successful.
Given the relatively positive comments by both research houses not only on performance of DE in 2010 but also on their anticipated performance in 2011, what's up, or rather, down, with the stock price today?
I suspect that DE is suffering from a bit of "being taken for granted" by the market. With a run like it has had in the past year, the path of less resistance for investors is to take profits on DE today and search for the next big mover. We're all somewhat prone to being guilty of this in the sense that it is much easier to hold onto an existing position that was bought some time ago at lower levels than it is to invest new cash into the stock at these levels.
But that said, it's a healthy reminder to assess assets based on your outlook from today forward in determining value. DE, as indicated in the Zacks and Morningstar.com commentaries, is poised for new product introduction in geographies around the world where economic growth is likely to continue to be firm. And in areas where industry sales are forecasted to be flat, DE could look for share gains especially with new product introductions. Each investor will have to opine and decide on their own overall global economic outlook, and on the appropriateness of DE being in their portfolio based on their unique financial profiles, risk tolerances and portfolio goals, but the process of assessing a winner has to not only include but also transcend a glance into the 'rearview mirror'. As trite as that may sound to the more sophisticated investor-reader, I often hear assessments of value largely, if not solely, based on historical performance rather than in combination with and subordinate to future outlook.
I own DE. I plan on holding onto it. And should those who take it for granted push it lower, I'm likely to buy more as this is the kind of company that fits into my overall global view of emerging and emerged countries building out their infrastructures and, in turn, increasing their demands for farming and construction equipment.
And to all the "take it for granted" folks out there, I ask you to consider what the famous US actress, Mae West once said, "Too much of a good thing can be wonderful"!
Disclaimer: Please read and consider important information related to all communication made by Soos Global on Seeking Alpha by clicking here.
Disclosure: Long DE, many stocks in SPX and QQQQ, and regional ETFs including EWC, EWZ, GMF. Positions can change at anytime without notice.