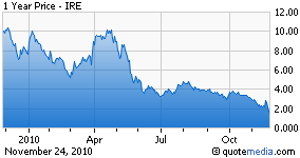 The Bank of Ireland (NYSE:IRE) is about to have a new majority shareholder. Ireland's government is expected to raise its stake in the Bank of Ireland from 36% to something constituting a majority. The Irish government is also expected to raise its stake in Allied Irish Bank (AIB) to, potentially, 99%.
If this sounds like Ireland is taking a page from the U.S. bank bailout strategy you're right. When you're facing the potential of a run on the banking system, the government is essentially the last entity that can step in and provide a backstop. I know many of you cringe at the thought of government intervention in a capitalist system, but the alternative of standing aside and letting banks fail is no option. Would you want to simply lose money you had deposited in a bank that failed?
The situation in Ireland is even worse than that though because the Irish government doesn't have the capital to back its banks, so it has to get a loan from the European Union. And, of course, the overall situation is worse still, as Portugal and perhaps even Spain may have to follow a similar course.
The Bank of Ireland has dropped to around $1.25 a share. Seeing that the government is prepared to prevent outright failure, we as investors, might consider if it's time to buy a little stock. After all, anybody that bought Bank of America (NYSE:BAC) or Citigroup (NYSE:C) when it looked like there was no hope, has done pretty well. Since the March 9, 2009, market bottom Citigroup is up 318% and Bank of America is up 253%.
Bank of Ireland traded as high as $91 in early 2007. Clearly, the stock's not headed back there anytime soon, and it probably never will. But the shares could pop a little as the government's bailout plans are revealed.
A word of caution to speculators though. There's no doubt there will be bargain-hunters attempting to bottom fish the stock. Which means any entry needs to be well-timed. In pre-market, I've watched the stock trade between $1.27 and $1.35. I suspect that range might give you quick upside.
But let's not forget that most buyers who enter today are not long term holders. They will be looking to flip the stock quickly. So if you take a shot at this one, you should be prepared to sell it quickly. I would expect much of the gains (if there are any) achieved today will reverse in the coming weeks.
Disclosure: No position