New Gold (NYSEMKT:NGD) is one of my favorite mid-tier gold mining companies in the industry: the company has a portfolio of four producing mines, all located in politically favorable mining jurisdictions, plus three development properties that could at least double the company's total yearly gold production in the near future.
Investors bullish on gold and on New Gold in particular should also take a strong look at the company's publicly-traded warrants, which trade on the OTC markets under the symbol NGDAF.
Here, I will try to make the case that New Gold is poised to outperform its peers, using the Gold Miners Index (NYSEARCA:GDX) as a benchmark index. I will also provide investors with information regarding the 2017 warrants, which I believe will outperform the common shares going forward.
Why New Gold?
Stock Price: $5.97
Shares Outstanding: 503 million
Market Cap: $3.01 billion
52-week range: $4.68-$8.10
Since 2008, New Gold has outperformed the GDX by roughly 20%. Since the crash of gold in 2009, shares have outperformed the index even more, returning 73.18%, compared to a decline in the GDX of 50%: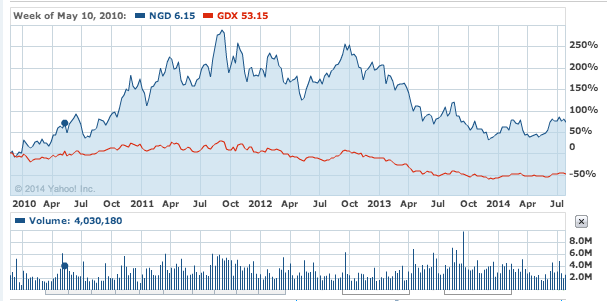 There are a few reasons why I think New Gold will continue to outperform its peers going forward:
- The company has a portfolio of assets that are all located in top-ranked mining jurisdictions (Canada, Mexico). In total, the company has 18.5 million ounces of gold in reserves.
- The company produces gold at very low all-in sustaining costs. For the first quarter of 2014, the company reported costs of just $674 per ounce, which means the company should be profitable even if gold fell by a substantial amount.
This was much lower than many of New Gold's peers, including Eldorado Gold (NYSE:EGO) at $786 an ounce, Agnico Eagle (NYSE:AEM) at $799 an ounce, Yamana Gold (NYSE:AUY) at $820 an ounce, and Goldcorp (NYSE:GG), at $840 an ounce. This figure is also well below the company's guidance of $815-$835 all-in costs for 2014. Peers such as Newmont (NYSE:NEM), IAMGOLD (NYSE:IAG) and AuRico (NYSE:AUQ) have predicted all-in costs to be more than $1,000 an ounce for 2014.
- The company will produce around 400,000 ounces for 2014, but has the potential to double production and produce more than 900,000 ounces from its growth projects over the next 4-5 years. This could lead to a share price re-rating.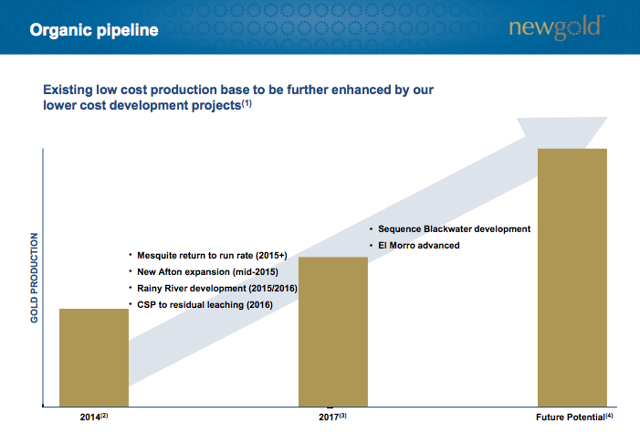 - For the second quarter of 2014, New Gold produced 89,460 ounces of gold, at industry-leading all-in sustaining costs of just $745 per ounce. This led to net cash generated from operations of $59 million, which was actually a 33% increase year-over-year, despite a dip in the price of gold during that time period.
- Net cash generated from operations is expected to top $400 million in 2014, but that number could be as high as $600 million by 2017 as production increases at existing mines and new projects come online, according to the company. Shares are trading at 4.8x 2017 cash flow at 2014 guidance prices, according to the company's second-quarter financial results presentation.
- New Gold finished the quarter with a cash hoard of $414 million. With an undrawn credit facility of $107 million, New Gold has available liquidity of $545 million.
The company has a manageable debt load of $800 million, made up of $300 million in senior unsecured notes maturing in 2020 (bearing 7% interest annually), and $500 million in senior notes maturing in 2022 (bearing 6.25% interest annually).
- At the company's New Afton mine, a mill expansion remains on schedule for mid-2015. New Afton is by far the company's most profitable mine, producing gold at all-in sustaining costs of -$678 an ounce. The expansion should increase production to 102,000 to 112,000 ounces of gold and 78-84 million lbs. of copper, with expected recoveries to increase from 85-86% to 88-89%: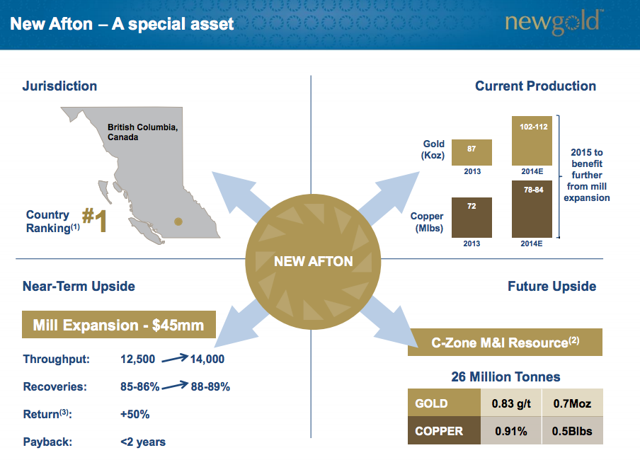 - The Rainy River project, located in Canada should add a significant amount of low-cost gold ounces to New Gold's portfolio once the mine starts producing gold by 2016-17. $180 million of capital has already been committed, though the project requires $840 million in development capital. The deposit has a reserve base of 3.8 million ounces of gold, with 6.2 million ounces in measured and indicated resources. Once in production, the mine should produce at least 300,000 ounces of gold annually, at low all-in sustaining costs of $736 an ounce. I think a partner for this project could be possible to reduce the company's capital commitments. A 50% joint venture partner would still net the company 110,000 ounces of gold at low costs, and increase its current yearly production by at least 20%.
- The Blackwater project, also located in Canada, is another exciting project. Blackwater has 8.2 million ounces of gold in reserves, with 9.5 million ounces in measured and indicated resources. $1.76 billion in development capital is required; however, when it production, it should produce 485,000 ounces of gold at low all-in sustaining costs of $685 an ounce. Like Rainy River, the company could consider joint venturing the project, to reduce its capital commitments, or it could consider selling a gold stream to raise money should it need it.
- The company also owns a 30% interest in the El Morro project, located in Chile. Goldcorp owns the remaining 70%, and is funding 100% of the capital required to bring it to production. The mine will produce 90,000 ounces of gold and 85 million lbs. of copper annually, according to the feasibility study.
A Chilean court froze Goldcorp's environmental permit in 2013; however, on April 30, 2014, Mining.com reported that a Chilean appeals court had rejected an attempt to shut down the mine, which clears the way for project to restart development with a goal of initial production in 2017.
- New Gold isn't just about gold: the company has 90.1 million ounces in silver reserves and 3 billion lbs. of copper in reserves, giving investors more asset diversity.
New Gold Warrants: A Leveraged Bet on a Gold Recovery
If New Gold can deliver and the gold price cooperates over the next couple of years, I believe the company's publicly-traded warrants will return much bigger gains than the common shares.
Here are the terms for New Gold's warrants:
1 warrant + $15 = 1 common share of NGD
Expiry Date: June 28, 2017.
Warrant holders have until the expiry date to sell or exercise or sell these warrants.
*Note: only Canadian investors trading the warrants on the TSX can actually exercise warrants; US investors can only trade the warrants, like you would a common stock. The reason to buy the warrants is to use them to gain leverage to a rise in the price of the common stock. Just remember to sell them any time before the expiry date.
Here is a chart to better explain the leverage that warrants can provide. This chart will show you a performance comparison between New Gold common shares and the warrants: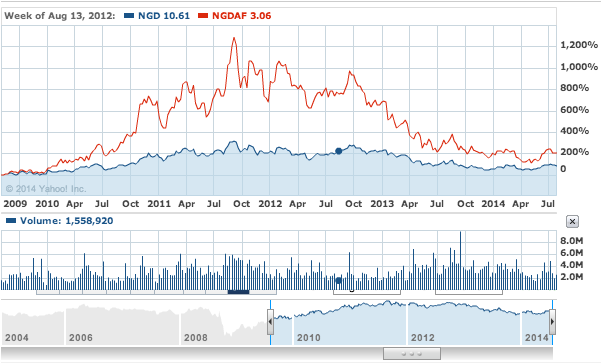 You'll see that over the past 5 years, the warrants are up nearly 200% (from $.36 in 2009 to over $1 today), compared to New Gold's common shares, which are up a little less than 100%. Therefore, these warrants have provided investors with at least 2x leverage to the common stock.
However, investors did far better during the 2009-11 time period, with the warrants returning more than 2,000%, compared to a 950% gain in the common stock. A $10,000 investment in the warrants during this time period would have resulted in gains of at least $170,000 had you held onto the warrants until 2012.

- Remember that while the exercise price is $15 per share, it doesn't have to reach those levels for you to make money. For example, the warrants hit $3.30 each in 2012, a gain of more than 300%, when New Gold traded around $10-12 a share.
Understand the Risks
Of course, with massive upside potential comes some a number of risks.
- First, warrants are less liquid than the common shares, so you might not be able to buy or sell them for the price you'd like. You should definitely use limit orders, not market orders, to purchase the warrants.
- It is possible to lose at least 50%, or all of your investment, especially if gold drops lower. However, I like the fact that the warrants don't expire for at least 3 years, which gives investors upside to a potential rise in the price of gold over this time period.
- There is also the risk that New Gold does not deliver, which can happen for a number of reasons, whether it's mine failures, strikes, higher-than-expected cash costs, etc.
- Since you don't own the common shares, you don't get voting rights or any potential future dividends.
I believe that New Gold's future is very bright, and I happen to be bullish on gold over the next few years - I think this makes the warrants a very interesting trade, and I intend to buy both common shares and warrants in the coming months.
Disclosure: The author has no positions in any stocks mentioned, and no plans to initiate any positions within the next 72 hours. The author wrote this article themselves, and it expresses their own opinions. The author is not receiving compensation for it (other than from Seeking Alpha). The author has no business relationship with any company whose stock is mentioned in this article.
Additional disclosure: Long New Gold warrants (NGDAF)