On April 10, I wrote an article Premier Financial Bancorp: A Community Bank To Watch Going Forward stating that this community bank is a well-run acquirer that is undervalued compared with peers.
On April 4, 2014 the new operations from the acquired Bank of Gassaway were consummated in Premier's (NASDAQ:PFBI) results. Operating expenses were higher due to the inclusion of the Gassaway branch network, see below.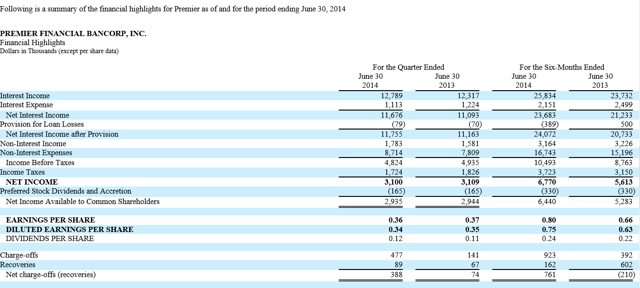 Despite that you can see that Premier realized increases in interest income and non-interest income while continuing to save on interest expense when compared to the second quarter of 2013.
We think further integration of the Bank of Gassaway will lead to more profitability.
As you can see on the balance sheet below, shareholders' equity was $153.5 million compared to $146.9 million at December 31, 2013. The increase in shareholders' equity was largely due to the $6.8 million of net income during the first six months of 2014 partially offset by dividends declared on common stock and Premier's Series A Preferred Stock.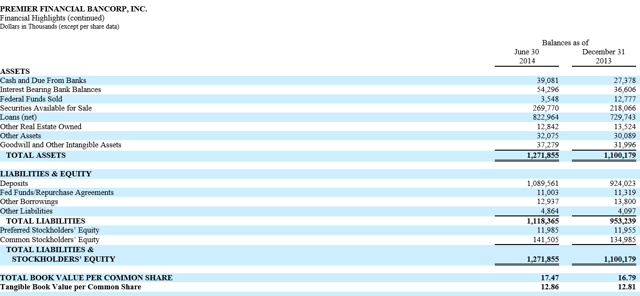 Final Note
The current stock price of $15.52 does not reflect the underlying value of the bank's business, especially if the $0.12 dividend and increase in book value per quarter continues. A P/E of 13 for Premier would mean the stock price has more than 30% upside potential.
Disclosure: The author has no positions in any stocks mentioned, and no plans to initiate any positions within the next 72 hours. The author wrote this article themselves, and it expresses their own opinions. The author is not receiving compensation for it (other than from Seeking Alpha). The author has no business relationship with any company whose stock is mentioned in this article.
Additional disclosure: Due to the liquidation of RJT Capital we don't possess shares of PFBI anymore.