Advanced Micro Devices (NASDAQ:AMD) is in a difficult situation. Its deal to provide chips for the major video game consoles has provided a big boost in revenue for the company, but its core PC business is in serious trouble. AMD competes against Intel (NASDAQ:INTC) in both PC CPUs and server CPUs, while Nvidia (NASDAQ:NVDA) is its competitor in the discrete GPU market. While AMD is very good at creating buzz, from HSA to ARM-based server chips, there is one simple reason why AMD will continue to struggle in both markets.
Spending money to make money
Research and development spending is the lifeblood of any technology company. Investments in R&D are critical in order to not fall behind competitors, but AMD has been slashing R&D spending over the last few years. In fact, for the first time, Nvidia overtook AMD in R&D spending toward the end of 2013: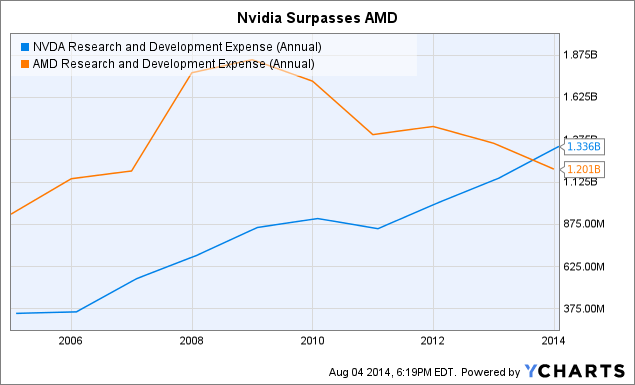 NVDA Research and Development Expense (Annual) data by YCharts
Intel also outspends AMD in R&D, not surprising given the size difference between the two companies: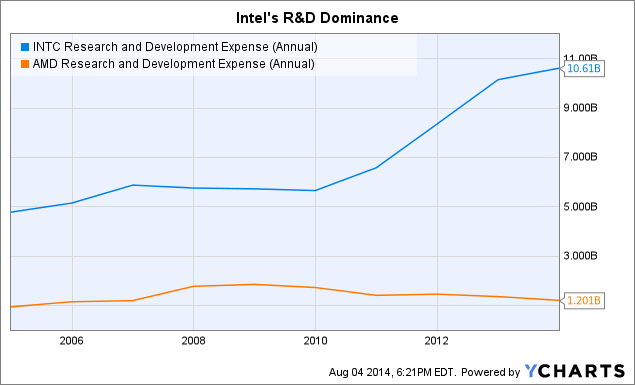 INTC Research and Development Expense (Annual) data by YCharts
The growing gap between AMD's R&D spending and its competitors has some serious long-term implications for the company.
Differentiation lost
Even with the game console deals, Intel controls over 80% of the x86 processor market. What's worse, Intel is stealing market share away from AMD at the low-end of the market. The PC market as a whole was flat during the second quarter, and while AMD reported a 20% decline in its computing solutions segment, Intel reported a 9% year-over-year increase in its PC unit volume. Intel's Bay Trail low-power chips, which now account for 20% of Intel's notebook mix, has clearly been stealing low-end market share away from AMD.
AMD has differentiated itself from Intel by focusing on having far more powerful integrated graphics. While AMD's CPUs are weaker than Intel's at the same price points, AMD's graphics performance is far superior. Of course, essentially any discrete graphics card will outperform an integrated solution, so having powerful integrated graphics only appeals to a small part of the market. For those who want to play PC games on an extremely tight budget, AMD is the clear choice.
The bad news for AMD is that Intel is making its graphics better. Cherry Trail, the next iteration of the Atom processor after Bay Trail, will quadruple the number of graphics execution units, along with other improvements. The sheer amount of resources that Intel can throw at graphics means that Intel will catch up to AMD on the graphics front. Once that happens, AMD loses the only thing that makes its CPU products stand out.
Spread too thin
AMD is more competitive in the GPU market, although Nvidia currently controls around 65% of the discrete GPU market and 80% of the professional graphics market. While Nvidia focuses solely on graphics, with all of its products now built on the same line of architectures, from mobile chips to supercomputer accelerator cards, AMD spreads its R&D spending across PC CPUs, server CPUs, including both X86 server chips and its upcoming ARM-based server chips, GPUs, and semi-custom chips.
Although there's plenty of overlap between these areas, the fact that Nvidia is outspending AMD on R&D should be concerning to AMD investors. It will be difficult for AMD to keep up with Nvidia, and over time, if this spending gap remains, Nvidia is going to pull ahead even further.
Because Nvidia turns a healthy profit, it has been able to invest in software in an effort to build an ecosystem around its products. One example is NVIDIA GameWorks, a set of tools and code libraries that game developers can use to implement graphics-intensive features that are optimized for Nvidia graphics cards. This gives developers a reason to favor Nvidia cards, possibly leading to better performance on Nvidia graphics cards. Another Nvidia software project is CUDA, Nvidia's GPU computing platform. CUDA is used to harness the power of Nvidia's GPUs for applications like scientific simulations, and the more people using the platform, the stickier Nvidia's enterprise products are.
AMD did develop Mantle, its own graphics API which acts as an alternative to Microsoft's DirectX, but with DirectX 12 set to make the same improvements in performance achieved by Mantle, the API doesn't give AMD's products any real advantages in the long term.
Conclusion
AMD is being vastly outspent in R&D by Intel, and it was recently surpassed by Nvidia as well. The story that AMD presents to investors, that innovations can drive AMD past the competition, seems difficult to swallow given that AMD has been slashing R&D spending for years. As time goes on, AMD is going to find it increasingly difficult to compete, especially with Intel as it pushes for better integrated graphics. If there's one reason to be pessimistic about AMD's prospects, the R&D spending gap is it.
Disclosure: The author is long NVDA. The author wrote this article themselves, and it expresses their own opinions. The author is not receiving compensation for it (other than from Seeking Alpha). The author has no business relationship with any company whose stock is mentioned in this article.