When I recommended FedEx (NYSE:FDX) in September of 2013, it was trading at $114.90 per share. Today, shares are trading at $148.06, an increase of 28.91%, more than double that of the S&P500, which has gone up by 13.74%. Despite the amazing appreciation in price per share, the dividend yield is now actually slightly higher than it was 11 months ago. At the current rate of $0.54 per quarter, the dividend yield stands at 0.54% annually.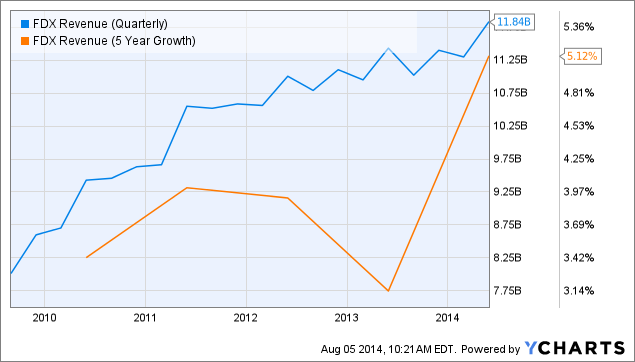 FDX Revenue (Quarterly) data by YCharts
FedEx has seen its revenue increase by an average of 5.12% over the past 5 years, reaching $45.56 billion in the most recent fiscal year. At a market cap of $42.28 billion, this means the company is trading at a price to sales ratio of 0.9, slightly above the 5 year average of 0.8 but well below United Parcel Service's (NYSE:UPS) p/s ratio of 1.6. For the current fiscal year, analysts expect FedEx to have revenues of $47.69 billion, which would be an increase of 4.68%.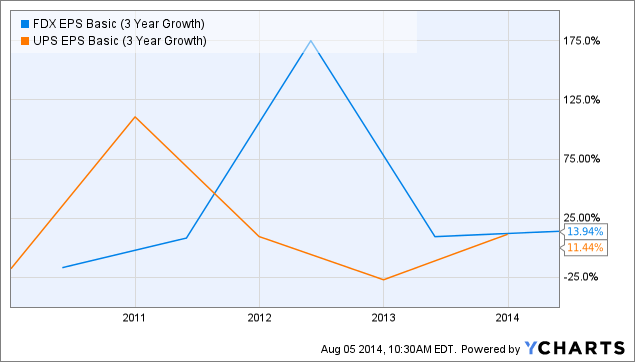 FDX EPS Basic (3 Year Growth) data by YCharts
FedEx has a 3 year EPS growth rate of 13.94%, slightly above the 11.44% average of its largest competitor. Last year's earnings per share were $6.75, giving the company a price to earnings ratio of 22.0, which is quite high, especially considering the fact you can get UPS for only 21.3 times last year's earnings. However, FDX' earnings per share are expected to reach $8.81 in the current fiscal year, giving the company a forward p/e ratio of only 16.8.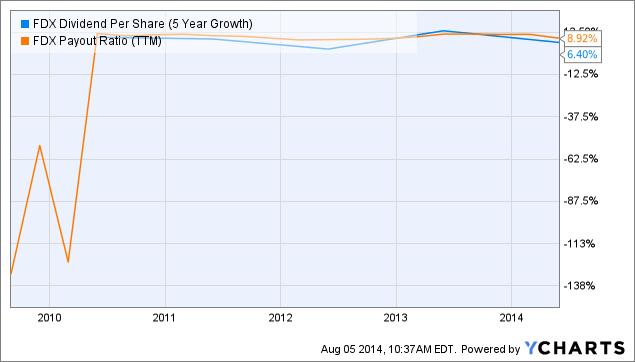 FDX Dividend Per Share (5 Year Growth) data by YCharts
FedEx may have a very low dividend yield, but with a payout ratio of only 8.92% in the most recent 4 quarters, there's plenty of room for growth left. The dividend has grown by an average of 6.40% over the past 5 years and with earnings expected to go up by 30.5% in the current fiscal year, I wouldn't be surprised to see the dividend get raised to $0.25 or even higher.
FedEx has a very good looking balance sheet, with $2.91 billion in cash and equivalents. With 285 million shares currently outstanding, the company has over $10 per share in cash. This gives FDX a lot of opportunities to return some capital to its shareholders, either by issuing a special dividend or by repurchasing more shares. Over the past 12 months FDX has already spent $4.3 billion on buybacks, lowering the number of outstanding shares and thus increasing EPS. UPS only bought back $3.1 billion of its own shares, despite having a market cap more than twice that of FDX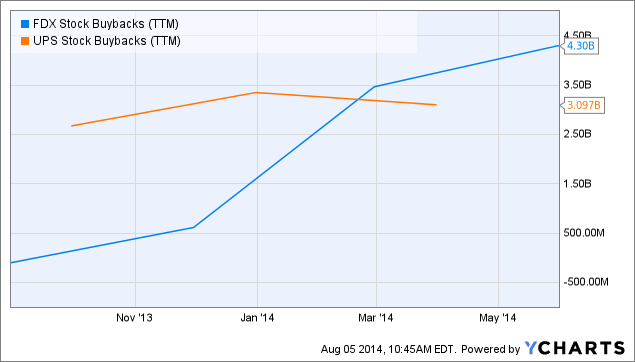 FDX Stock Buybacks (NYSE:TTM) data by YCharts
FedEx isn't a stock for investors who need income from dividends right away. However, as the company increases EPS, I would expect it to continue its dividend growth and for those with a longer investment horizon, it might be a very interesting stock. The stock has already gone up quite a lot but large stock buybacks and income growth are increasing EPS at such a rate that the forward p/e ratio is still very reasonable. FedEx has an extremely low payout ratio which means the company can increase the dividend at a higher pace than the EPS growth rate.
Disclosure: The author has no positions in any stocks mentioned, and no plans to initiate any positions within the next 72 hours. The author wrote this article themselves, and it expresses their own opinions. The author is not receiving compensation for it (other than from Seeking Alpha). The author has no business relationship with any company whose stock is mentioned in this article.