Microsoft (NASDAQ:MSFT) stock has soared since Satya Nadella took the reins as CEO earlier this year. The stock was trading at $34.64 per share in January, then soared as investors touted Nadella and momentum forced the stock higher, to a YTD high of $45.45 in July.
But, Microsoft's share price has been sliding since. The $356 billion market cap giant is trading at roughly $43 per share, and there are several indicators that the company is about to take a fall.
Investment Thesis
Microsoft is at the start of a market correction. Its stock soared after Nadella became CEO, but other than new leadership there is little reason to justify the massive increase. Microsoft's share price has been steadily slipping and that correction could easily take the stock back to its pre-Nadella share price. Microsoft is orienting its focus towards cloud-based services and commercial customers but with little to differentiate its for-fee services from the free services offered by its rivals. The company is priced well versus its industry as a whole but when comparing Microsoft to larger rivals its pricing is similar but lacking the same growth. Expect Microsoft's share price to slip before any initiative from Nadella can take hold.
Cloud Based Services
Nadella is focused on rediscovering Microsoft's core competencies and restoring a culture of innovation. He is moving away from software and more towards cloud-based activities, and commercial cloud services in particular. During Microsoft's earnings call last month, CFO Amy Hood emphasized this area of business specifically: "Our commercial cloud revenue grew 147% this quarter, driven by both Office 365 and Azure. Our commercial cloud annual revenue run rate more than doubled this year and now exceeds $4.4 billion and with this rapidly growing scale we continue to expand our cloud gross margins."
However, the idea of Nadella focusing on cloud-based services is not a game changer and a $4.4 billion estimated run rate is not likely. Its commercial cloud-based revenue was virtually flat from 4Q13 to 1Q14. Drawing a $4 billion conclusion after a rise in 2Q14 is optimistic at best. Revenue COULD increase to that volume... or not.
Focus On Business
Once upon a time, decades ago, Microsoft used value-added resellers (VARs) to gain a competitive advantage. The company developed bundled software, like Microsoft Office, and teamed up with hardware providers to make adoption easy - but that was when programs still came on disk. In a world of instant downloads and cloud-based services, bundling is moot.
Moreover, office solutions do not have the same place they used to. Charts and tables are no longer the realm of office personnel and students - everyday people use them to track their diets and spending habits. Google (NASDAQ:GOOG) (NASDAQ:GOOGL) and Apple (NASDAQ:AAPL) understand this. Both companies offer word processing and spreadsheet programs and do not limit their offerings to personal versus office needs and functions. Plus, Google's Drive and Apple's iWork are available at no cost while Microsoft Office is still charging a fee.
Stock Performance
Microsoft is up 14.57% year to date and up 57% over the past three years. At the same time, the company is priced low relative to its earnings. Microsoft has a price to earnings ratio of just over 16 while its industry is closer to 26. If you look at Microsoft solely in comparison to its competitors, the company's stock is priced well.
But, no stock exists in a vacuum. Look at Microsoft's performance compared to the S&P 500.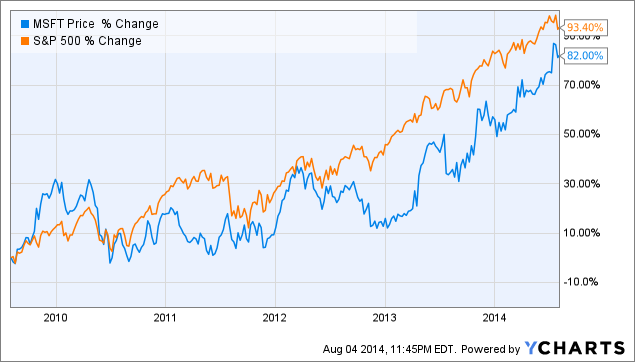 Or compared to rival Apple, which is also priced around 16 times its earnings:
Apple is enjoying greater returns while being priced relatively the same relative to earnings.
Takeaway
Microsoft is a good company. Its numbers are strong but do not justify its share price. The company's strategy going forward doesn't differentiate it from its competitors, but simply helps put the company in the race, making its outlook somewhat optimistic. It could reach those figures but for now its price is inflated. Short the stock to $34 or wait until it drops before buying in for a long position.
Disclosure: The author has no positions in any stocks mentioned, and no plans to initiate any positions within the next 72 hours. The author wrote this article themselves, and it expresses their own opinions. The author is not receiving compensation for it (other than from Seeking Alpha). The author has no business relationship with any company whose stock is mentioned in this article.