When I wrote an article on Kimberly-Clark (NYSE:KMB) in April of 2013, I recommended against buying shares because of the increasing payout ratio and overvaluation. Since then, the stock has gone up by only 7.40%, underperforming the S&P500 by a wide margin. If interested, you can find this article here.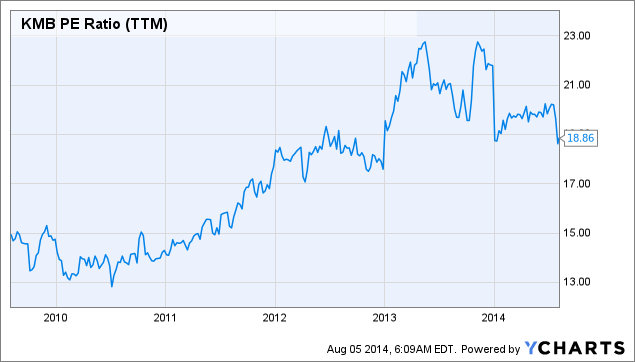 KMB PE Ratio (NYSE:TTM) data by YCharts
Earnings
KMB's price to earnings ratio has gone down a bit after EPS increased by 25.1% but at 18.9 times earnings, it's still quite high compared to the 5 year average of 16.9. For the current fiscal year, analysts expect Kimberly-Clark to have earnings per share of $6.09, which puts the forward p/e ratio at 17.3.
Revenue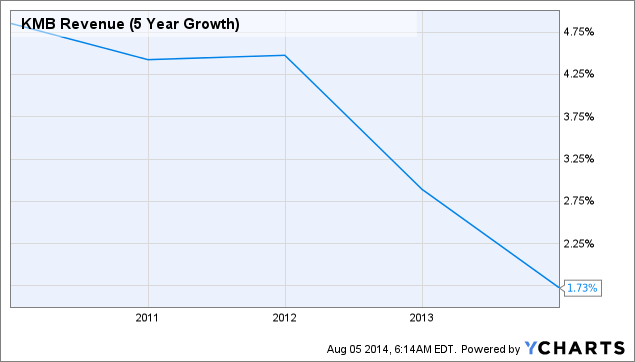 KMB Revenue (5 Year Growth) data by YCharts
Kimberly-Clark's revenue growth rate is quite disappointing, having increased by an average of 1.73% over the past 5 years. Last year's revenue was $21.15 billion, putting the company at a price to sales ratio of 1.9 at the current market cap of $39.35 billion. With analysts estimating an average of $21.49 billion in sales for the current fiscal year (an increase of only 1.6%), the forward p/s ratio also stands at 1.9. This is quite a significant premium over the 5 year average price to sales ratio of 1.5.
Returning money to shareholders: Dividends and share repurchases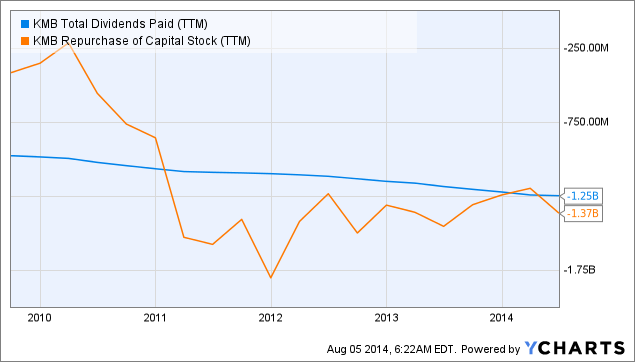 KMB Total Dividends Paid (TTM) data by YCharts
The current $0.84 quarterly dividend means investors getting in at the current price of $105.20 will get a dividend yield of 3.19%. Over the past 4 quarters, KMB has paid out 58.5% of its earnings in the form of dividends. The company has spent $1.25 billion on dividends over the past year, while spending $1.37 billion on share repurchases.
Buying back shares when they're overvalued destroys shareholder value, but Kimberly-Clark doesn't have much of a choice. A large part of the EPS growth in the past decade has been due to the declining number of outstanding shares. Between the end of fiscal year 2004 and the end of fiscal year 2013, the company has reduced its number of outstanding shares from 499 million to only 387 million. In these 9 years, net income grew by a total of 19.0%, while EPS growth was 53.2%.
Balance sheet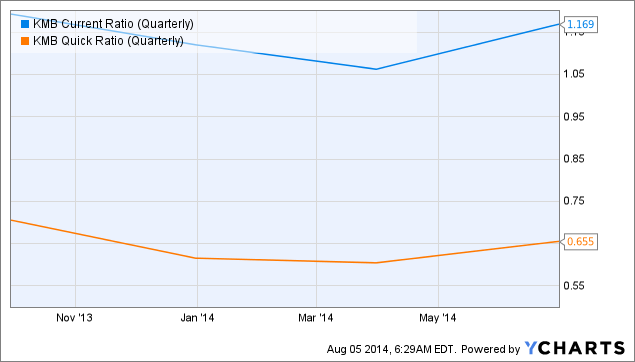 KMB Current Ratio (Quarterly) data by YCharts
A current ratio of 1.17 implies good short term financial health. The quick ratio is quite a bit lower at only 0.66, which is due to the fact KMB has a lot of inventory. KMB has $1.37 billion in cash and equivalents. This is equal to 3.48% of its market cap, or $3.66 per share. At the current dividend rate, that would be enough to pay 4 quarters worth of dividends. Kimberly-Clark's long term debt is growing at a high pace, having gone from only $4.79 billion at the end of fiscal year 2009, to $5.96 billion at the end of the most recent quarter.
Conclusion
Kimberly-Clark's revenue isn't growing much at all. In fact, with a 5 year revenue growth rate of 1.73% and analysts expecting revenue growth of only 1.60% in the current fiscal year, it's hard for the company to even keep up with inflation. Earnings per share are going up but as I have shown in this article, a very large part of this is due to the company spending large amounts of money on share buybacks.
The balance sheet for KMB looks reasonable, with a current ratio of 1.17, though long term debt has been on the rise in recent years. The current price per share gives the company valuation multiples that are well above their 5 year averages, which leads me to believe the company might be overvalued. As in my previous article on KMB, I would advise investors not to buy shares at these valuation levels.
Disclaimer: I am not a registered investment advisor and do not provide specific investment advice. The information contained herein is for informational purposes only. Nothing in this article should be taken as a solicitation to purchase or sell securities. Before buying or selling any stock you should do your own research and reach your own conclusion. It is up to investors to make the correct decision after necessary research. Investing includes risks, including loss of principal.
Disclosure: The author has no positions in any stocks mentioned, and no plans to initiate any positions within the next 72 hours. The author wrote this article themselves, and it expresses their own opinions. The author is not receiving compensation for it (other than from Seeking Alpha). The author has no business relationship with any company whose stock is mentioned in this article.