DryShips (NASDAQ:DRYS) may be in trouble as a large debt load and weakness in the Baltic Dry Index have led to heavy selling pressure.
The Baltic Dry Index measures the price of moving major raw materials by sea, taking into account 23 shipping routes measured on a time charter basis. In essence, the index indirectly measures demand for shipping capacity versus the supply of dry bulk carriers.
DryShips revenues are tied to this index as they are an ocean transportation service company for dry bulk and petroleum cargoes, as well as offshore drilling services. This relationship leads to a strong correlation between movements in the index and the company's stock price, as seen below.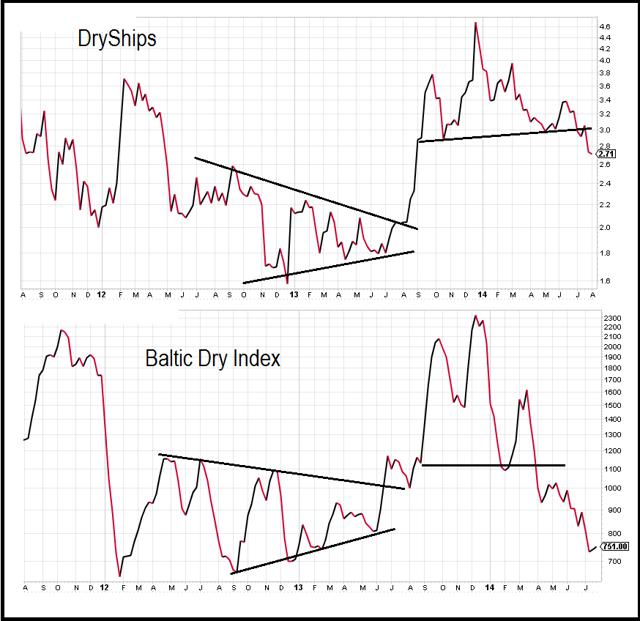 Chart provided by Stockcharts.com
The Baltic Dry Index has suffered a downturn as of late due to weaker iron ore and energy demand from China. China, the world's second-largest economy, accounts for close to 60% of global demand for iron ore, according to Market Realist. Analysts suggest that iron ore demand has eased as Chinese steelmakers draw down existing inventories after hitting record crude steel output rates in recent months.
Similarly, amid an alleged financing scandal, speculators believe that Chinese imports of the iron ore may fall as banks withhold credit, while customs officials tighten checks on incoming shipments.
In June, a total of 33.6 million metric tonnes of iron ore was shipped through Port Hedland, the highest tonnage port in Australia, a decline of 6.8% from 36.1 million metric tonnes in May. Morgan Stanley commented on the falling iron ore shipments saying that with China cutting production, miners are shutting down every day with cheaper supplies increasing overseas.
Meanwhile, China has reduced its dependency on coal imports for electricity generation and is now resorting to renewable resources. In the first six months of 2014, China's power consumption increased 5.3%. For the same period, however, coal used in electricity generation declined year-over-year by three grams per kWh to 317 grams per kWh.
The Chinese government fully intends to increase the use of renewable energy sources to curb pollution in the country. Similarly, China is planning on using more domestically mined coal rather than imported coal. Collectively, this will adversely affect shipping as China is the world's top coal consumer and coal accounts for nearly 30% of the world's dry bulk trade volume.
DryShips' stock price is also being negatively affected by a large debt pile that stood at a total of $6 billion at the end of the first quarter, up around $500 million from the previous quarter. The company has acknowledged something needs to be done about its spiraling debt, but investors are still concerned they may not be doing enough.
The transporter is cancelling its delayed Chinese shipments, several Panamax vessels which were slated to be delivered this year. Secondly, DryShips is attempting to refinance its fleet, hopefully achieving a lower rate of interest as the loan-to-value rate falls. The company is also refinancing facilities and possibly adding additional debt to pay off existing issues of convertible debt coming due over the next few years
With the uncertainty surrounding DryShips and overall demand in the industry, it is no wonder the price action has lagged behind the broader market. As SPDR S&P 500 (NYSEARCA:SPY) has raced higher this year, DryShips has broken lower out of a bearish pattern. Considering expected weakness in Chinese demand for imports of raw materials, and company specific factors such as DryShips debt financing, it would be prudent to sell shares in the company, and even get exposure on the short side if you have those capabilities.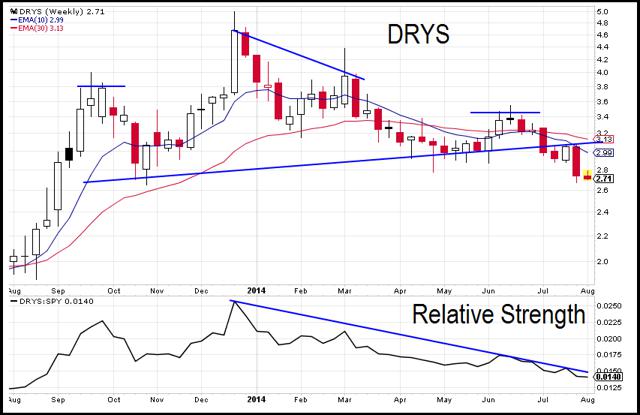 Chart provided by Stockcharts.com
Disclosure: The author has no positions in any stocks mentioned, and no plans to initiate any positions within the next 72 hours. The author wrote this article themselves, and it expresses their own opinions. The author is not receiving compensation for it (other than from Seeking Alpha). The author has no business relationship with any company whose stock is mentioned in this article.