Investors in Coca-Cola (NYSE:KO) have many things to consider when looking to buy, sell or hold shares in the beverage giant. I've written a number of times on KO and one thing that investors seem to disagree on is whether or not the company's buyback program is actually shrinking the float. I love buybacks as a way to return capital, particularly for a dividend payer like KO, so in this article we'll take a quick look at the last 12 years of KO's share retirements to see what kind of impact the company's repurchase activities have had on the company's shares.
To begin, I've sourced outstanding share data from company SEC filings. I then charted the data as seen below. For this chart, I've used average outstanding shares for the year instead of the spot number that is reported on SEC filings. This gives us a clearer picture of how many shares were outstanding for the whole year instead of just one point in time.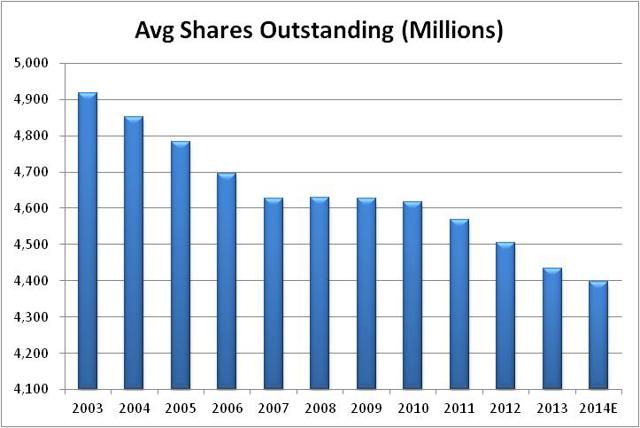 As we can see, KO had average shares outstanding of just over 4.9 billion in 2003, adjusted for the split that occurred two years ago, which is our base year for this analysis. Buyback activity was pretty strong from that point until 2007 when average outstanding shares stagnated for four years. Then, in 2011, the buyback activity restarted in earnest and KO has been retiring roughly 50 million shares per year in excess of those generated for compensation.
Now, we're all aware of the issues KO has had with the publicity around its compensation plan and the idea that it is excessively generous to employees. I'm not here to debate the plan, as I've already made my thoughts known, but the fact is that the plan exists and was passed by shareholders. Thus, it is something that we have to deal with regardless of whether or not we like it.
The good news is that since the dilution to pay employees is going to happen anyway, KO is at least buying back shares in order to offset that dilution. In fact, KO has been buying back more shares than it has been issuing for a very long time now, reducing the float and boosting EPS along the way. Just how much has EPS been boosted?
Below is a chart I made that depicts the additional EPS that has been accrued to shareholders due to the extensive buyback activity that has occurred since 2003. I've used that year as the index to match the outstanding share data above so when you look at the chart, the bar depicts the amount of additional EPS for that year that accrued when comparing actual EPS to what it would have been if the company had the same number of outstanding shares it had in 2003. In other words, this chart depicts the benefit of the shares that have been retired since 2003. It is also important to note that this chart isn't showing cumulative benefits; each year is its own data point.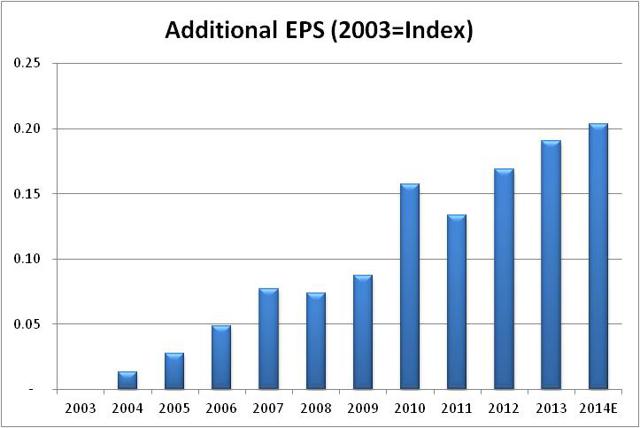 As we can see, every year since 2003 has seen some improvement in EPS as a result of buyback activity. For instance, this year should see something like 21 cents in additional EPS over what we would have seen if KO still had its 2003 share level outstanding. That doesn't sound like much until you consider what it means for the share price.
KO's current forward earnings multiple of 18 means that the additional 21 cents in EPS is good for $3.78 of the current share price, or nearly 10% of the company's value. Of course, there are other factors at play but even if my estimate is wrong, the buyback program has added a lot of value for KO shareholders. This is why I love buybacks; buying the shares is a one-time outlay but the benefits accrue forever, boosting the share price appreciably year after year.
In addition, since KO pays such a meaningful dividend, the buyback activity allows KO to save money each year. If we compare what KO spends on dividends each year now versus what it would have spent on shares if the 2003 count was still outstanding, we can see that the ~520 million shares KO has retired would have cost KO $634 million this year in dividends. That is real savings and the beauty of buying back shares for a dividend payer like KO is that the shares are eventually paid for with dividend savings. This allows KO to boost its per share payout with the same amount of dividend money each year, further boosting shareholder returns. And KO will save that $634 million next year, and the year after that, and the year after that and into eternity.
Overall, KO's buyback activity has been reasonably well executed. The company has retired a lot of shares in the past 12 years and is set to continue to do so. Yes, buying back shares can consume a lot of cash, but the benefits are terrific and the buyback is eventually paid for by dividend payment savings. I still like KO's buyback program and I hope it is continued indefinitely.
Disclosure: The author is long KO. The author wrote this article themselves, and it expresses their own opinions. The author is not receiving compensation for it (other than from Seeking Alpha). The author has no business relationship with any company whose stock is mentioned in this article.